First Reformed?tells the story of Toller (Ethan Hawke), a former military veteran and pastor of the First Reformed Church.? Preparing to celebrate their 250th?anniversary, the church has become largely ceremonial, with most parishioners having moved over to the local megachurch, led by charismatic Pastor Jeffers (Cedric the Entertainer).?When tragedy strikes, Toller finds himself torn between counseling the victim?s grieving widow (Amanda Seyfried) and his own creeping personal issues. Although he?s most frequently viewed as a comedian, veteran actor Cedric the Entertainer handles the role of Pastor Jeffers with strength and humanity. When asked what interested him in this role, he insists that it was opportunity to explore his dramatic side and, more importantly, to work with legendary writer/director Paul Schrader that led him to the film.
?For me, it was the opportunity to work with such a legendary writer and director in Paul Schrader,? he starts. ?[Also], when someone asks to cast me out of a comedy movie–and it's not a comedy, you know, it's a dramatic role–it's always something because I have a theatrical background, even though I built my brand as this comedian. I love to get on the screen and find things and really dig into a character. So, this was a break to be able to work with Ethan Hawke and then with Paul as well. I didn't have any scenes with Amanda, but she was there.?
In fact, what most excited Cedric about the chance to work with the legendary director was Schrader?s ability to find depth in the humanity of his characters.
?In this particular script, it is the kind of empathy that he's able to find in the despair and discovery that people have as human beings,? he reflects. ?Right when we're the most confident, we're also the most vulnerable. Right when we should be at our greatest, we can easily on the turn of a dime be at our lowest. There was something about this [film] where? ?religion in this movie was the main backdrop–the spiritual life–yet he kind of pulled the layer back, even [in] Ethan Hawke's character, who's going through a lot. But my character [is] playing a pastor of a big megachurch, where we got thirty thousand followers, and church is being held at the old basketball theater. Why is that necessary for my spiritual existence, right??
?And now to see [Toller and say], I believe in this guy, trust this guy and put my faith in him. Then I kind of pull back the layer and remind him that it's a business. [My character]'s got corporate donors and he's listening to them over what we want to do. That's really real and that's when you do question all of these things that we have to live within the world that are these kind of big tent poles of religion or politics, education and medicine. We kind of just follow along them, knowing that we're kind of being guided by this big corporate idea of what it is and we tell you what you believe. That was an interesting thing to play.?
In Reformed, Cedric plays Pastor Jeffers, the jovial but burdened minister at the Abundant Life megachurch. In preparation for the role, Cedric went to speak with several well-known megachurch pastors in order to find out how they manage the balance between spiritual leader and corporate figurehead.
?I'm friends with Bishop TD Jakes, who has a huge church with a big following, and also great friends with another minister in St Louis, Freddy Clark. We would sit and just kind of talk about his world. What's it like? It is this thing where you are the spiritual leader. You do have all these people that come to you from all walks of life because of family circumstances and look at you from the pulpit on Sunday morning as the person with all the answers, right? They assume you have every answer to their life and that, in that Bible or text that you're going to say, you're going to give them a bit of knowledge that's going to solve it all for them? Yet, once you close the hymnals and you say, 'Amen', now [Jeffers has] to run this big building. I?ve got a staff. I've got land. I've got real estate taxes. I?ve got things that are just as important to me as your soul, because in order to have all of this, we had to raise a certain amount of money. We have to provide these programs. So, it was interesting to see someone have to do that and still be a human and at the end, and have frailties and faults? and things that, if everybody saw them, it would be like seeing the Wizard [of Oz]. Like, they'd say 'Oh wow, you're just a person.??
By placing Toller and Jeffers up against one another, Schrader creates a fascinating tension between the two men and their opposing values. However, Cedric believes that much of their differences are a result of the communities around them.
?Toller needs to suffer. He takes it all on? He's a minister in a kind of a church that doesn't really have parishioners. It's kind of a ceremonial kind of place. It's been around 250 years. So, he spends a lot of time alone and even though he's supposed to be a leader of people and one that helps, it's in that loneliness that one finds that they can jump into the despair of their own existence and decide that they haven't suffered enough. That's the difference. I think that, because [Jeffers] is in a big organization, I'm constantly being protected or being driven to have to be something on a daily basis.??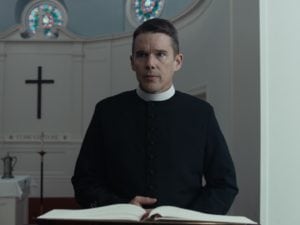 In one of the more interesting (and unexpected) aspects of the film, Schrader inserts a conversation regarding the environment and the responsibility of the church within the narrative that forces Jeffers to make some difficult decisions. Even so, Cedric feels that his character is torn between caring for Toller?s humanity and maintaining his church financially.
Says Cedric, ?I think from the point of view of the megachurch, you try to look at things in a bigger picture and not so much in the micro. So, I think that, even when dealing with the character Ed Balq who was the big industrialist in the movie and he's a big donor for me. [At one moment,] I have to kind of bark at Toller and I want to defend him. It was a thing that Paul didn't necessarily want because he wanted that he needed Ed to challenge him. But if you listen very briefly, I tell him, 'Ed…' I just say his name, [as if to tell him to] bring it down. I felt like that's the part that you don't get about Jeffers is that [he] understands what [Ed does] for [him] but, as a human, [he] understands [Toller] too. So, he would accept your donation from this organization, so I can accept the fact that you're going to maybe kill a few people but, with that sacrifice, I may have the opportunity to save thousands. That's what Jefferies looks at.
While Toller and Jeffers? relationship remains strained at times throughout the film, Cedric also believes that there is a genuine friendship between the two characters.
?Imagine being an administrator of one of these kind of big churches where you're the head honcho and to have someone that you are passionate about as a human? and they make you have to deal with your humanity,? he reflects. ?They raise a question that you haven't had an answer in a long time. The fact that he would even challenge Ed Balq [shows that Toller] is a person that puts some energy back into you… That is a friendship that I need. Right? Because that's a person that makes you ask a question when you don't have to have questions. All you give away as answers (in your opinion) because you're the king. And that is something that me and Ethan, in our couple of our rehearsal days, we discovered a relationship where we knew each other and that there was a real friendship there, even though I'm communicating like boss to subordinate. It's this thing that we wanted to make sure that people felt like they actually could be better friends. They probably are friends.?
In light of his financial dealings, it would not be difficult to judge Jeffers for his actions. Nevertheless, Cedric still believes that his character is a good man, despite his compromises.
?I would say yes, to the degree that he is a man that's trying to do good,? he begins. ?In the process of that, do I have to do some bad things? Maybe. But, overall, Jeffers is trying to do good, even when he speaks to Toller and he's trying to get him to understand that [he?s] always living in the garden. [He tells him that he?s] always where the despair is? When you do that, you make the choice sometimes to leave people behind. You make the choice that maybe you will have an extra glass of communion wine, but it doesn't make you a bad guy. I found that with some of the guys I studied. We met at a cigar lounge and you go, 'Well, do you smoke cigars? Is that right or wrong?' Yeah, I'll have a cigar. I have a glass of wine? I may even use language amongst certain friends, you know. But again, this is all in that part of being a human as opposed to literally try to live on the pedestal that people put you on.?
Despite the film?s controversial exploration of modern day religion, Cedric was still surprised at some of the backlash that he experienced during the film?s production.
?Early on, as we were scouting locations, we had to speak with several pastors and it was the question of the subject matter that made one of the bigger churches [nervous],? he remembers. ?I was friends with them. I called them personally and they made this choice that was very Jeffers, I felt. They made a choice to say 'No, you can't shoot this movie here because we think that it may put a blemish on what we sell as a religious belief. We don't want to sell that. And it was like this is not your church. We just need the location. But for them it felt like maybe people would see their lead minister as the same kind of guy. It [seemed like they didn't] want to raise that question. They actually wanted script approval. It got crazy.?
For full audio of our conversation with Cedric the Entertainer, click here.
?First Reformed?is in theaters now.