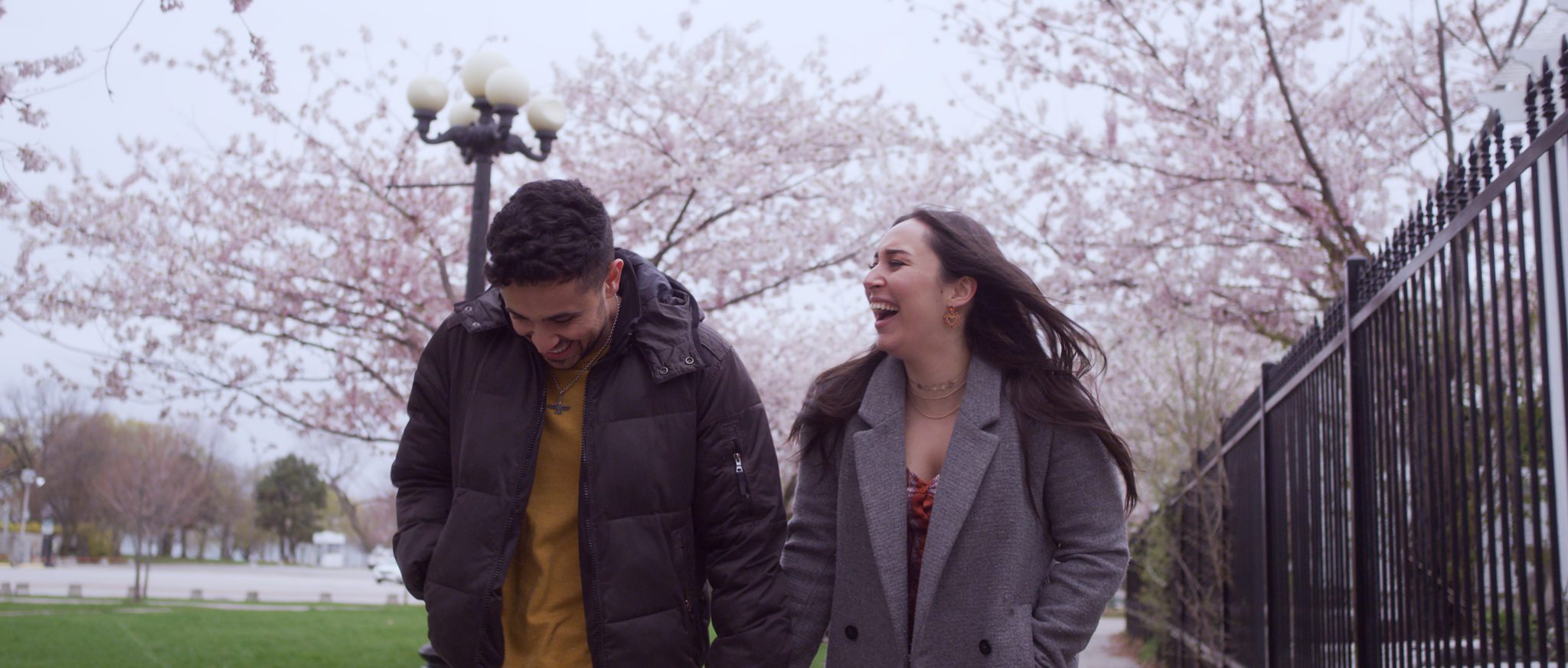 Just because two people are from the same place, it does not mean they?ve shared the same experience.
Set in Toronto, Ontario, Tehranto tells the story of Sharon (Mo Zeighami), an artist in Richmond Hill, Ontario who has been forced into a real estate job by her parents. Having grown up in Canada, Sharon has become impartial to her Iranian heritage as she attempts to navigate life in the urban jungle. Meanwhile, Badi (Sammy Azero) is a medical student who has recently emigrated from a small town in Iran. Frustrated by Iranians who have assimilated to Canadian culture, Badi wears his nationality proudly. But, when they meet, sparks immediately fly between them. As their attraction draws them together, their worlds collide and they must decide whether or not their differences can be overcome.
Written and directed by Faran Moradi, Tehranto is a sharply-written romantic comedy that follows the genre tropes but supersedes expectations. On paper, this feels like the sort of romcom that fits well this time of year. With few deviations from the formula, Tehranto leans into its formula with a free-wheeling joy. Boy meets girl and they instantly dislike each other. Even so, there?s a chemistry between them. Romance ensues and complications between families create barriers to their romance. The film even features an all-knowing narrator and stereotypical group of friends, such as the supportive ?bestie? and the always-hungry bro.
However, Tehranto never allows its genre tropes to derail the film. In fact, it?s quite the opposite. Lead by strong performances from its leads and an overall sense of play, the film understands its style and is more than willing to subvert expectations when necessary. (In fact, the aforementioned narrator even shows an innovative twist by inviting characters to break the fourth wall on a regular basis.) As a result, Tehranto becomes an absolute joy that sparkles with fun. This modern-day Romeo and Juliet effectively balances charm and seriousness in a way that sets it apart from other entries into the genre.
But this is no fairytale.
Despite its heightened circumstances, Tehranto feels fully grounded in reality. By exploring the immigrant experience and its relationship to the Iranian Revolution, the film never shies away from the challenges faced by New Canadians. Although all of these characters may come from Iran, the film insists that that their stories are not the same. Leading with a narration that explains ?two types of Iranian people?, Tehranto highlights the differences between those who left the country before or after the Revolution and how they were changed by their circumstances.
And that?s what makes Tehranto special.
While the film is sweet and often genuinely funny, it is also meant to point out that our own presuppositions of culture are often misguided. (In fact, by acknowledging that people?s stories differ, Teheranto reveals it?s Canadian voice by creating the type of conversation that takes place in the multicultural mosaic of Toronto itself.) While these two families share the same nationality, they could not be more different. Whereas one family has followed a path that led to wealth, the other has struggled with poverty. Although they share the same heritage, their journeys have been entirely distinctive.
This sort of sub-definition of the cultural experience serves as a reminder that everyone?s story matters. As Badi and Sharon attempt to navigate their relationship, they recognize the differences between them and must decide whether they can be overcome. Their love for each other is real but the way that they see the world has been shaped by their stories. While those stories do not necessarily define who they will be as they grow and mature, they have also helped shape them into who they are.
In this way, Moradi has created something truly special and unique. Although it follows many of the romcom tropes, its voice and passion make it feel entirely fresh. This is the sort of film which feels perfect for this time of year as we consider our relationship to family and one another. As a result, Tehranto is definitely a place?and a film?worth visiting.
Tehranto?is available in theatres on Friday, November 25th, 2022.