Forget John Wick. Enter Saint Nick.
Directed by Tommy Wirkola, Violent Night is the sort of holiday film that stands in the gap for fans who demand that Die Hard is a Christmas movie. Although the film is utterly nonsensical from start to finish, Violent Nightenters the festive season with such aplomb and bombast that one cannot help go for the ride.
Set on Christmas Eve, Violent Night follows Santa Claus (David Harbour) on his yearly gift delivery. However, after years of disappointment, he has lost all faith in the children of this generation. Drenched in alcohol and barely interested in his job, Santa stumbles through the night, just biding his time. Although, when he reaches the wealthy Lightstone residence, he finds something worse than coal in their stocking. Led by Mr. Scrooge (John Leguizamo), the Lightstones are being held hostage by a group of mercenaries who are looking for their own special Christmas bonus. While Santa isn?t interested in getting involved at first, the pleas of young Trudy Lightstone eventually (Leah Brady) changes his mind. And he?s got a special gift for everyone on his naughty list.
Make no mistake, the film lives up to its name. Violent Night is brutal, gory and fueled by coarse language from start to finish. While not a horror film, the film is relentless with gunfire, blood splatters and vicious kills through much of its runtime.
But, it also understands the assignment.
Believe it or not, amidst the candy canes and cut throats, Violent Night wants to be considered a Christmas cult classic. In doing so, it?s satirizes much of the films and music that are generally associated with the holiday season. Featuring a lighthearted pop soundtrack, Violent Night has an absurd playfulness about it, even in the darkest of moments. (It?s also safe to say that you will never hear Bryan Adams? song Christmas Time the same way again.) References to Home Alone, Die Hard, and other unusual Christmas films remind the viewer that there?s a place for chaos at Christmas. For instance, without giving any spoilers, a young child?s experience watching Kevin McAllister?s exploits in Home Alone inspires her to take matters into her own hands to protect herself? but the results here are far more ruthless.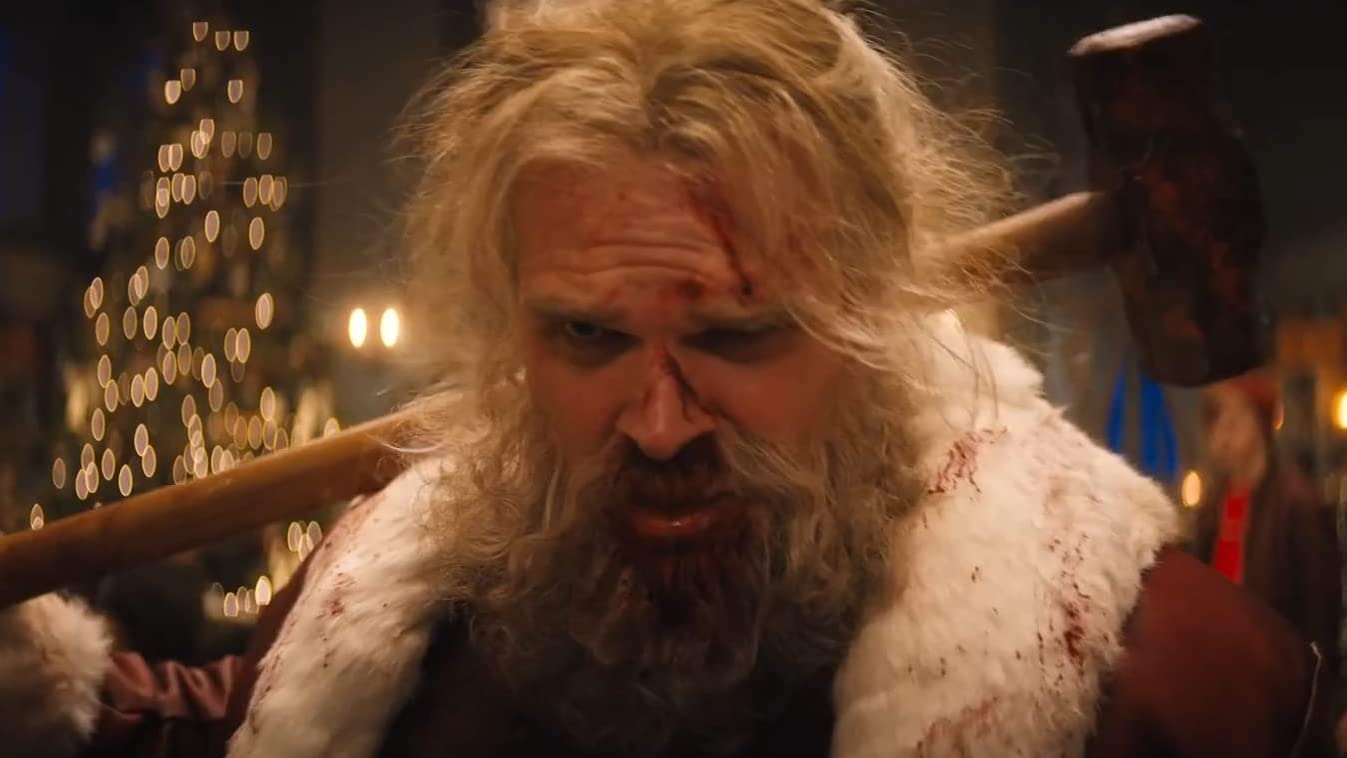 In terms of performances, admittedly there are very few standouts amongst the cast. (Even so, everyone is in on the joke and having fun.) However, as Santa himself, Harbour creates a vision of old Saint Nick that we have never seen before. Harbour has a way of creating empathy for even his most unlikable characters, and he brings that to this role as well. Here, Santa isn?t a good guy, but neither is he a bad guy either. Whereas films like Bad Santa have depicted him as cruel in the past, Violent Night shows him as a broken man. Left shattered by the selfishness of today?s generation of youth who care little for his offerings, Santa has simply given up on his own holiday. In fact, he?s even ready to pack it in. (?This may be my last year,? he grumbles into his beer.)
As such, what becomes interesting about Violent Night isn?t its brutality or humour. In a strange way, this is a redemption story for old Saint Nick himself. To a culture that has become obsessed with money, Santa has become an irrelevant relic. After all, who needs to believe in magic when everyone is climbing over themselves for a buck? Even Santa finds himself giving out more gift cards then he does actual toys these days. But this actually leads to the contribution that Violent Night actually makes to the holidays.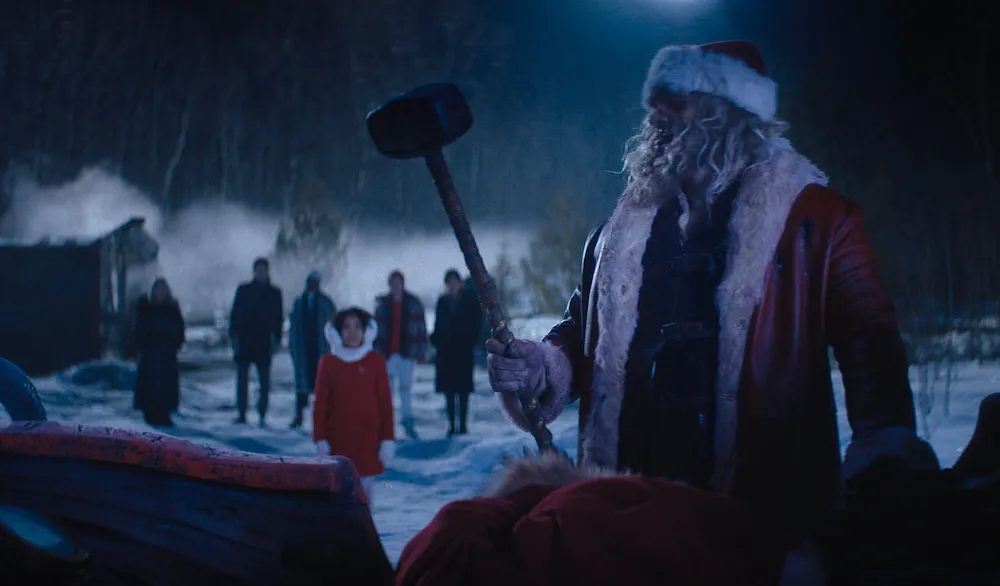 Even though many have landed on the naughty list, Santa?s journey proves as a reminder anyone can find their way again when given the chance at grace. For example, most characters here approach the holiday season with empty hearts, except young Trudy. Despite the reprehensible members of her family, Trudy refuses to give up on Christmas? and especially Santa. Struggling with addiction and a failing marriage, Santa is burned out and refuses to get involved in people?s lives. But through the eyes of this young woman, we begin to see a twinkle return to his eye. (Even if that twinkle does come accompanied with a sledgehammer.) Trudy?s infallible innocence and faith in the goodness of Santa helps remind him of what matters most. His icy cynicism begins to melt away and optimism is renewed.
Because, in Violent Night, belief still matters.
It goes without saying that?Violent Night?will not be for everyone. For those looking for more of a traditional Christmas film, this will undoubtedly feel like a lump of coal in their stocking. But, for those who yearn for John McClain or John Wick to make their Christmas bright, it?s entirely possible that?Violent Night?will be the type of film that keeps on giving for holidays to come.