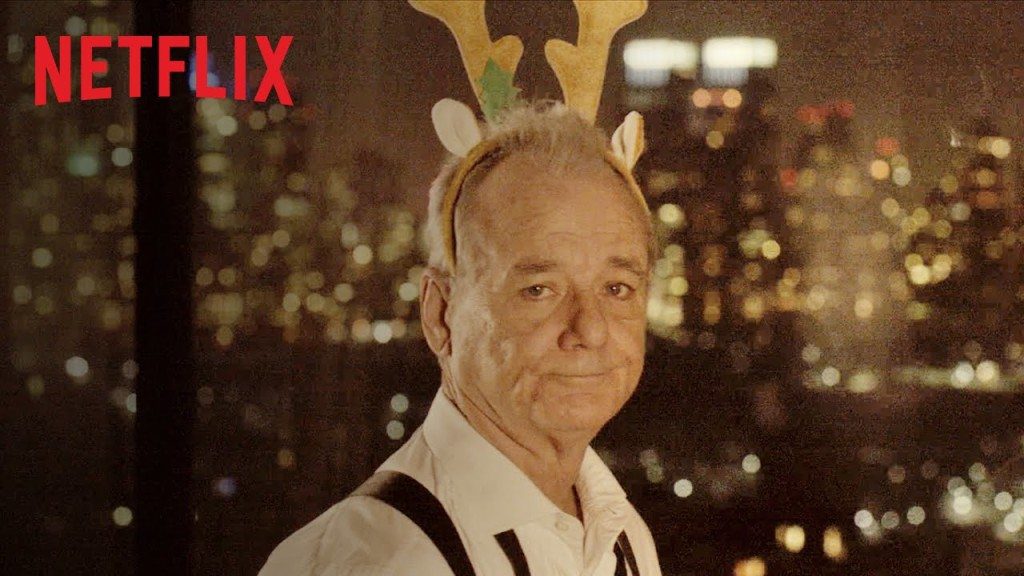 Sometimes Christmas just doesn?t work out. In A Very Murray Christmas (directed by Sofia Coppola and currently streaming on Netflix) Bill Murray?s live Christmas Eve TV special is completely undone by a massive storm and power outage. When he and Paul Shaffer head to a hotel bar to drown their holiday sorrows, they encounter others who are experiencing a very blue Christmas. Along the way there are appearances from (among others) Amy Poehler, Chris Rock, George Clooney, Miley Cyrus, Maya Rudolph, and Jason Schwartzman, some of whom have roles, others who play themselves. It is built around the kind of low-key humor that Bill Murray is famous for.
Like most TV Christmas specials, this is a paean to the secular version of Christmas. The one religious touch is Miley Cyrus?s rendition of ?Silent Night?. The focus on the cultural celebration of Christmas centers on these people who are nearly alone as Christmas approaches: Murray and Schaffer who have basically been left without the show that was to be their holiday, a bride and groom who had to cancel their wedding because of the storm, the staff at the hotel bar who are stuck where they are, and other lonely people who have come here. Most of the songs that fill the show are about the idea of missing someone at Christmas.
While we usually think of Christmas as a joyous season, this is also a time when many people are indeed alone and depressed. That sorrow is only made worse when they are bombarded with the message that everyone is happy. We should note that much of that happiness is just as manufactured and counterfeit as the Christmas spirit of shopping malls (or of TV Christmas specials). The stresses of the holidays can wear on even those who find great meaning in either the secular or religious versions of this season. For those in this story, relief is found in discovering that there are others who share their plight?that they are not alone in their blues. Just knowing that we are not as alone as we may feel can bring a bit of relief.