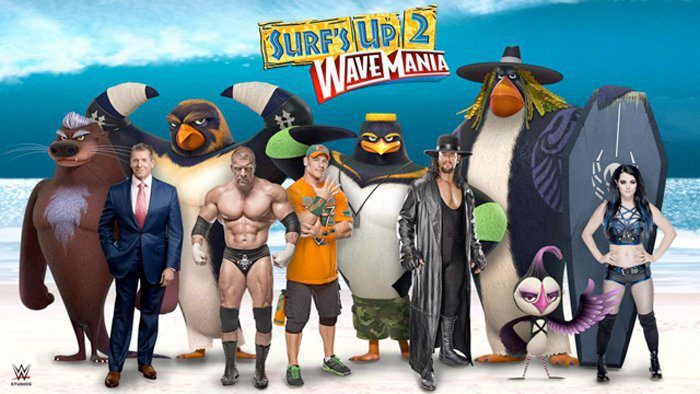 In 2007, Sony Pictures released a 'documentary' about animated penguins who battle it out in a surfing completion, starring Jeff Bridgers, Shia LaBeouf, Zooey Deschanel, and Jon Heder. A decade later, Sony has teamed up with WWE Films to release a sequel, with Heder returning as Chicken Joe, and an otherwise new cast of characters in a quest to find the big wave.
While the story may be simply a continuation, this joins the kind of film that the Scooby Doo movies by Warner Bros. have become famous for: sharing a fun, cross-over team-up. Only this time, our WWE characters are playing a crew of bigger-than-life animals who let Cody Maverick (Jeremy Shada this time) tag along.
Joining Shada, Heder, and Diedrich Bader are WWE luminaries like Jon Cena, The Undertaker, Triple H, Paige, Vince McMahon, and Michael Cole. While this one may not win the Animated Oscar, it will entertain WWE fans and those seeking a bit of buddy road trip, animated entertainment.
Special features include a blooper reel, a featurette "Behind the Mic," a special look at Chicken Joe, director Henry Yu's explanation on "How to Draw Your Favorite Characters," and a behind-the-scenes look at the music design.?