How strange that AFI Fest 2021 is already coming to an end. But perhaps next year the festival will be able to move back to a weeklong fully in person event. Still, it is important to thank the staff and volunteers for the work they did to make this such a wonderful?and safe?experience. And of course, I?m thankful that they grant me so much access to these wonderful films.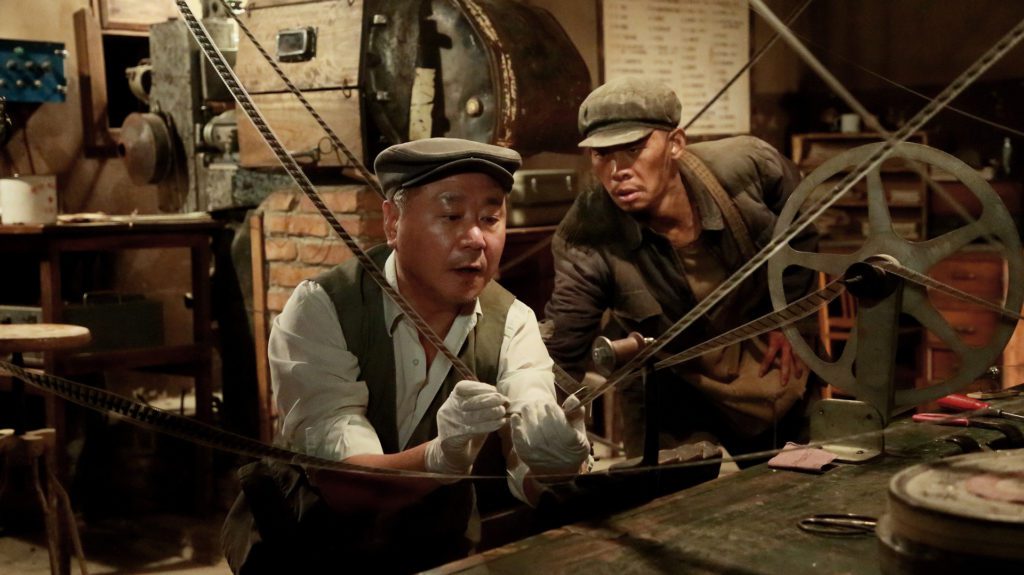 Do you remember going to movies full of viewers that becomes a common experience? We are reminded of that experience in Zhang Yimou?s One Second. Set in the Cultural Revolution, a man who has escaped from a labor camp is desperate to see a newsreel that has a brief onscreen appearance of his daughter. In the first town he?s in, the movie is finished, and the film is to be transported to the next town. But a girl steals one of the cans of film and the man chases her down to retrieve it, since the film won?t be shown if incomplete. The first part of the film is a humorous back and forth of the two of them taking the film from each other. When The film gets to the next town, one can (the one with the newsreel) has come loose and been dragged along the road. At first the projectionist cancels the movie, but the community is heartbroken. Soon they are all working together to save the damaged reel.
This is a story that reflects our love of cinema?even if it is Party propaganda. When the film eventually play, the audience sings along. This is more than just watching the moving shadows on a wall. This is an event that touches the whole community. There is certainly something to be said for watching this film in a theater with other people rather than sitting at home. It is also a story of family?not just the basic meaning of family, but also the family we can become with others.
Clint Bentley, director of Jockey, grew up in the world of horseracing. He hadn?t seen a film that accurately captures that world, so he made one. Jackson Silva is an aging jockey whose body is beginning to betray him. He hopes for one last great horse. Ruth, a trainer with whom he?s close, has a new horse that might be great for the two of them. But Gabriel, a young rookie jockey shows up, claiming to be Jackson?s son. At first, Jackson denies it could be true, but the idea warms on him, giving him a chance of a legacy beyond racing.
I?m something of a sucker for father/son stories. This one has an interesting twist in it. But it is also something of a meditation of mortality, as seen as the end of the life that Jackson has always known. The film is filled with scenes at sunset and sunrise (mostly sunsets) with beautiful skies. We understand that this is both a sunset and a dawn for Jackson and Gabriel. Jockey won the Audience Award for narrative films and opens in US theaters December 29.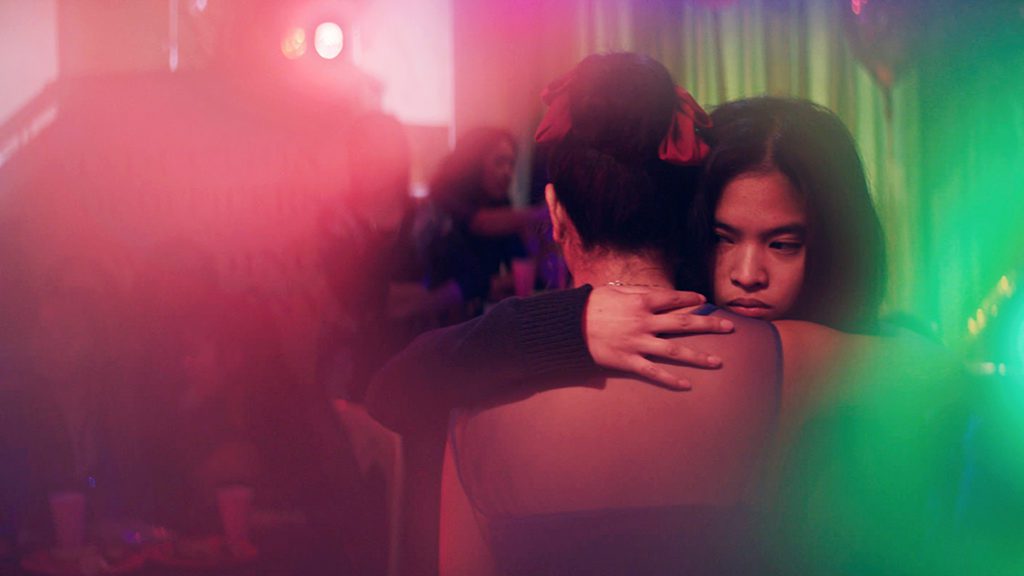 Holy Emy, from director Araceli Lemos, is the story of two Filipina sisters in Greece whose mother was forced to return to the Philippines. Emy, the younger, has a special ability that her mother had. At times she cries blood. And she has the power to heal. Her sister Teresa tries to keep this hidden, so Emy won?t be taken advantage of. But a pseudo-mother who lives across the hall, has her eye on them. She knows that something is going on with Emy, and believes they have to baptize her to keep the devil at bay. Teresa is also dealing with a sudden pregnancy and a boyfriend who is more interested in what Emy can do than being a father.
This is a film that is filled with the color red?often blood. It also has a good deal of religious imagery and language. Yet, for all that religious feel, I never felt the film got to the serious religious questions that such a story raises. It seems to want a humanitarian basis for the use of such an ability, but it never seems to quite fit with what we are watching.
And we finish up with a few more shorts.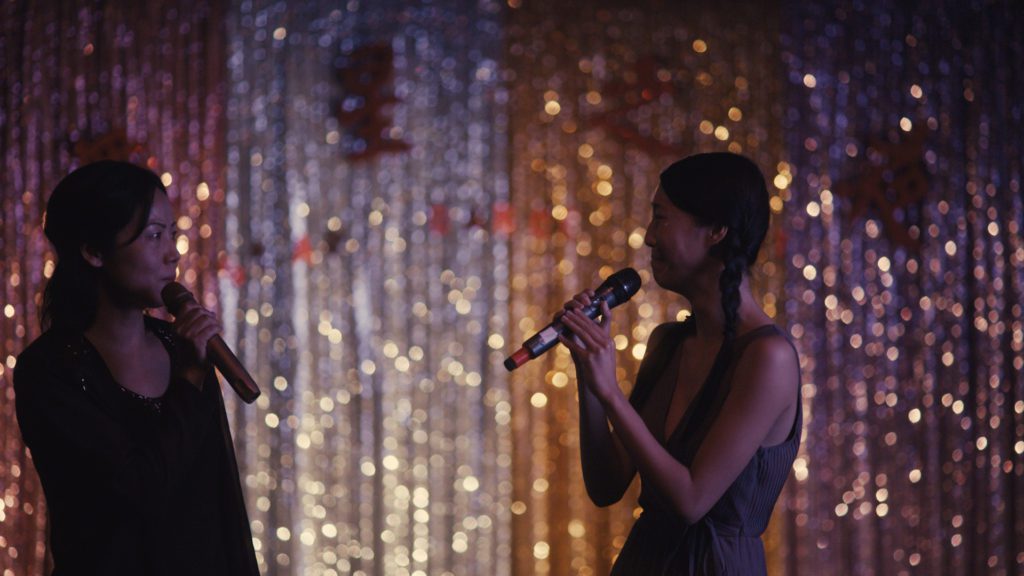 Johnson Cheng gives us Only the Moon Stands Still, a story of three generations of Chinese women in a failing dance ballroom. The ballroom may be closing, but for the youngest of the three the world may be opening up?if she?s willing to let her mother push her out of the nest. Only the Moon Stand Still won the Audience Award for short films. (22 minutes)
In Motorcyclist?s Happiness Won?t Fit into His Suit, Gabriel Herrera uses a motorcyclist to create a metaphorical reenactment of the hubris of colonialists. A bit too artsy for my taste. (10 minutes)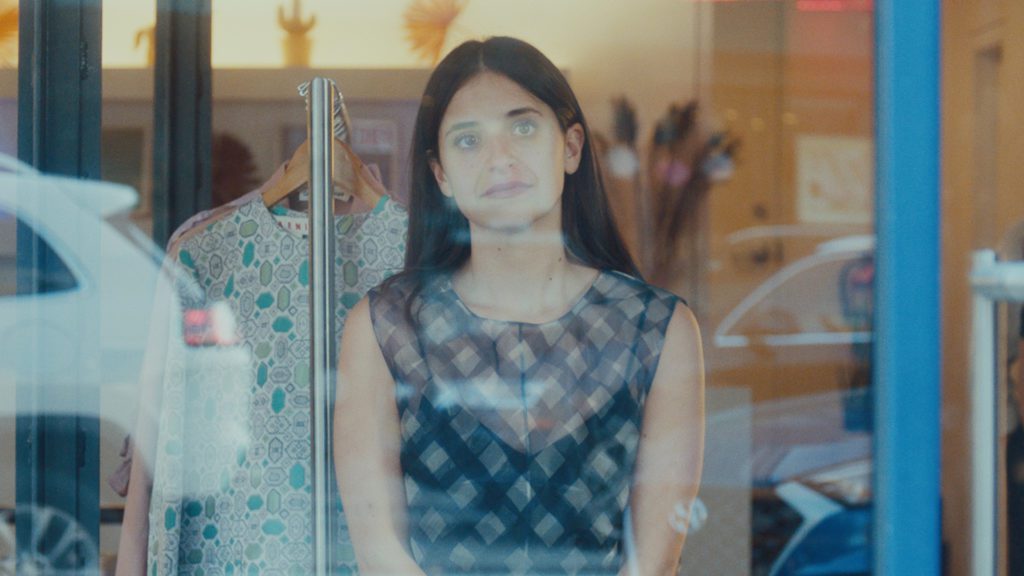 Sales per Hour, from Michelle Uranowitz and Daniel Jaffe, is set in a retail clothing boutique. The staff works at upselling through the day. But when they discover a sexual encounter in the dressing room, they face a dilemma about what they are willing to allow to keep sales moving.