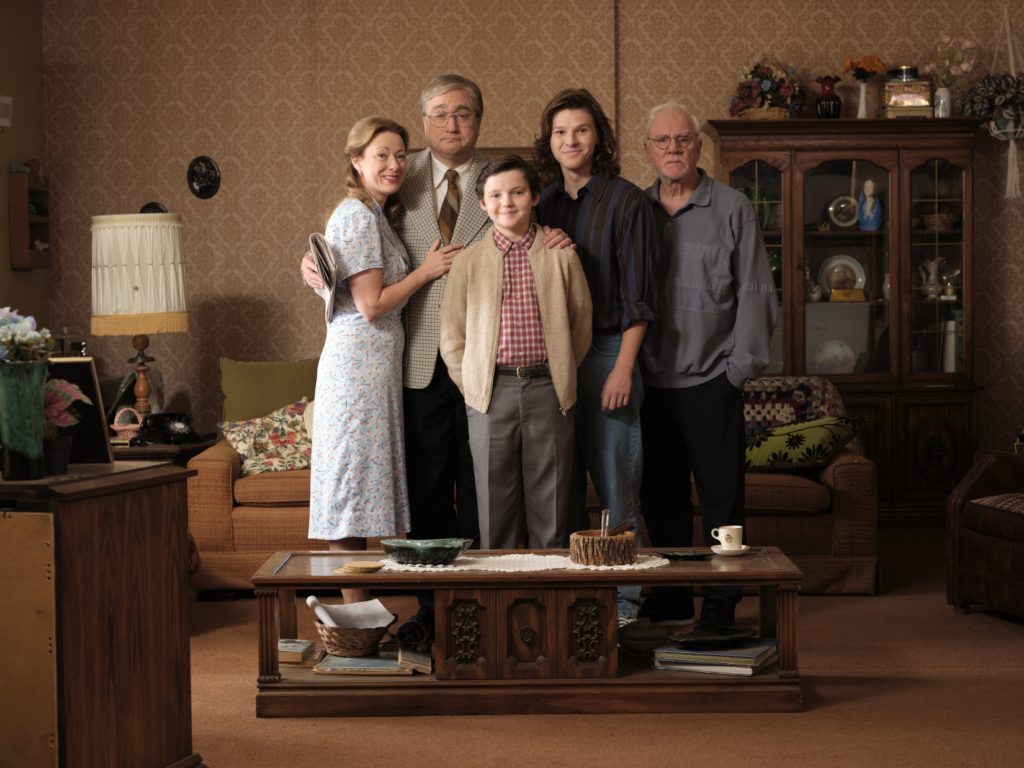 They say you can never truly go home again. But can you feel welcome revisiting someone else's home?
In CBC?s new comedy?Son of a Critch, author and comedian Mark Critch tells his story of?growing up in St. John?s, Newfoundland. As the youngest in a family of (mostly) adults, Critch grew up with more mature sensibilities and style than other kids his age. While his unique family and different interests made it difficult to make friends at school, it also gives him a humility and innocence as he attempts to navigate the complicated world of childhood relationships.
Even though its set in 1980s Newfoundland,?Son of a Critch?almost feels timeless. In other words, despite the specificity of its time and location, there?s something about this series that feels like it could take place anywhere, making it accessible for all. Best known for his work on?This Hour has 22 Minutes, Critch has sharp comedic timing and a satirical eye. Mostly though, his charm and warmth for his family creates an infectious invitation into the past.?
While the structure of the series feels similar to other nostalgia comedies like The Wonder Years or Young Sheldon, Critch still manages to set itself apart with its snappy writing and distinctly Canadian voice. (Shout outs to Anne Murray and The Raccoons!) Even so, while the show may be nostalgic, that nostalgia never takes primary focus. Instead of merely focusing on the ?remember when?? moments, the past is merely a setting for Critch?s coming-of-age story and the focus remains on the characters and their journeys.
And the characters really are the story.
In?Son of a Critch, Critch has assembled a cast with some incredible chemistry between them. There?s an ease between cast members that makes the series instantly likeable and they have created something truly special onscreen. Young star Benjamin Evan Ainsworth sparks the series with an old soul but shows a light heart. Young Sophia Powers and Mark Rivera provide a fun trio of strange supporters for the young protagonist. Even Critch himself gets in on the fun as he steps into the slippers of his own father. However, the most welcome surprise is McDowell as Mark?s cranky but empathetic grandfather. Best known for his work in darker films such as?A Clockwork Orange,?Halloween (2007), and?Caligula, McDowell has had limited opportunities to lean into his lighter side. As such, he uses that experience to mix a sense of gravitas into his playfulness and his performance absolutely pops.?
Aside from the family fun,?Critch?is an adventure into the world of perspective. Based on Critch?s best-selling memoires of the same name, Son of a Critch is a love-letter to his childhood. Having rebuilt his family home for the set, Critch has done his best to recreate the place where he grew up. (He even went so far as to pull up some of his family?s belongings out of storage to add authenticity to the scene.) While there?s an absolute fondness for his upbringing throughout the series, there?s little doubt that his childhood produced moments that would have left him frustrated and hurt. Bullied for his unique take on the world, Critch?s experiences may be played for laughs here but there?s no question that these times can be difficult for children to endure. However, his position as narrator (not to mention playing his father) shifts his understanding of events from the eyes of a child to that of an adult. Knowing how the story unfolds, Critch is in a better position to remind himself that everything is going to be okay in the end. As a result,?Critch?balances the frustrations of youth with the hopefulness of adulthood.
Backed by a wonderful cast, Critch?s memories have created something truly memorable. Fun and endearing,?Son of a Critch?is a tribute to the innocence of youth but still revisits these moments with a wink. From his commitment to authenticity to his willingness to reveal his family?s quirks, Critch breathes such love into this series in such a way that one can?t help but feel like they?ve gone home too.
To hear our interview with writer/star Mark Critch, click here (YouTube) or here (audio).
Son of a Critch streams at 8:30pm on Tuesday, January 4th, 2022 on CBC.