Animated films come in a variety of styles. That is certainly the case with the five films nominated in the Oscar category of Best Animated Short. Those films (along with some other animated films to fill out the program) are playing in select theaters to allow people to see these excellent films. As is often the case with shorts, many of these films are filmmakers trying out their wings and developing their vision and skills in anticipation of larger works in the future. These films are more, though, than just practice films. They each have a message and a story worthy of our attention. Some, seeking a universal audience, are done without dialogue. That never gets in the way of our understanding, however.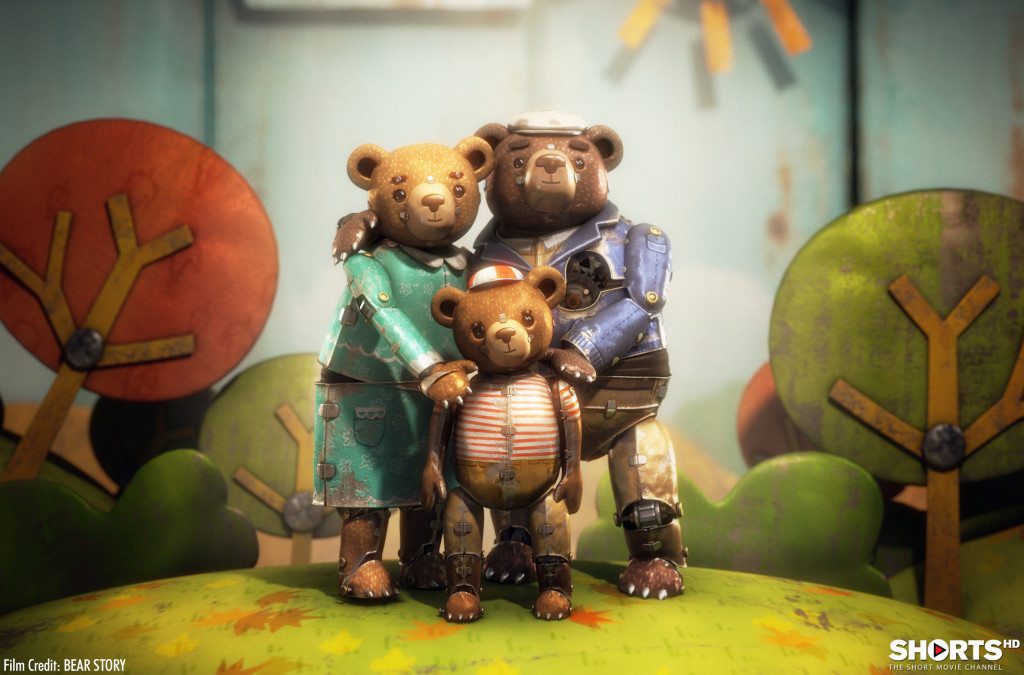 Bear Story (Chile, 11 minutes, directed by Gabriel Osorio and Pato Escala). This is a bittersweet tale of a family of bears that is a metaphor for the broken families of those who were disappeared in recent Chilean history. An old bear takes his mechanical diorama out to the street corner. There a young bear learns the story of a bear taken from his family to perform in a circus. His only desire is escape and reunion.
Prologue (UK, 6 minutes, directed by Richard Williams and Imogen Sutton). This very brief hand-drawn film shows us four warriors?two Spartans, two Athenians?in their battle to the death. It is violent and bloody?and ultimately futile?as war always has been. Warning: This film will be the final film in the program in theaters and will be preceded by a parental advisory for those who might bring children to the program of animated shorts. The brief male nudity and the violence could be considered inappropriate for young children.
Sanjay?s Super Team (US, 7 minutes, directed by Sanjay Patel and Nicole Grindle). This Disney/Pixar film played before The Good Dinosaur in theaters. It is the story of a young Indian-American boy who is more interested in TV and his super hero toys than in his father?s daily prayers. When brought to the altar, his imagination runs rampant and he finds a new perspective on the Hindu gods that may allow Sanjay and his father new ways of understanding faith.
We Can?t Live without Cosmos (Russia, 16 minutes, directed by Konstantin Bronzit). Two cosmonauts train together and form a strong bond. When the time comes for one of them to be sent into space, things will never be the same again. This is a story about dreams, and of loss, and of the meaning we find in living our dreams.
World of Tomorrow (US, 17 minutes, directed by Don Hertzfeldt). A little girl gets a visit from a future version of herself who shares with her the vision of eternal life as it has developed through technology. While it is very fanciful and mind-bending, eventually the story takes a darker turn that reminds us that mortality is our common fate and that the search for immortality can become a journey to meaninglessness.
I love all of these films, but I gave serious consideration to including Sanjay?s Super Team in my top ten films for last year. It?s that good. This is a film that treats both family and faith is something to be cherished and passed on from generation to generation. So that is my hands down choice for this group.