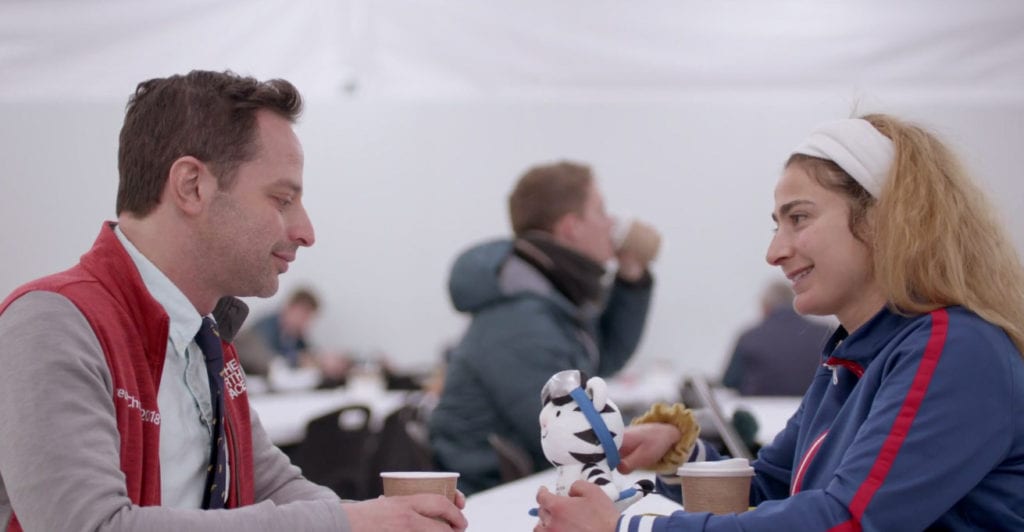 In Olympic Dreams, Jeremy Teicher directs his real-life wife and real-life Olympian Alexi Pappas opposite comedian Nick Kroll in a story about chasing your dream and finding something else instead.
When we meet Pappas? cross-country skier Penelope, she?s anxiously leaving a message for her coach who hasn?t made the trip to the Olympic Village in Pyeongchang, South Korea, for the 2018 Winter Olympics. The sense of her isolation – and her subsequent depression after failing to medal – plays like a melancholy across the screen in the same way that the score does in our ears. But she?s met a volunteer dentist, the slightly-older Ezra (Kroll), whose winsome, outgoing nature draws her out of her shell.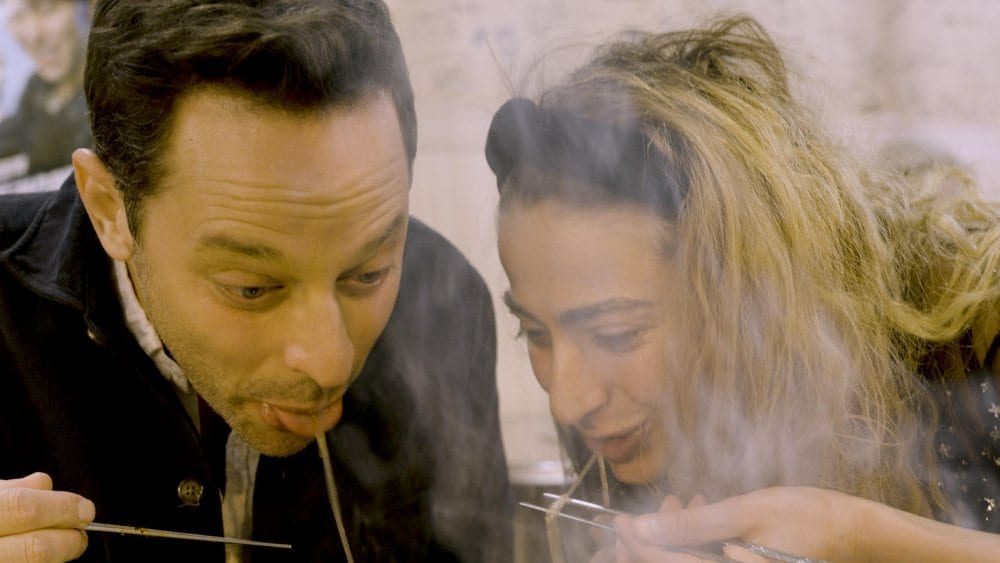 The natural progression of the friendship that develops between Penelope and Ezra is beautiful and simple, set against the background of the actual Olympics going on in the background. Teicher received permission to film at the actual Games, and the backstage pass for the audience – to the game room in the Village, to the practice sessions for the bobsled or curling to name a few, to the interviews with actual athletes that happen while Ezra is supposed to be cleaning their teeth – is magical enough to be worth the price of admission.
Whether it?s about watching two lonely people find friendship or simply to glimpse a snippet of what the athletes do when they?re not ?athleting,? Olympic Dreams has a sense of magic to it. While Kroll?s dentist is outgoing, he?s actually inhibited when it comes to what he wants in life; the anxious skier has a bolder, caution-free understanding of how she has to chase life in the moment. When they have the necessary rom-com crash, Penelope proves to be incredibly mean in an attempt to protect herself and threatens to ruin what has brought them together.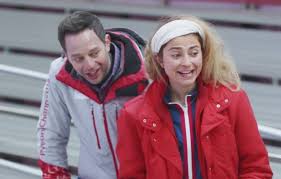 But this is the Olympics where anything can happen.
A simple, chaste love story, Olympic Dreams challenges us to go for the gold in what we want and who we want to be. It?s sweet, but not in a saccharine sort of way – in an earnest, straight from the bee?s nest sort of sweet way that has you rooting for these two to figure it out, if they can.