Jordan Peele has come to dominate the comedic horror genre.?
Bursting out of the gate with Get Out and Us, Peele has established himself as one of the great voices of this generation. Now, with the release of Nope, Peele continues his trend of creating original and inventive sci-fi horror that subverts them our expectations with thought-provoking surprises.
Set on a vast secluded desert range in California, Nope tells the story of OJ and Emerald Haywood (Daniel Kaluuya and Keke Palmer). After their father is killed in a freak accident, the two siblings are left to deal with the horses that they train for use in Hollywood films. However, mysterious things keep happening on the ranch. The power goes out, horses go missing, and debris falls from the sky. However, when the OJ and Emerald suspect that there?s an unidentified flying object in the sky, they become determined to get photographic evidence of this alien ship and prove to the world that there are life forms that are Not On Planet Earth.
Anchored by a tremendous cast, Nope is more than just pure spectacle. Featuring solid work from Steven Yeun, Michael Wincott and Brandon Perea, the film feels almost plausible due to the strength of their work. Nevertheless, the best performances comes from Kaluuya and Palmer. Having worked together on Get Out, Peele understands how to bring out the best in Kaluuya and that is certainly the case here. As the heavily burdened OJ, Kaluuya brings a confidence to the role that grounds the film. However, at the same time, Palmer absolutely shines as well, bringing a liveliness on screen that contrasts Kaluuya?s gravitas.
Classic sci-fi films often identify aliens as technologically-advanced sophisticated beings and, without spoilers, Peele brings his own unique spin to the genre. In this way, Nope is also a great love letter to old school Hollywood filmmaking, and acknowledges the role of the black community within that space. However, while both Get Out and Us have contained messages about social injustice within the Black community, Nope takes a slightly different approach. By using sci-fi tropes as his backdrop, Peele creates a film which both celebrates and satirizes our obsession with celebrity culture.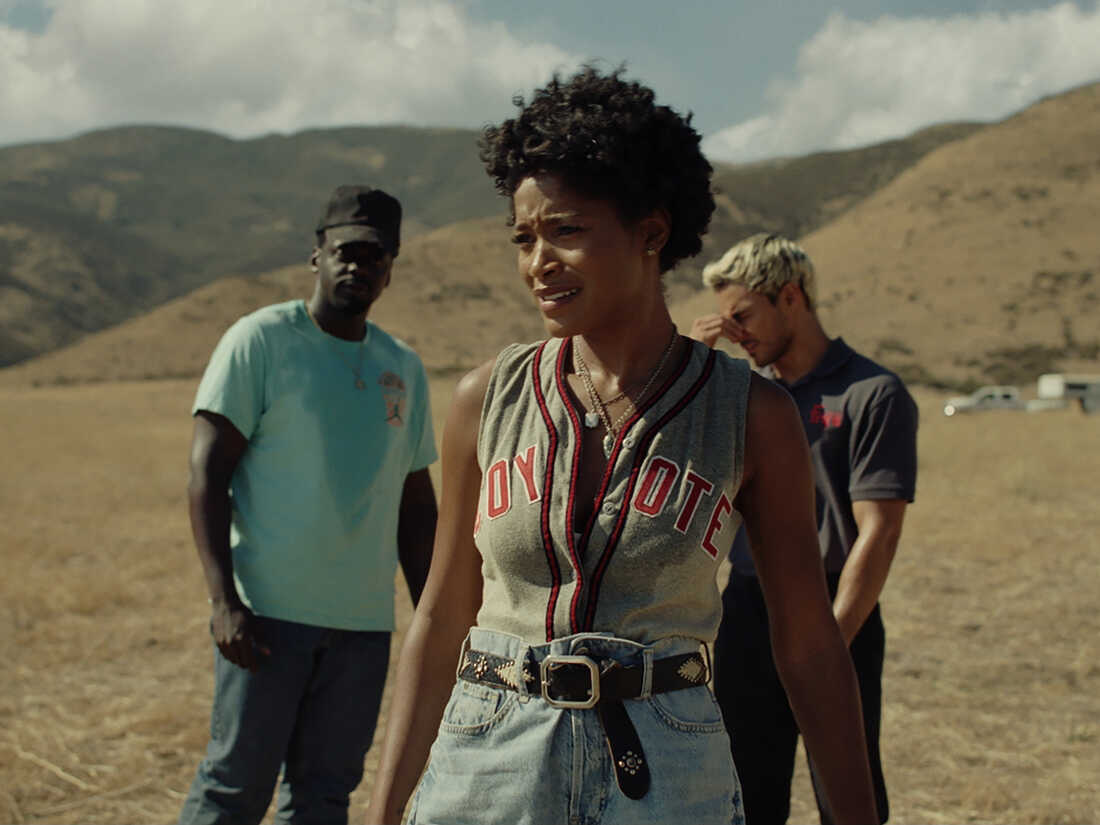 Although their family has been involved in Hollywood for generations, the Haywood family remains relatively unknown in the world of movie-making. When they realize that footage of the potential invaders could bring them mega-stardom, OJ and Emerald fight to get the perfect shot, risking their lives in the process. (After all, this is their chance to get on Oprah.) In fact, everyone in?Nope?seems to wants their shot at glory. Clinging to his time as a child star, Ricky proudly reminds people of his former fame and accomplishments. Hollywood director Antlers Hoist (Michael Wincott) wants to leave his mark on the industry which has relegated him to commercials. Even minimum wage tech-employee Angel can?t help but look for something more.?
But, as Hoist reminds, the fame isn?t always worth it. And it comes at a cost.
Whether it?s Ricky?s tragedy on set or the endless stream of casualties at the hands of their alien attackers, those who choose to stare too deeply into the eyes of fame find out first-hand how quickly things can go sideways. Coming at a time when celebrities fall from grace on a daily basis, Nope highlights how easy it can become to broken by the sheer carnage around us. While the film doesn?t entirely demonize those who have done wrong?look for the ?fist bump??it does remind us of the danger of toxic celebrity. Allegations, scandal and controversies on social media dominate the news cycle, creating a proverbial dark cloud over the industry. (Note that Peele even named his main character ?OJ?.) These shadows can weigh heavily on us, especially if we spend too much time focusing on upon them.
The more you stare into the abyss, the higher chance there is of you getting sucked into it.
With even film, Peele continues to show that he understands what it takes to elevate sci-fi horror beyond thrills and chills. While the film is slightly more difficult to decode than his previous efforts, there?s no doubt that Nopeis another win for the director. Fueled by fun and fury, the film provides all the necessary scares but also provides solid social commentary through sharp writing.
In other words, Nope is worth saying yes to.
Nope?is available in theatres on July 22nd, 2022.