Paris has been a haven for American expatriot artists of all sorts, but especially for African-Americans. In Myth of a Colorblind France, from Alan Govenar, we get to see that history in the 20th century and how it continues today. However, just because African-Americans found freedom there, doesn't mean that there is no racism in France.
Most of the film is a celebration of African-American artists, writers, and musicians who migrated to Paris starting early in the 20th century. With the advent of World War I, when black soldiers were readily accepted by the French (who didn't know about American segregation), many African-Americans felt free for the first time. In the post-war era, African-Americans began to return to France to enjoy the ability express their arts freely. This continued in the post-World War II era as well. Among those we learn about are dancer Josephine Baker, jazz clarinetist Sidney Bechet, painter Henry Ossawa Tanner, writers Countee Cullen, Chester Himes, Richard Wright, and James Baldwin. The film also allows us to hear some of the stories of current African-American expats who continue to find their home in Paris.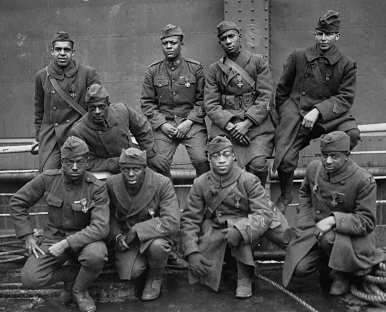 There are two key elements that made African-Americans feel welcome in France. The first was the absence of the racism that was so engrained in American society. When American blacks came to France, the segregation and discrimination they knew at home was not part of French culture. The second element is that in France these people were seen as artists rather than entertainers. That is a key difference. There was no sense of minstrel show when at a jazz club or seeing Josephine Baker. These were people who were making art—something that was valued in the French culture.
Note that I'm talking here about the African-American experience in France. It is noted in a few parts of the film that this is not the same experience that Africans and French people of African descent deal with. One of the current African-American expats recalls being in a neighborhood where many Africans live, and being harshly stopped by police and asked for papers. He says when they heard his American accent and saw he had US identification, they acted very politely. He doesn't believe that would have been the case otherwise.
Early on it is pointed out that "racism in France is much more complicated" It is tied to the period of colonialism when France controlled many places in North and West Africa, and the Caribbean. People from these former colonies have often migrated to France as well. Even those born in France with such heritage, often times are treated much differently that the African-Americans.
The film really spends very little time on this issue, even though it seems to be implied by the film's title. While the film is instructive for us to see the great talent among African-Americans that was nurtured in France, it fails to give more than some passing examples of how racism works in France. There is no systematic look at how racism and anti-immigrant (especially anti-Moslem) sentiment has taken root in France. That might serve as a starting point for discussion in French culture about the realities of racism. It might also serve as an opening for Americans to better understand some of the subtle ways racism works here as well.
Myth of a Colorblind France is available through Virtual Cinema at local arthouses.