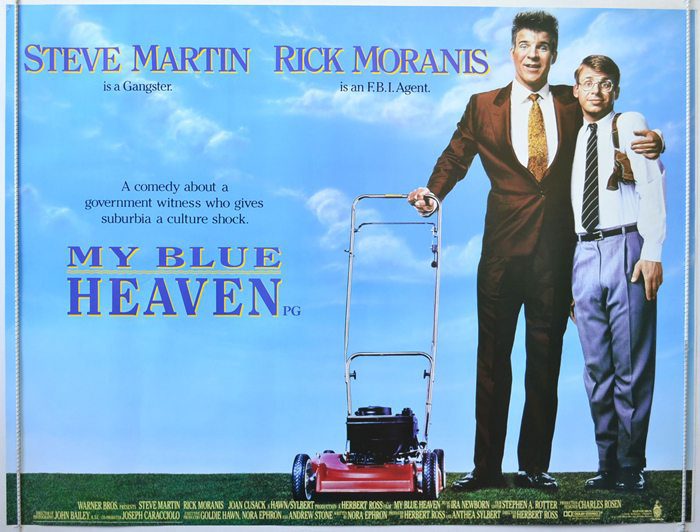 Remember?Goodfellas? This isn't it. But it is another film based on the life of Henry Hill, wise guy and FBI informant. Only here, Hill is Vinnie Antonelli (Steve Martin), sent into witness protection under the supervision of Barney Coopersmith (Rick Moranis), and accidentally, prosecutor Hannah Stubbs (Joan Cusack). When the men find themselves suddenly wife-less, they realize that they may have more in common from opposite sides of the law.
While the film slowly moves Antonelli forward toward his role as a witness in federal prosecution, the meandering desperation of both men leads to some serious hijinks. One of the best interactions is Martin's back-and-forth with a pet store owner who is really an old flunky played by William Hickey (National Lampoon's Vacation). In many ways, the two main comedians play it 'straight,' rendering the funny moments in the way they ignorantly crash through cultural and legal barriers.
While Martin and Moranis are technically the stars, Cusack steals every scene. On one hand, there's the way that both of the main comedians interact with her; on the other side, she's just vocally and visually funny as a put-upon legal eagle focused on facts and rules, who crashes into two men who have nothing left to keep them grounded. Written by Nora Ephron (You've Got Mail), the dialogue applied plays like a rom-com, a buddy flick, and a fish-out-of-water scenario, sometimes all at once!
Ultimately,?My Blue Heaven?proves that we can all learn from each other – even when we think the other person has nothing to share. It's a comedy, but it's a life lesson: we're not in this alone!