Sometimes, the year?s best moments don?t always happen in the best films.
Even though we associate the best moments with awards-calibre films, that?s simply not always the case. The most memorable moments that hit us differently can happen at any time, whether we?re sitting in a blockbuster film with a giant bucket of popcorn or streaming an indie drama online. Whether or not awards are involved is almost irrelevant. The stories we hear all speak to us, if we?re willing to listen.
With that being said, it?s time to examine the year that was through the moments that mattered (to me, at least). Interestingly, this year?s picks have some strange connections, including a surprising amount of cars and dinner scenes throughout my picks but there?s also a whole lotta grace. While many of these picks may not have made my Top 10 of the year, these were the moments that struck a chord with me for any number of reasons. So, let?s get to it.

As always, this article is rated ?S? for Spoilers?
Honorable Mention (without context) goes to:
The Final Concert ? CODA; The Magic Trick ? Beyond the Infinite Two Minutes; Conversation on a Chimney Stack ? Poupelle of Chimney Town; Debating at the Dinner Table ? The Eyes of Tammy Faye;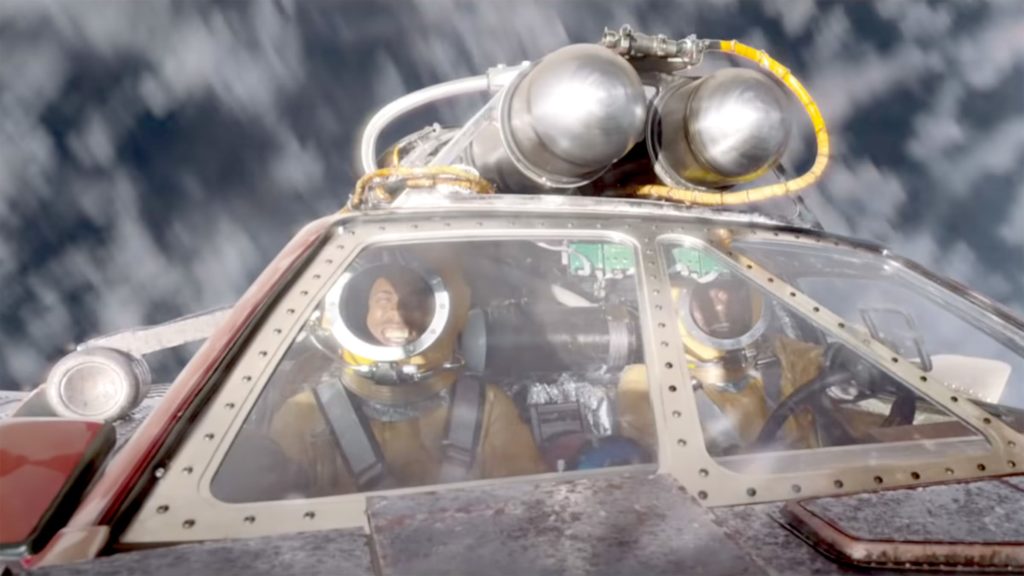 10.) Caaaaaaaars in Spaaaaaaaaaace ? F9: The Fast Saga
Alright, a number of you are already ready to stop reading but hear me out. Over the years, the Fast and the Furious films have become their own unique franchise that celebrates insanity. From heists with cars dragging massive safes through city streets to world-saving spy escapades, the franchise that began about illegal street racing has become marked by over-the-top, adrenaline-fueled adventures in madness. Although the films themselves rarely makes any sense any more (if they ever did), they also continue to make money by the trunkload.
But F9 was the movie that connected in a different way.

For years, fans have been joking about the crazy logic-leaping effects that have been building in the series. Clamouring for more and more ridiculousness, the ongoing joke became that these would-be superheroes would make the jump to space. It was utterly preposterous.

And then they did it.

In F9, Diesel and Co. showed that they were in on the joke and wanted their fans to have their moment. By allowing their Ludacris and Tyrese to drive their car into space to destroy a satellite (!!!), the film demonstrated a relationship with their fans that few other franchises are willing to establish. In doing so, this non-sensical leap into the upper atmosphere validated their dedicated fans and included them in the process. Coming at a time where we?ve all been divided into our homes, this brought people together. (In fact, F9 was the highest grossing film during the pandemic until recently?) This brought fans into the process in a way that makes it noteworthy. (Now if the rumours of a team up with Jurassic World are true?)
9.) Blockade Drive ? Beans
Back into an automobile but for an entirely different reason. In Tracey Deer?s Beans, Montreal?s Oka Crisis in the early 90s is put on display but tells the story from the eyes of the children and families that were affected. Conversations surrounding racial attacks on Indigenous populations are central to the film?s intensity but none of them are more terrifying than one simple drive.

As Lily attempts to gently drive through a blockade, their car is nearly frozen by angry protestors. With children in the car, Lily continues her efforts to get them to safety. However, as they move through the crowds, their vehicle is subjected to some of the most harrowing abuse that you will see onscreen. When their vehicle eventually reaches police, they find no safe harbour there either.

It?s a genuinely terrifying moment.

While simply being ?terrifying? isn?t enough to get on this list, there?s an honesty to this film which demands attention. Coming on the heels of the ?Every Child Matters? movement, Beans is a powerful film that serves as a reminder that history is almost always told from a perspective of power and inevitably means that others are suffering as a result.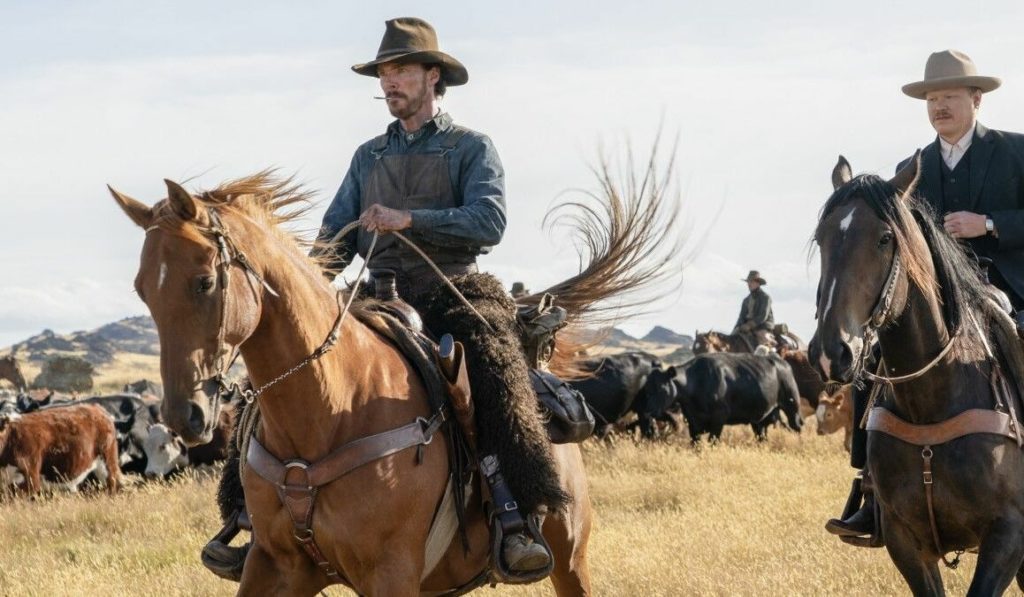 8.) Staring at the Mountains ? The Power of the Dog
In Power of the Dog, Cumberbatch is garnering awards consideration for playing against ?type?. As the gruff cowboy Phil Burbank, the ?once and future Dr. Strange? shows his incredible talents as an actor as he infuses his character with a mix of cruelty and timidity. Whether he?s bullying young Peter (Kody Smit-McPhee) or attempting to hide his inner yearnings, Cumberbatch is a sight to behold in the role. However, one of his best moments is also his most subtle.

Standing in the prairies and staring at the mountains in the distance, Burbank seems lost in thought. His friends push him to know more but they cannot penetrate his gaze. When he?s finally asked if there?s something specific that he?s staring at, Burbank simply remarks, ?Not if you can?t see it, there ain?t?. To him, there?s a mystery in the mountains that few can comprehend. However, this also speaks to the turmoil that swirls within him as well. Knowing that he can never truly be himself, there?s a piece of him in those mountains that he wishes someone else could ?see?. In a brief moment of humility, this brutish beast of a man expresses an inner struggle that he believes will never truly be fixed. Like the enigma of the rolling hills, Phil Burbank is one who believes he will never fully be understood and his character remains broken by loneliness.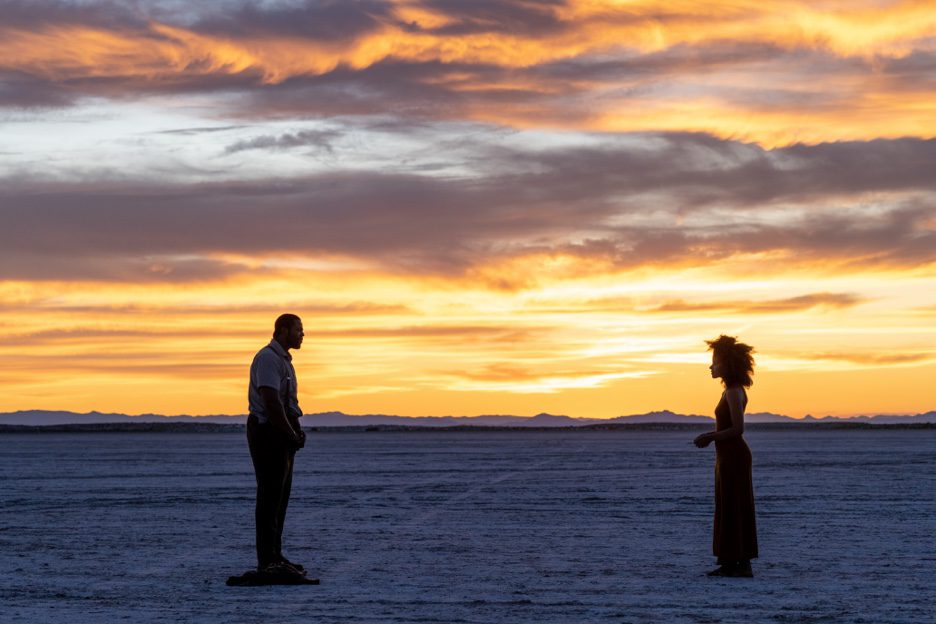 7.) Walt Whitman ? Nine Days
Directed by Edson Oda, Nine Days tells the story of souls who are looking for employment. In a premise not entirely dissimilar to Pixar?s Soul, Nine Days shows the process that it takes for a ?pre-soul? to get the job of a human person. However, unlike Soul, Days spins its focus to the employer (as opposed to the employee) and their dalliances on earth.

As Will, an angelic creature broken by the sudden death of one of his chosen employees, Winston Duke spends much of the film attempting to understand the meaning of life because he?s never experienced it himself. As he weeds out the potential nominees for the new position, Will continues to be drawn to the seemingly reckless Emma (Zazie Beetz), a young woman who simply doesn?t ?fit in the box?. As Will tries desperately to convince himself that nothing is of value, Emma seems to live in such a way that he cannot.

In the film?s final moments, Will finally relents his anger and pain. However, his celebration of life takes the form of a recitation of Walt Whitman?s ?Song of Myself?. As Will bears his soul through Whitman?s words that ?every atom belonging to me as good belongs to you,? a rebirth slowly begins to break through his hardened heart. The power of Whitman?s art provides a moment of sheer joy that pierces the desert within him.
Once dead, Will?s soul is now alive.

In this brief moment, Duke demonstrates such energy that one cannot help but experience the ecstasy along with him. His playfulness becomes an infectious force of nature, highlighting the joy of life and the fuel of suffering simultaneously. While the film itself is a fascinating piece, it?s this finale that truly drives everything home and sparks life within it.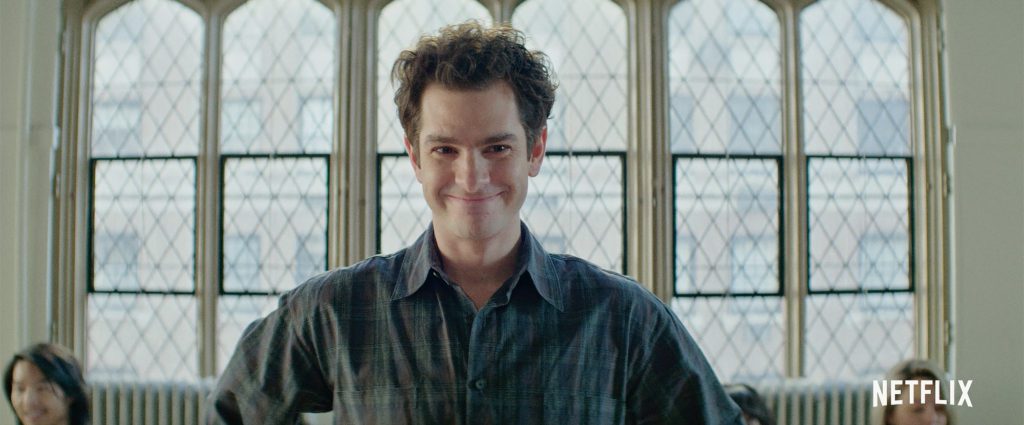 6.) ?Therapy? ? Tick, Tick? Boom!
Andrew Garfield is having a moment in 2021. After three noteworthy performances in the last few months, Garfield has re-established himself as one of Hollywood?s most underrated performers. From entering the Spidey-verse to playing a corrupted televangelist, Garfield?s range has been on full display since the award?s season push began. But his performance in Tick, Tick? Boom! outshines them all.

As Broadway?s brightest son Jonathan Larson, Garfield demonstrated humility, passion and limitless energy all in the same performance. Perhaps the best example of this mix though comes through his performance of Larson?s ?Therapy?. Fueling his performance with conflicted love and rage, Garfield attempts to navigate his relationship issues with his long-time girlfriend. In this moment, he feels focused, present and even honest.

However, this performance is juxtaposed with his own live performance with Vanessa Hudgens where he displays an entirely different type of energy. Playfully bouncing around the screen, Garfield showcases the normalcy of these relationship struggles without ever taking away its impact. Suddenly, a moment that?s steeped in intensity and sadness is infused with joy and liveliness. By performing the song well after the event has finished, Garfield highlights the fact that so many of the things that we deem as important are often less so when we look back upon them. It?s an unbelievable juxtaposition that is simply incredible to watch unfold onscreen, unravelling the complexities of relationships while also revealing the fact that distance often creates perspective.

5.) Staircase Descent ? Last Night in Soho
Edgar Wright has made a career out of creating gorgeous films with incredible soundtracks. But Last Night in Soho may be his best work to date. Co-written with Krysty Wilson-Cairns, Soho is a love letter to the 60s but also manages to hold them accountable at the same time. Though we tend to look back at our history with rose-coloured glasses, Soho reminds us that nostalgia isn?t always healthy. In fact, our love of an era could be covering up the suffering caused by a time of toxic masculine dominance.

And it all begins with a staircase.

Here, Wright exemplifies and foreshadows much of the film?s ?through the looking glass? mentality. As Eloise (Thomasin Mackenzie) descends the steps into the nightclub as the soul of Sandy (Anya Taylor-Joy), Wright leans into the nostalgia love for the 60s while revealing that we?re going to see it through new eyes. Yes, Sandy is a stunning sight who captivates the room but Eloise?s reflection reminds us that there is a fractured image here. In one single shot, we are enchanted but also understand that all is not right. It?s a moment that may be visually stunning but, more importantly, it?s symbolic of the ride into revisionist history that we?re about to be taken on.

4.) The Hug ? MASS
Written and directed by Fran Kranz, MASS feels like a one-act play and features four of the year?s best performances in its leads. Though much of the awards talk has centered on Ann Dowd, each star holds their own in captivating performances and a riveting script.

Based on the simple but powerful premise of two couples (one couple, the parents of a victim and the other, the parents of the attacker) attempting to pick up the pieces after the tragedy of a school shooting, the film almost never leaves a single room and allowing the performers to go to work. Seemingly trapped in one small space in a church basement, these parents are left to hash out the complex and complicated feelings that come with tragedy of this magnitude, including all of its rage and uncomfortable silence.

But the final scene.

After the victims come to an impasse between them and grace finds its way through the pain, they begin to leave the church basement and return to their lives. But during that time, a hug between mothers becomes a sign of healing. Like a flower in the desert, life?uncomfortable life?returns where there was none. It is a symbol of hope and redemption unlike anything else you?ll see this year and breathes life into the moment in the most powerful of ways.

3.) The Last Supper ? Pig
The ?Nicolas Cage? project has been a fascinating watch over the last decade. Fully willing to take on roles that dive into the ridiculous, the Oscar winner has become synonymous with and celebrated for B-projects and bizarre roles.

But then, there?s Pig.

As a former chef forced back into his old life in order to find his lost pig, Cage?s performance here is nothing short of remarkable. On paper, the film seems like another entry into his crazy career. Bearded and disheveled, Cage?s Robin is a man who strikes fear into the other members of the culinary world. (In fact, structurally, the comparisons between Pig and John Wick are undeniable.) But then, the film goes in an entirely different direction.

In what becomes one of the year?s best films, Pig takes an old trope and completely turns it on its head. Whereas these sorts of sorts of films always seem to end in a murderous rampage, Robin instead changes the world through the power of delicious meals. Without spoilers, the film?s final meal feels like it will fall into disaster but instead ends in a moment reminiscent of Babette?s Feast. This space around a dinner table opens the door for truth to be revealed yet never submits to the possibility of violence. In this role, Cage shows a nuance and courage that we have missed from him?and a grace that suggests there may be hope for us all.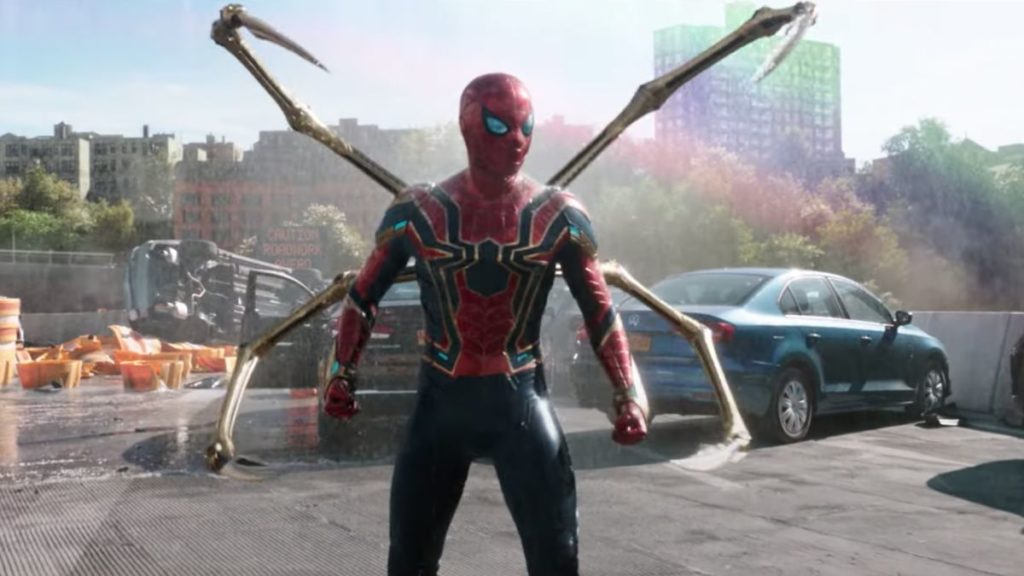 2.) Spider-Men ? Spider-Man: No Way Home
And the grace line continues? With Spider-Man: No Way Home, expectations for Marvel were high. With old villains and cameos throughout the film, there was no doubt that No Way Home was gearing up to be a nostalgia-fest. So, we figured it was going to be fun, to say the least. But I wasn?t prepared for what we got.

Instead of just Spider-Madness, No Way Home?s emotional arc and genuine character growth surprisingly gave us one of the best films of the year. Rather than simply use those cameos as stunt-casting, they actually felt like a necessary experience. Yes, it was undoubtedly fan service? but it wasn?t only fan service.

No scene summarized this more than the scene on the rooftop.

As all three iterations of Spider-Man (Tobey Maguire, Andrew Garfield and Tom Holland) met face to face on the roof, every fan revelled in the moment. But the scene illustrated the film?s powerful message of hope, grace (there?s that word again) and wrestling with guilt and pain. Maguire and Garfield provide Holland?s Spidey the chance to grieve while also feeling supportive and helpful. But they also help him to regain his perspective. This is a film about saving the worst of us, regardless of what we think they ?deserve?. Here, Garfield & Maguire show their own emotional battle scars and still manage to remind Holland of his calling in the most loving of ways.

I know that there are people who are clamouring for this to garner Oscar attention but that?s simply not going to happen. However, the moment?that moment on the rooftop?is easily one of the most special gifts that we were given in 2021. Nostalgia is fun? but this film understood that it?s meaningless without repairing the soul.

1.) Birth Story ? Titane
I really wrestled with this pick. Titane is one of those films which is difficult to recommend to the casual viewer due to its insanely graphic nature and wild premise. However, it?s also brilliant, touching and shockingly soul-filled. Brilliant performances from Agathe Rouselle and Vincent London take an example of body horror and elevate it into something truly special. As Alexia/Adrien, Rouselle fully immerses herself in the character with intensity and humility. However, the real story here is London. As grieving and broken father Vincent, London instills a grace-fuelled performance that breaks the heart and soul. As a result, what begins as the story of one young woman?s traumatic relationship with her car (yep, that?s real?) transforms into a modern representation of the Prodigal Son.

Posing as Vincent?s long-lost son, Alexia manages to hide from her pain under his protection. Of course, eventually, the ruse is uncovered. Even so, although Vincent knows that Alexia is not related to him, he refuses to give up on her. In fact, it makes him more determined to fight for her. (?I am God to you,? he informs his staff. ?And that makes him Jesus. If you harm him, you deal with me.?)

As she gives birth to the child that exists solely as a result of her pain and trauma, Vincent accepts the child as his own. The film?s final shot of him holding the metallic-studded baby is easily the most touching and beautiful moment set to screen this year. It doesn?t matter that he has no relation to the child. It doesn?t matter how the child came to be. All that matters is that the child matters.

The love of this father changes their lives.

Horrifying and humbling, Titane?s Birth Story is one of those moments that leaves a mark on the soul. Even though the film is one of the most difficult watches in recent memory, the story of Alexia is also one of the most poignant and powerful experiences I?ve had in a theatre in some time. Coming at a time when we?re divided by so many issues and controversies, there is simply a stunning beauty to this moment that breaks through the most hardened of hearts.
To hear our episode of SF Radio that talks about our Top Movie Moments with Seeing & Believing's Kevin McLenithan, author Wade Bearden and several guests, click here (YouTube) or here (podcast).
This article has also been posted in partnership with InTheSeats.ca.