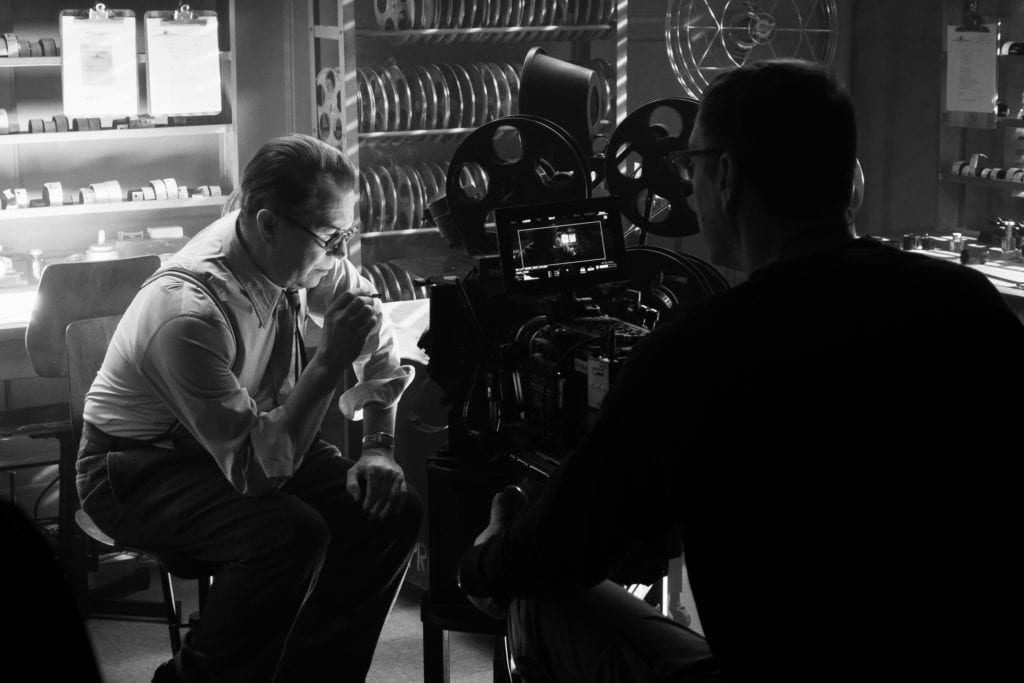 Set in 1930s Hollywood, Mank tells the story of celebrated screenwriter Herman J. Mankiewicz (Gary Oldman) as he develops what will become his greatest 'opera', Citizen Kane. Under incredible pressure to produce brilliance through his writing, Mank reflects back on his toxic battles with the mighty William Randolph Hearst (Charles Dance) that led to being blackballed by the same studios that once embraced him.
Directed by David Fincher, Mank is an absolutely stunning sight to behold. Shot using similar stylistic devices as it's subject Citizen Kane, Mank is an absolute tribute to the Hollywood of old. Using filtered lighting, slow fades and layered text, the film transports the viewer back in time to the Golden Age of cinema. (In fact, the film is so convincing that one could be forgiven if they were oblivious to the fact that it was released this year.) What's more, the film's score by Trent Reznor and Atticus Ross (frequent collaborators of Fincher's since The Social Network) is utterly remarkable, echoing the crescendos and bounces of early soundtracks to perfection.
In fact, the reproduction of old Hollywood is so dazzling that it's possible that some may use it as a slight against the film. Inevitably, there will be some who believe the film has more style than substance, attempting to impress audiences with their slavish abilities to recreate the past. (For example, this was one of the most vocal criticisms of former Best Picture winner, The Artist, which blew onto the scene with its homage to the silent film era.) However, to claim that Mank is merely fancy camerawork and special effects would be wholly inaccurate.
To quote Mank himself, "This is different. This is about something."
Perhaps it's not surprising that one of 2020's best films smacks of nostalgia. Unironically, this would be the year above all else that viewers may yearn for a 'simpler time'. However, if anything, the film continues to prove how stories of greed and corruption continue to be relevant to this day. In the world of Mank, the image is what gives power. Whether it's Hearst's impressive estate or the bright lights of celebrity, notoriety seems to equal influence. ("People think because you're on the cover of Modern Screen, they know you," Marion moans.) Nonetheless, the pomp and prestige that wealth and notoriety appear to offer create a vacuum too easily filled by dishonesty and fraud. Though he struggles with his own vices such as alcoholism, Mank is fully conscious of his flaws and yet remains unapologetic about them. Held up against the false imagery around him, Mank's authenticity and self-awareness is worn as a type of broken armour and reveals the challenges of swimming upstream with integrity at a time when the river is poisoned.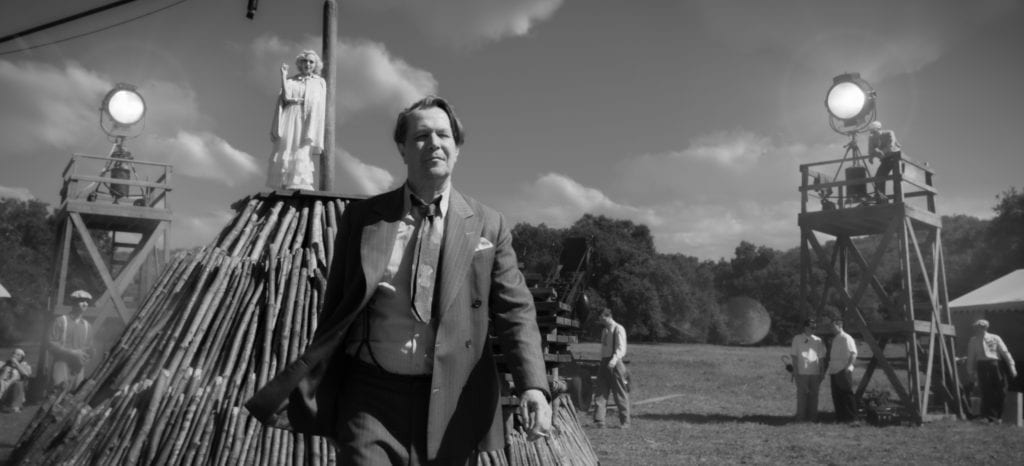 The first screenplay by Jack Fincher (David's father, who died in 2003), Mank is a tribute to the notion of the writer and, more accurately, the truth itself. Though he struggles with his own demons, Mank has little time for the pretense of others. Speaking with a razor-sharp wit, he is beloved at parties but often written off for his wild perspectives and insights. ("He likes the way you talk. Not the way you write," Mayer shoots at him.) Even so, Mank continues to speak his mind out of principle and integrity, attempting to reveal the sins within the imbalances of power. As "the smartest guy in the room", he is well equipped to recognize the difference between the powerful political puppet masters and their unwitting marionettes. To Mank, honour comes from cutting through the façade that those in power put on for others and speaking out on behalf of others.
Utilizing techniques from yesteryear, Mank offers something truly unique to this year's crop of films that somehow feels both fresh and nostalgic. Even so, beyond the dazzling cinematography and gimmicky techniques, the film has much to say about the power of truth at a time when image is king.
Mank is now playing in select theatres and will be available on Netflix on December 4th, 2020.