Wild Nights with Emily transports us to the mid-nineteenth century, when Emily Dickinson was writing prolifically, baking gingerbread for neighborhood children, and thrilled by a passionate romance with her friend and sister-in-law, Susan. Directed by Madeline Olnek,?Wild Nights is a fresh look at one of the most prolific poets in American history. Told through the eyes of her own writing, this portrait of Dickinson is unlike any we have seen before. Often portrayed as a recluse who refused to leave her room, Dickinson has historically been viewed as an example of mental health issues who refused to have her writing seen by the world. For this reason, Olnek felt compelled to tell the truth behind the legend of Dickinson?
?When I first read this article in the New York Times in 1999, I made a play version of it and I always knew I wanted to make into movie,? she recalls. ?[This is] my third feature film and I wrote a screenplay. In the time between the play version and the film version, even more research came out. We all think of Emily as a recluse that didn't leave her room and no one loved her, who hid her poems away and talked to people through walls. It's morbid. Actually she had a long romantic relationship with this woman who eventually married her brother. Also, her brother had a mistress who was the person who put together Emily's books of poetry after her death and spun the story of Emily as this tortured person… I thought that was so fascinating, how people often don't think about how so much of history comes from the perspective of the person who's telling it. Everyone always assumes the person telling the story is some reputable person with no ulterior motive.?

While casting Molly Shannon as Dickinson may seem unexpected, the film?s balance of humor and drama plays well to her strengths. When asked why she chose to work with Shannon, Olnek confesses that she has always wanted to work with the comedy veteran and allow her to explore her range.
?It was my dream to have her play the part,? she beams. ?I think that for anyone who has seen her performances on Saturday Night Live or that movie where she where she plays a mother dying of cancer (for which she won an Independent Spirit Award) understands that she has that range where she can play both really, really funny comedy and great drama as well. Another thing that's been revised about Emily Dickinson was actually that she had a great sense of humor and was very funny. When I found that out, too, I felt like that's one more thing that's been kept from us? And then I found that? she also was very funny. Her niece talked about how no one would talk longer or funnier than Aunt Emily. She had a great sense of humor and there's a laugh out loud things that she's written. This is [just] one more way in which Emily Dickinson has been made into this weird figure almost like a female punishment story.?

One of the most interesting aspects of her film stems from the fact that it allows Dickinson?s own word to take front and centre throughout the film.?
?She takes you inside of the poem and you have an experience within it… I feel the failure of literary biopics is, quite often, that you leave knowing a few more details about that writer's life, but you've never experienced the thrill of their language and ideas. I wanted people to experience the poems as opposed to just listen to them. So, we tried to make each poem a different experience… That was really important to me.?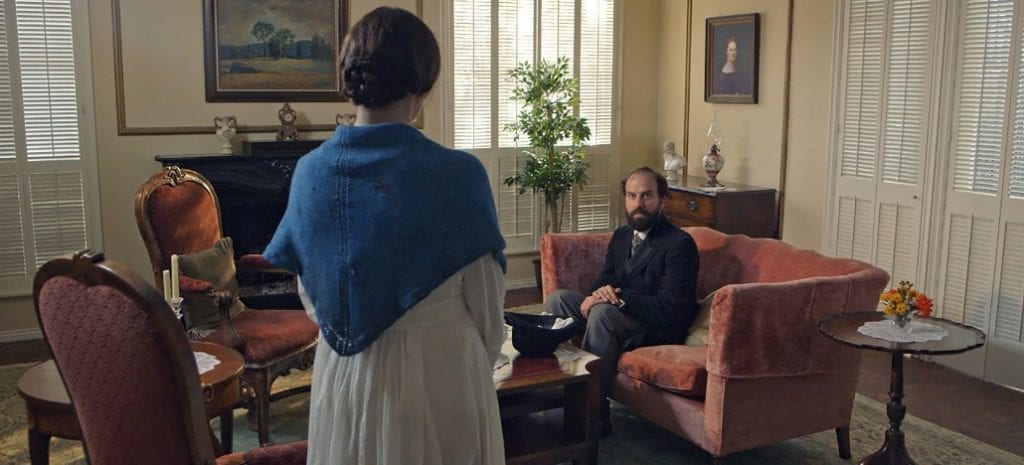 After all this time, the legacy and impact that Dickinson?s work continues to have is nothing short of remarkable. With this in mind, the director believes that much of the power of Dickinson?s work lies in the fact that they speak to modern understandings of psychology.

Says Olnek, ?One of the things that's one of the greatest compliments the movie gets paid to my mind as I'm told often two things. One people say to me, I never thought I would go see any movie about Emily Dickinson. The second thing they say is that, after they've seen it, they want to run home and read more Emily Dickinson. To me as someone who was a dramatist, my main interest is in human psychology–how people think about things and how they act–and Emily Dickinson poems are so modern. She's [often] capturing and communicating truth about psychological states before there was a field of psychology that defined them. They are just so modern that they're shocking. ?

In light of her ability to remain so relevant, one may wonder whether there was something that Dickinson understood about the power of words that others did not at the time of her writing. As such, Olnek believes that much of her continued impact stems from her ability to push social conventions and speak her voice.
?There were two forces at work. One was obviously [that] she was the woman writing the kind of poetry that women weren't supposed to write. There may have been a little bit of overlap in a sense with Walt Whitman but Whitman, because he wasn't expected to adhere to traditional notions of femininity, he had more options to push the form… So, he could get his poems out there the way that he wrote them. Think about how this was a time where women didn't even have the right to vote. I think that Emily Dickinson had a brilliant mind??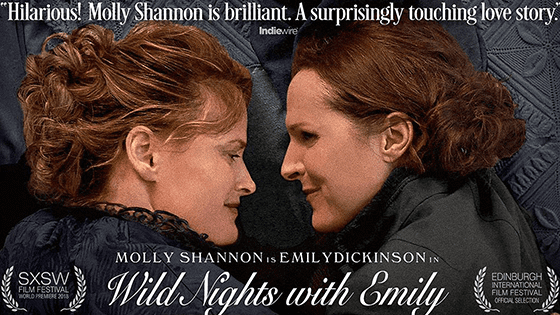 ?[To paraphrase a great quote I?d read], ?because Emily Dickinson was involved in this unorthodox romantic situation, it necessarily caused her to question the arbitrariness of all social conventions…? You were told you weren't supposed to feel this way. Then, looking around the rest of the world and [asking] what else am I not supposed to be doing? So, yeah. I do think it damaged her in a way, as difficult as a struggle as it must've been at the time. I've sat and grapples with what must that have been like to have found herself in love with actually several different women at different points in her life and there was no like gay pride parade. She had no way to come to terms with it except to think about it and to read and look for examples in literature.?
Although she has been thrilled with the response to her film, Olnek remains somewhat surprised by the audience that seems most excited about her latest work.
?What makes Emily Dickinson timeless was that her insights were timeless and her concerns for timeless,? she claims. ?They were about the human condition. I have been super surprised by two things. One, that men love them as much as our female audiences and, secondly, that the movie of really appeals to senior citizens. I was surprised… We went to the Sarasota film festival and they had to add three screenings because it was so popular among seniors… We had sell-out crowds and I realized a couple things."
"One, the obvious things [is that] it's hard to even find a movie without violence… This is a movie with beautiful music in it, beautiful costumes, beautiful poetry that appears on screen and it's a beautiful love story [that's] tastefully done. So, this is a kind of a movie that you can go with your parents or with your grandparents. We've had people bring their high school aged children to it because the poems are so strong. Emily Dickinson's poems are so amazing. Also, because it's entertaining. We have some really, really heavy hitters in the world of comedy. We have Molly Shannon and Brett Gelman, who's on several Netflix shows and Kevin Seal who's hilarious. We have all these really, really funny performers in it so that it's entertaining as well.?
Wild Nights with Emily?is currently spinning its tale in theaters now.
For full audio of our interview with Madeline Olnek, click here.