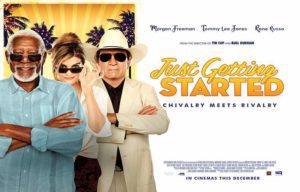 Just Getting Started tells the story of Duke Diver (Morgan Freeman), a lovable hustler in the Villa Capri retirement home in Sarasota, Florida. The manager of Villa Capri, Duke?s desire is to forget about his past and make life one big party for himself and his residents. However, when a mysterious stranger named Leo (Tommy Lee Jones) arrives, it threatens the balance of power within the community and the two men begin to compete for the role of alpha male.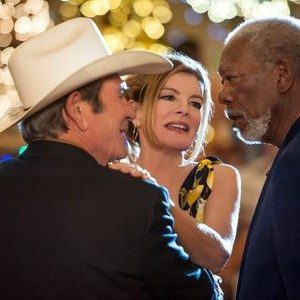 In the development of the Villa Capri, legendary writer/director Ron Shelton (Bull Durham, White Men Can?t Jump) has created a truly unique setting that invites the viewer to believe that anything is possible. From ?unofficial? poker games to yoga to rampant sexual dalliances, the Capri is a colorful, energetic retirement community featuring fun and lovable characters. Furthermore, the film also features an almost frenetic performance by Morgan Freeman (which is a sentence I never thought I?d say) as Duke. In the same manner that Duke wants Villa Capri to be ?one big party?, there is no question that the cast is enjoying themselves playing wilder versions of themselves.
While the film?s tone remains light throughout, it also speaks to the issue of starting over. To the people there, Villa Capri is more than simply an endless party. Instead, it?s a place where the elderly can reinvent themselves. The film spends very little time exploring the backstory of the majority of residents and that seems intentional. After all, with its enclosed community and lighthearted atmosphere, the Capri seems to carry an almost Edenic sense of freedom from the rest of the world for its residents.
Of course, simply believing that the past is behind you doesn?t necessarily mean that there aren?t consequences. For instance, while Duke may be a lovable hustler to the residents of Villa Capri, he is struggling to break free from his past. For Duke, being number one at Capri is more than simply being the best. Instead, it?s about establishing himself as someone new. However, despite his new life, he remains tied to a past of which he has yet to rid himself. As he becomes more open about his history and allows those around him to help is he able to properly deal with his past and move forward. Although Duke may present himself as a freewheeling hustler, he remains as broken and in need of support as everyone else. As a result, Duke?s journey reminds us of the power of healthy community as an agent of healing and hope. There is a Divine grace that allows us to move beyond our past hurts and mistakes, even as others seek to label us by what we?ve done.
In the end, Just Getting Started is a fun and freewheeling comedy that allows its stars the chance to explore their wilder sides. However, more importantly, it also presents the Villa Capri as a haven where the elderly can have a second chance at life, regardless of their past.