The demise of the Western has been greatly exaggerated. But in one seven-episode swoop, writer/director/creator Scott Frank has brought back the greatest of American cinematic icons on the small screen. Starring Jeff Daniels as the nastiest villain anyone has cooked up in awhile, and telling the tale of a female-only town,?Godless?has a wonderful, dreadful story to tell about the Wild West … and maybe even today's murky socio-ethics, community, and religion.
The driving force in the film is the obsessive, vengeful pursuit of Ray Goode (Unbroken's Jack O'Connell, complete with southern accent) by the dastardly religious outlaw Frank Griffin (Daniels), who massacres whole towns in his attempt to find Goode. Mixed up in this forward motion is the town of La Belle, where mayor Mary Agnes McNue (Merritt Weaver) attempts to lead a proud band of women in civilized survival while various men, from the conniving (cowardly) mining company to the famous newspaper editor, try to have their way with the town. Peripheral to the town's location are the visually-challenged sheriff (Scooter McNairy) and a lonely, ostracized woman named Alice (Michelle Dockery) who has faced greater atrocities than the rest have imagined.
Along the way, Frank's script delves into the life of a woman who has been raped (and who now raises the son of her violation) in Alice, the impact of the way that women stripped of their husbands and friends must fight for equality in a masculine world, the power of vision (physically and metaphysically), racism (even toward those who have served our country well), cross-cultural relationships, and the power of redemption. It's seven episodes where no shot of beautiful mesquite or dynamic action is wasted, but the O'Connell-Bridges moments are still best.
It's no accident that O'Connell's Goode represents the moral high ground to Bridges' Griffin. While Griffin spouts Scripture (some of which he made up) and condemns those who misuse the Lord's name in vain, he's raping other men's wives, stealing from the poor, and killing anyone he even?thinks?is between him and Goode. That includes, but is not limited to the death of small children (or the wonderful cameo by Sam Waterston).
Goode is a reformed man, a man who lives and loves with a value for life, even while recognizing that he's far from perfect. He's La Belle's best chance (we might assume) because he's trying to reach something deeper, something greater, even while we watch the town erect a new chapel (a sign of hope) as Griffin bears down on them.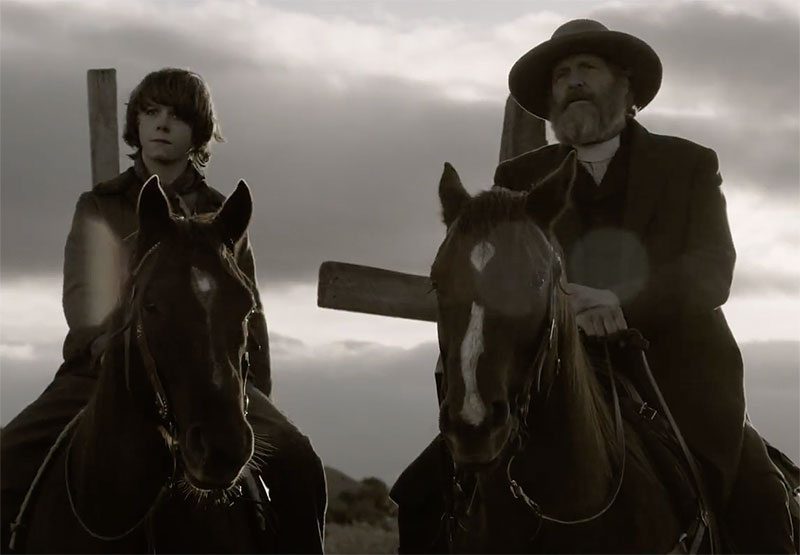 This is an epic Western, where everything is on the line. But it allows us to see a world where the women can speak for themselves, where the women can do what needs done?without?some white-horse-riding savior. Because every man, woman, and child here has their flaws, whether it's jealousy, blindness, vanity, anger, lust, etc. It's in the wilds of the west that each one must find their own way, choosing to overcome what they've done and what's been done to them, to be the best person that ultimately? they can be.
It's a great, dynamic struggle between good and evil, or Goode if you'd have it. And it's beautiful to watch and wrestle with.