In Return to the Hiding Place, writer/director Peter C. Spencer takes us back in time to World War II and the resistance efforts of Corrie ten Boom. Realizing the depth of the Nazi threat to Holland, ten Boom developed a secret army of untrained youth to help in the rebellion. Around the same time, Hans Poley, a young physics student also opts not to join the Nazi party and, as a result, is forced by his parents into hiding in the home of ten Boom. It is here that he is drawn into the resistance and a world of espionage and intrigue himself, centered around the famous Hiding Place. When asked what drew him to this story, Spencer shares that it was a more personal experience than one might expect.
?I saw the film The Hiding Place as a boy and it impacted me dramatically,? Spencer explains. ?Years later, I was doing a public speech and a gentleman who was elderly walked up to me and I soon discovered that he was [Hans Poley], the first person hidden in the hiding place. The more we chatted, we became friends? I went over there to visit him and he took us to the Hiding Place. He showed us the areas that they would hide in when the Nazis came crashing through the doors, where each one of them scurried. It became very real to me? . I told Hans that you have got to get this story down. We have got to show this to the world.?
In addition to his personal relationship with Poley, Spencer also felt there was something unique in approaching the famous legacy of Corrie ten Boom through the eyes of the youth with whom she was involved.
?It?s unexpected,? he begins. ?People go to a movie and they assume that everyone in the story are mature [and] older people. What?s wonderful about it is [that] the teenage army that turned out to be her secret weapon, they turned out to be children and young people. I think that?s what?s great about it is that it allows people to see something new.?
?We spent 20 years on this film. It was kind of one of those things where you?re researching secrets that no one?s ever told before?never been published?so what you see on the screen there, even the miraculous events, these moments happened. And praise the Lord that Hans lived long enough to be able to share them with me so that we could? get them on screen [and] share them with the next generation.
As a first-time director, Spencer worked incredibly hard to make sure that the film depicted the era realistically. Rather than settle for mere ?Hollywood excess?, he and his team fought hard to be as accurate as possible.
According to Spencer, ?The literal challenge is getting the uniforms? correct. All of the Nazi soldiers are people who are actual re-enacters so they knew which pins to put where, how to identify their divisions, etc. So, people who watch this film have seen Valkyrie and other films and said this is one of the most accurate portrayals of how soldiers would move, how they would react to and march with their Colonel. We had a lot of groups that? said thumbs up.?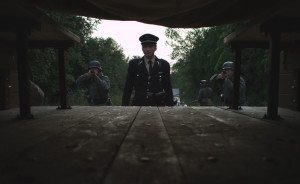 Ultimately, however, the most important aspect for Spencer was to tell a great story. With a setting as dramatic as this, he felt that the greatest impact is felt when people can connect with the characters.
?The people in the theatre have to fall in love with the characters,? he says. ?Then, you can have a [great] film? I don?t have anybody at the end of this film stand up at the pulpit but, throughout the film, they?ve attached to these young characters. They?ve fallen in love with them when they see them give their lives and that person in the audience is moved when they see the value of their faith.?
Having said this, Spencer connects deeply with the theme of the Christian faith within the film. It is his hope that Return to the Hiding Place will actually serve as a powerful?and positive?example of what it means to live for Christ in the world.
?[The film] shows the amazing input that Christians had in the liberation of a culture and around the world,? he claims. ?It was Christianity that really was the motivator? We want to be responsible and give credit back to where credit is due and that is [that]Christianity builds civilizations that are free. That?s something that you see in this film.?
For Spencer, the responsibilities of telling a great story as a filmmaker also stems from his faith as well.
?As a Christian filmmaker, a lot of people just raise their eyebrows to me and say ?oh, you guys are just making a Christian film',? he argues. ?They immediately jump to the conclusion that it?s going to be mediocre. Christian films should be excellent because we have an excellent King, Master and art director. We?re called to tell the truth? and to raise up the name of Christ with the talents we have. We don?t have to preach to the audience.?
?[This] film undoes negative stereotypes of the Christian faith and establishes the true faith that deals with the cross of Christ for those that didn?t deserve it. We?re looking at a tiny place where people can say that ?this is what living for Christ truly is.? There?s been a lot of paradigm shifting towards Christians [by those who have seen Return to the Hiding Place] and they?ve vocalized it. They say ?Wow, if I?d known Christians like that when I was young I think I?d totally feel different about Christianity.?
According to Spencer, ?If twenty million people see this film, twenty million people?s lives are altered and they influence another hundred million people. I believe very strongly that the Christian faith is the ultimate unifier of people, paradigm shifter and culture builder.?
By revealing this call to discipleship and sacrifice for the sake of Christ within the film, Spencer prays that the story will most inspire the youth of this generation as well.
?We don?t see a lot of published reports of the successes of young people who have stood for their faith and won the battle,? Spencer argues. ?This film is a defense film? [by saying] that you?re not a victim. As a Christian, there are many martyrs? It takes people being willing to be obedient and going against the grain to bring truth back to society. Most teenagers in America right now are thinking more about video games and how to entertain themselves and these teenagers went literally overnight from innocent students to fighting the most violent army in the world. It was because of their faith. We never want to talk about the lion in the coliseum but we?d rather talk about the band [playing] in the coliseum. I feel like this generation growing up in the church realizes that the time is now. We can?t just sit idly by and do nothing.?
?These young people made a stand and they won. That?s what Christians need to see today. Victory does stand… if we stand.?
Return to the Hiding Place is in theatres now.