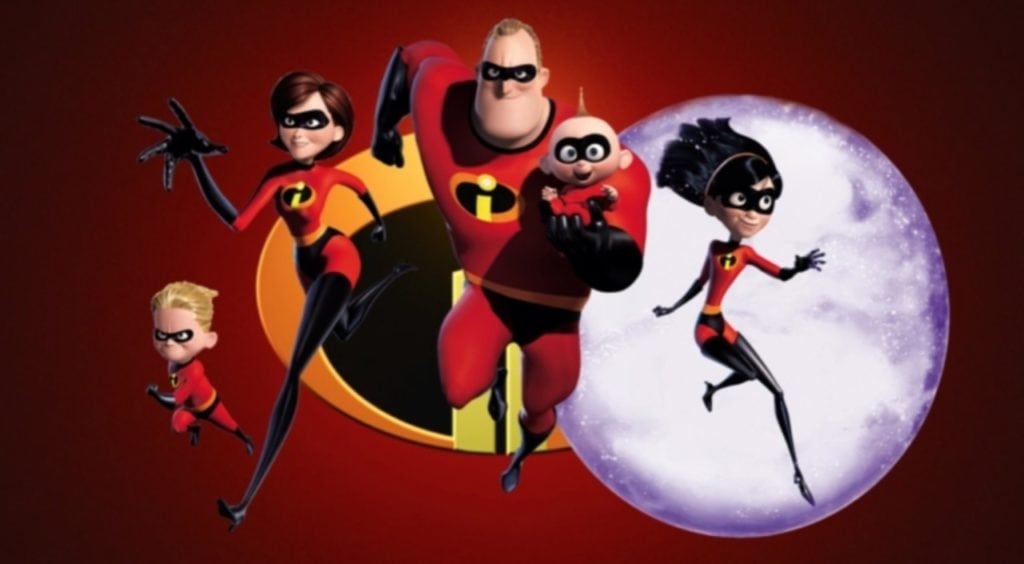 Fourteen years ago, Brad Bird traded his success with The Iron Giant into a big-time spin with Pixar/Disney in The Incredibles, but since Ratatouille, Bird has been better known for live-action direction of hits like Mission Impossible: Ghost Protocol and Tomorrowland. So what could move Bird out of an advising role to reveal the Incredible family in a sequel? Why would he risk criticism, disappointment, and even failure by re-entering a world he'd seemed to perfectly captured the first time?
Because in Incredibles 2, Bird delivers the rare feat: the sequel is better than the original.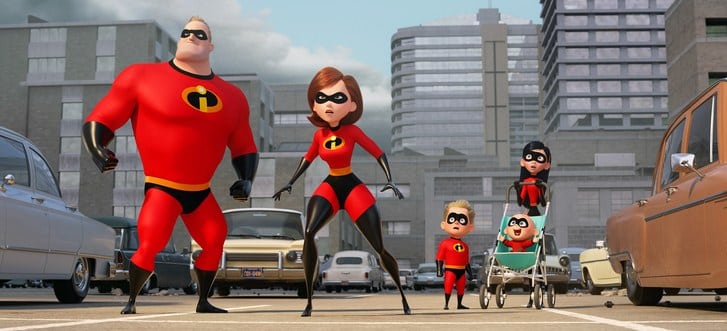 Just moments after the events ending The Incredibles, the Parr family, Bob (Craig T. Nelson), Helen (Holly Hunter), Violet (Sarah Vowell), Dash (Huck Milner), and Jack-Jack (Eli Fucile/Nicholas Bird), persecuted by authorities for breaking the law forbidding secret identities by superheroes. Living in a hotel, broke, and desperate, the Parrs are approached by Winston Deaver (Bob Odenkirk), who wants to use his telecommunications company to bring back the golden age of superheroes. But he wants Mrs. Incredible/Elastigirl to be the face of the movement to change heroes' legal status, forcing Bob/Mr. Incredible into a new role: stay-at-home dad.
While Elastigirl goes off to fight a villain the audience soon identifies as Screenslaver, Bob stays home in his 'civilian' role, balancing Dash's math needs, Violet's love interest, and Jack-Jack's budding superpowers. Thankfully, Frozone (Samuel L. Jackson) is around to help, a little, and he works his way through the grief of not being the breadwinner, of being at home on his own, and what it means that Elastigirl is fighting his battles for him. The struggle is real: it's a fine animated look at what it means for roles to be reversed, subverted, and ultimately, established in a new and powerful way.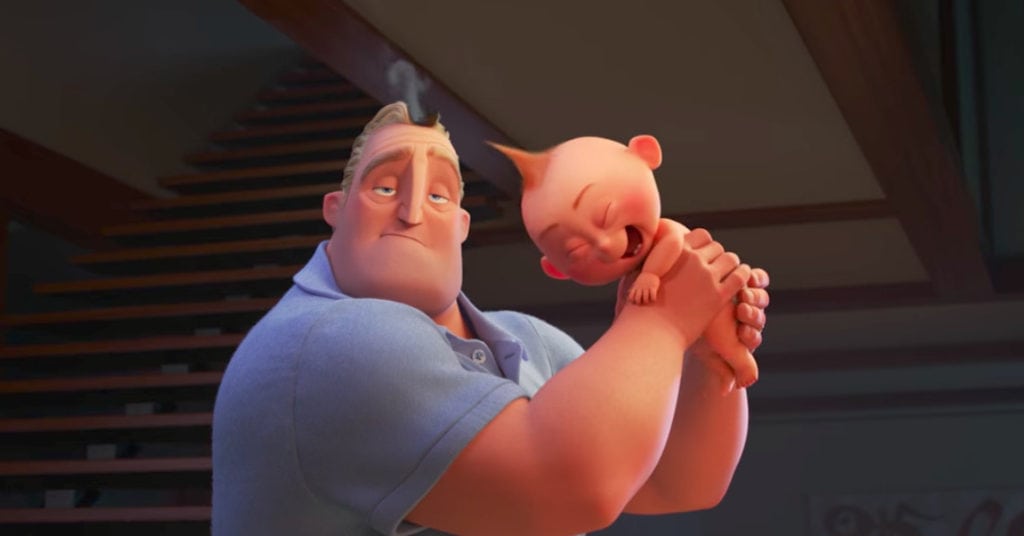 But let's be clear, as deep as this film is, it's hilarious, too. There's a hysterically funny battle between Jack-Jack and a raccoon; there's the witty interplay between Bob and Helen; there's the absolutely clever way that each of the children represent solid characters with distinctive humor of their own. And it allows for the theater to be a rollicking room of laughter from children and adults – while doling out some solid wisdom, too.
I've said enough already about the way that Bob and Helen continue to grow in their relationship, as friends, spouses, and parents, building on the first film's exploration of those issues. So let me say this: I found it decidedly more interesting this time out how the film touched on the dangers of extensive screen time (Screenslaver? C'mon.) in children and adults, and the way that the film asked an age-old question: when does it become right or moral to break the law?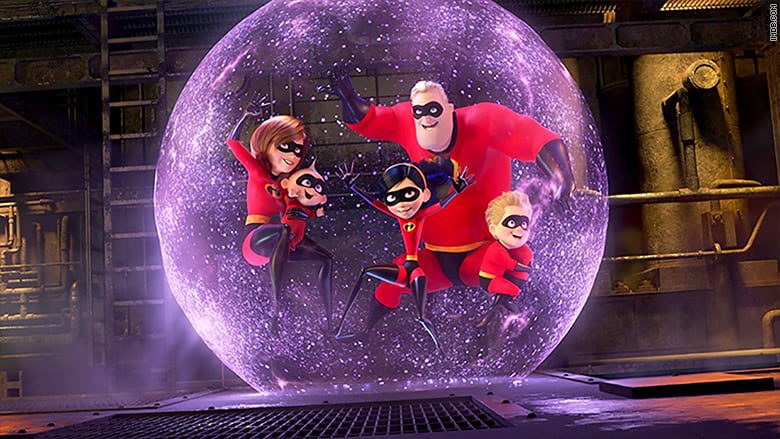 Bob, Helen, and their children discuss – over the dinner table! – what it means to obey the government's ruling that superheroes cannot have secret identities, while other people suffer at the hands of criminals as a result. It draws this animated hit into the neighborhood of questions asked in stories like Les Miserables (is it illegal to steal if otherwise your children would starve?) or current news (like the moral appropriateness of separating children from their parents). Somehow, Incredibles 2 came with bucketfuls of laughs, but it didn't come to play.
And just to be clear: the last time a sequel mattered this much, George Lucas was writing real, non-midichlorian-centric stories in The Empire Strikes Back.