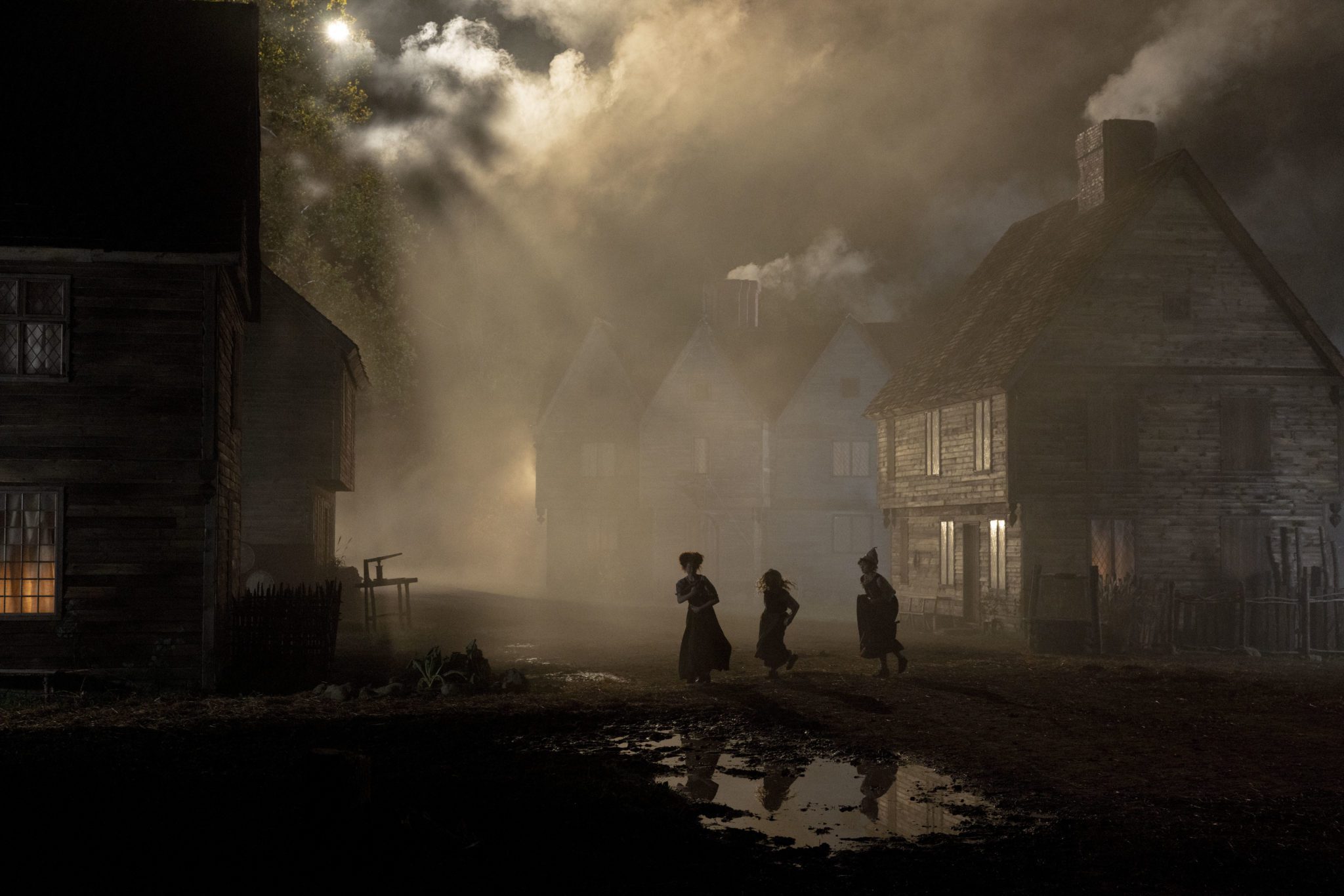 Some franchises are always popular and some grow over time.
Such is the case with the Sanderson Sisters of Hocus Pocus. Although the first film?s release was hardly a massive success, the Sisters have grown in popularity over time to the point where a sequel has become a highly anticipated event. Now, with the release of Hocus Pocus 2 on Disney+, the Sisters ?are back, witches!? with fans eager to hop on their broom (or roomba) in celebration.
Directed by Anne Fletcher, Hocus Pocus 2 takes place 29 years since the Black Flame Candle was first lit, unleashing the terrifying Sanderson Sisters. However, after a trio of teenage girls find themselves separated on Halloween, the candle shines once more and Winifred, Sarah and Mary (Bette Midler, Sarah Jessica Parker and Kathy Nijimy respectively) find themselves revived once more to wreak havoc on the town of Salem.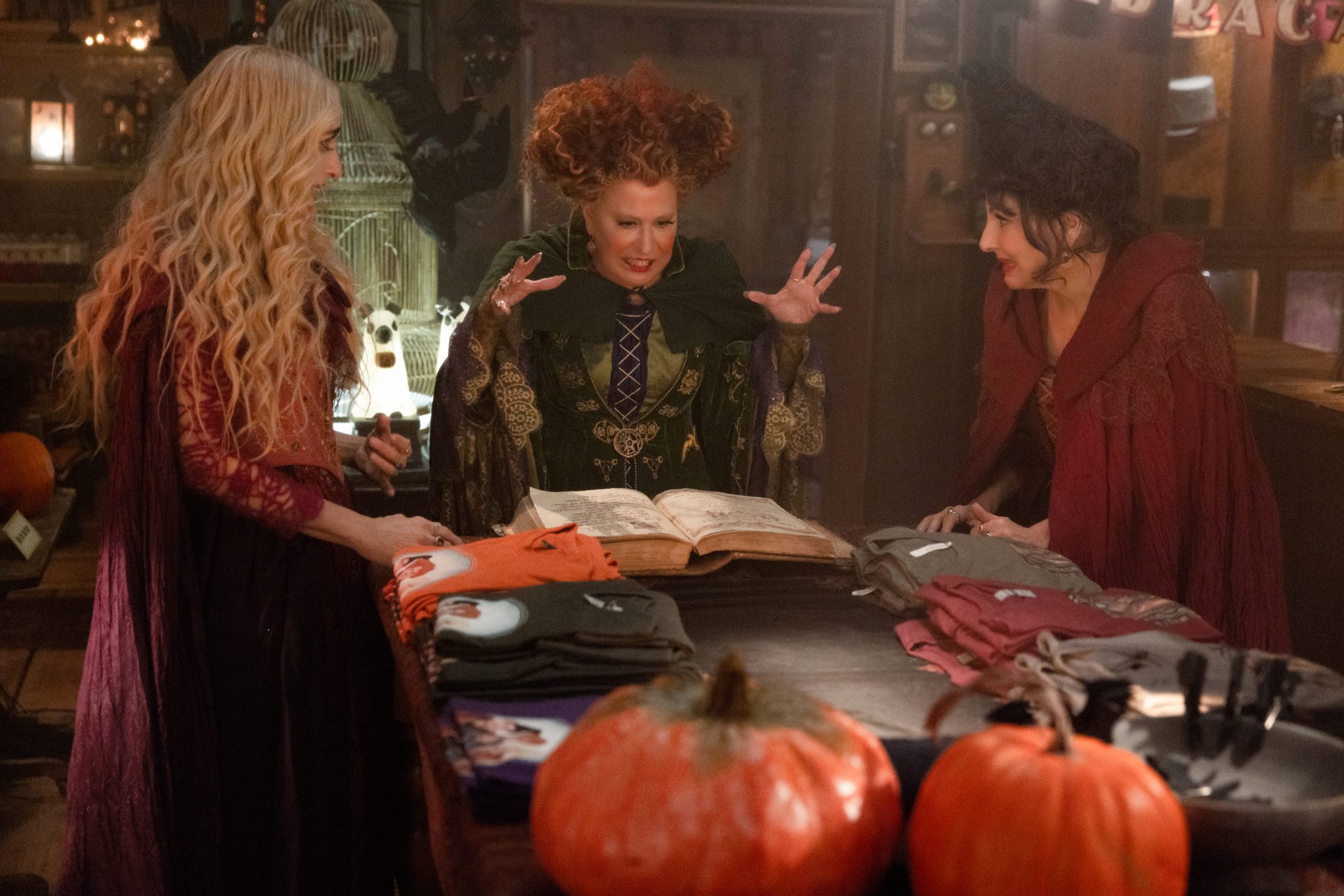 Since their first appearance in 1993, the legacy of the Sandersons has continued to grow in popularity in Salem and they are not considered to be urban legends. (In this way, art is definitely imitating life as the original film has become its own cult classic since its release as well.) In this way, Pocus 2 feels like a film that wants to be the next chapter of an ongoing franchise. While this film leans into the present, it very much ties itself to the previous entry. Emphasizing stories of unrequited romance, legacy and the tease of boyfriend?s past, Pocus 2 leaves plenty of room open for another installment. (And yes, there is a post-credit scene that teases the return of another major character.) As such, Disney clearly realizes that there could be more magic to be made without waiting another 29 years to do so.
I have to admit that I?m always a little bit fascinated with a franchise that wants you to fall in love with villains, especially ones who have very few [if any] redeeming qualities. That?s not to suggest the performances are bad, by any stretch. Instead, it?s to point out that it;s a delicate task to make villains lovable without making them sympathetic. Such is the case with the Sandersons as they remain the charm that drives the film yet we do not want them to succeed in their plot. Despite being villains that wish to eat the souls of children, there?s a silliness about the Sanderson?s that makes them so likable. Scenes in a CVS and a costume contest helped reveal how out of touch they are in modern culture in ways that make their villainy seem less? dark.
Although almost three decades have passed, stars Najimy, Parker and Midler still bring the necessary enthusiasm to their characters in order to make the film work. This is a franchise that works solely due to the charm of its leads and the trio are up for the fun in its sequel. However, although Najimy And Parker do their best to keep up, undoubtedly the brightest star here is Midler. Now in her 70s, Midler rarely chooses projects at all, so the fact that she was willing to return after all this time is somewhat of a coup. As a result, it seems as though she is given the chance to have the most fun of the three and the film is fueled by her energy, even in moments when the script lets them down.
Underneath the magic, Pocus ultimately about the power of together. In fact, the film?s most intriguing conversation about power is the fact that it is best shared between people. Leaning into the practice of covens, Pocus 2 wants to emphasize the idea that there is strength in numbers. Here, power is not something to be attained by a single person but to be used equally by those around us. In this way, the film feels more current as it elevates the importance of each member of the group, as opposed to any single person.
Having said this though, these themes are often minimized for the sake of the party. As the theme song proudly says, the witches are back and there?s no doubt that we are meant to celebrate. While I admit I was late to the party, I can?t help but feel like it?s one worth attending. No,?Hocus Pocus 2?may not a film that will be required viewing for me each Halloween season, but it was certainly worth joining in the fun.
Hocus Pocus is available on Disney+ on Friday, September 30th, 2022.