With Freejack,?Dan Gilroy received his first writing credit and found his wife of thirty-five years, Renee Russo. Now living in Los Angeles, he's even better known for writing and directing the Oscar-nominated Jake Gyllenhaal thriller,?Nightcrawler, and collaborating with his brother and others on films like?The Bourne Legacy?and?Kong: Skull Island.?But with the Denzel Washington feature?Roman J. Israel, Esquire, Gilroy takes his work to a whole new level.
Before becoming a self-proclaimed "outsider to Los Angeles," Gilroy grew up in New York and attended Dartmouth College, earning an English lit degree. He used that perspective when crafting the script for the film he envisioned with Washington in the title role of Roman J. Israel, a lawyer bearing the weight of his life's ambitions and moral requirements.
Gilroy directed from his script a character study about an aging lawyer who has fought for things to be a certain way for so long, who finally succumbs to the temptations of ego and greed. It's heady material, but Gilroy was clear that he wanted to tackle them.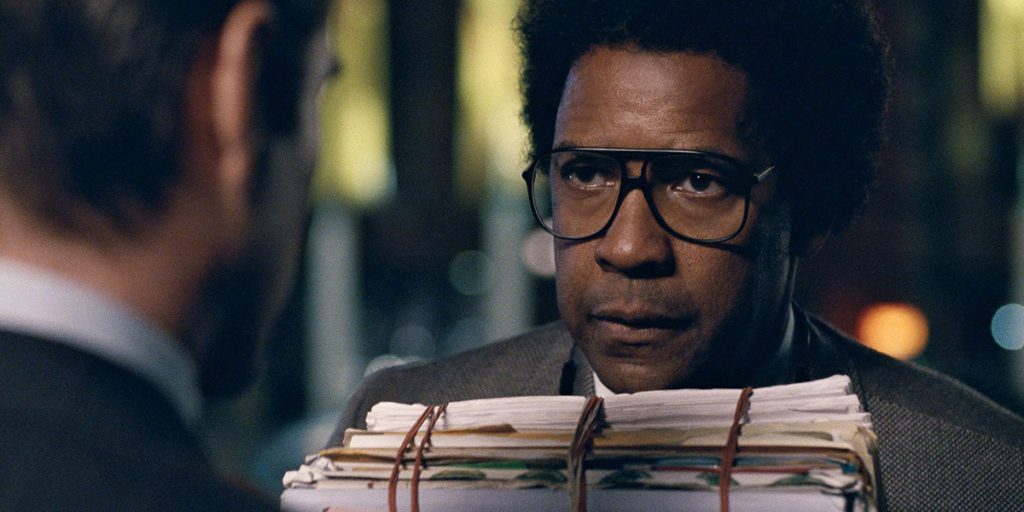 "After I came up with the idea, I wrote it on spec," Gilroy told me from L.A. "I looked at Roman as working for a cause, to make the world a better place for so long, and then falling under the weight of those expectations. I'd seen a special about the 1960s, and I wondered what would happen if a civil rights crusader never stopped. What would their world look like? What if someone was carrying that burden and had a rich life, but no reward? It's not that they are bad or good but everyone has a limit to what they can take."
"Sometimes you think you may be done with things but I believe they may not be done with you. There's a burden and blessing of having something that you believe in, that gets you up in the morning and drives you. But serving others doesn't pay you more, and Roman gets to this place where he can't do it anymore," the writer/director explained.
"I knew Denzel was a man who believes in something bigger than himself, who has the quality and strength of character to play that role. I had decided that if he didn't want the part, then I'd never make the film. But we had lunch together, and halfway through, he reached across the table to shake my hand and tell me he was in."
When Israel's law partner dies, he experiences a series of setbacks, including a disconnect with the younger generation. Gilroy says that Israel would have been the right age to be part of the civil rights movement, and to learn from his mentor who was ten years older. While their generation saw the civil rights movement as national, he sees the younger generation asking if there's even a unified goal, realizing that they aren't even in it with him. And another ideal fades away.
"I don't think Roman sells out, but he's broken. There's a burden in the service he does for others," he continued. "In the dinner scene, he realizes that the first woman [Carmen Ejogo's Maya] to ask him out in years, maybe ever, loves him for the things he's now [secretly] turned his back on. His defining quality isn't his defining quality anymore."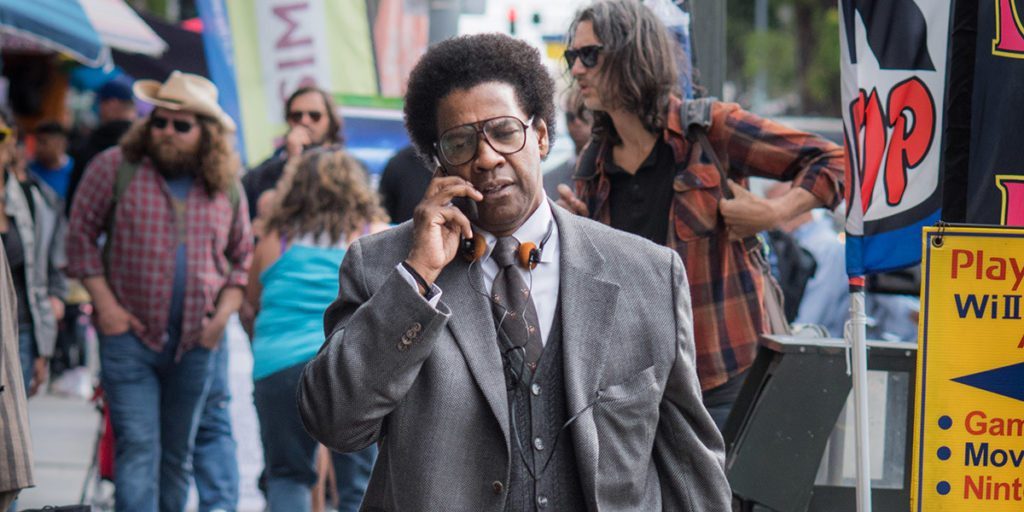 While Roman Israel is suffering from a crisis of conscience for secret sins, he's also had a positive peer influence on George (Colin Farrell), a fellow lawyer who also learned from Israel's mentor. While Israel is struggling with his own decisions, George sees different options for his own law firm, things that aren't driven completely by money or influence.
"I approached George and Maya differently, because I don't think anyone sees themselves in Roman. But you can see yourself in them, and I wanted George to be not evil but dark," shared Gilroy. "I don't think there are many people who are truly dark or truly good, but they're struggling in between. I know I am."
"So George has this ember embedded in him by their shared mentor, and when he hears things from Roman, the ember comes to life. That's the way that our interactions with other people cause those embers to live. I believe there's a spirit that lives on beyond our own lives."
"It ends up an exploration of compassion, empathy, and redemption, all of these issues that are facing all of us today."
In Roman J. Israel, Esq., Gilroy and Washington are exploring the grey in between the dark and the light, asking us to consider what decisions we've made and will make. It's enough to make one stop and think about who we are and why we do what we do, as we consider the long road of a man on a mission.