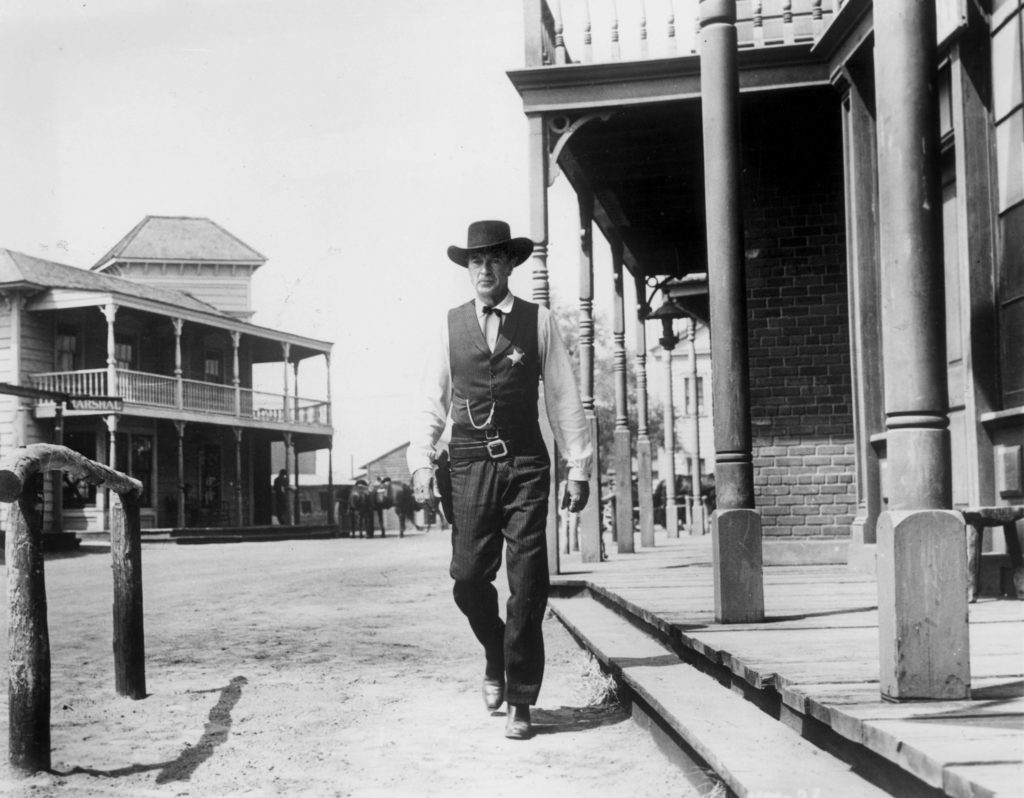 On their wedding day, a couple gets disturbing news: a gang is headed in on the noon train to avenge an old debt, and the groom is the target. He is the ex-marshal Will Kane, played by Academy Award-winning Gary Cooper in a strong performance in the waning twilight of his career. Thanks to Olive Films, fans can see this seminal, black-and-white Western in all of its simple glory.
"This is just a dirty little village in the middle of nowhere. Nothing of importance happens here."–Judge Mettrick to Kane
Recently released outlaw?Frank Miller?(Ian MacDonald), who Kane sent away to prison, is tracking Kane to his home in Hadleyville, with his gang, his younger brother Ben (Sheb Wooley), Jack Colby (Lee Van Cleef, in his debut, silently), and Jim Pierce (Robert J. Wilke.) The news sends the town into hysterics: people want to flee or hide, fearing the wrath of this crazed, violent bunch of villains.
Kane is told by the judge who sentenced Kane that if he's smart, he'll leave; Kane's former deputy (Lloyd Bridges) says he'll only help Kane if Kane recommends him for the job afterward; other townsfolk either hide or refuse (except for the town drunk played by legendary supporting actor, Jack Elam). Even as the preacher shares verses about standing against the face of evil, members of the congregation repulse Kane's request for help for people to stand together as a community, and the parson proves to be wishy washy (highlighting one of the problems that rises in church). But that isn't even Kane's hardest struggle over the battle that's brewing. Opposite Kane in this three-way confrontation is his bride, Quaker Amy Fowler (Grace Kelly), who implores him to put down his guns and set up shop in a neighboring town.
"They're making me run.?I've never run from anybody before."–Kane to Amy
While Amy struggles with Kane's decision to stay, she's critiqued for her own belief system, even while the choir in church sings "The Grapes of Wrath." She ultimately finds herself forced to make a decision about what it means to be a citizen, and a spouse, even as more and more townsfolk reject Kane's requests for help. Will principle trump necessity or vice versa? Will there be enough time, in a film playing out nearly minute for minute across the screen?
High Noon?won three additional Academy Awards (Best Score, Best Editing, and Best Song, "Do Not Forsake Me, Oh My Darlin"). In Olive Film's 4k restoration on Blu-ray, the American classic gets several insightful special features that take us behind the scenes sixty-plus years later. Film director and editor Mark Goldblatt, an Academy Award nominee himself, talks about the editing of the film in "A Ticking Clock" while producer Staley Kramer gets his own exploratory piece. Elsewhere, the historical perspective of blacklisted screenwriter Walter Bernstein and historian Larry Ceplair shows the "Imitation of Life," and the deceased Anton Yelchin narrates a visual exploration of the production history of?High Noon?in "Oscars and Ulcers."
"It takes more than big broad shoulders to make a man."–Helen Ramirez to Deputy Pell
Ultimately, this is an 'old school' Western where there's a good guy, some bad guys, and some folks who are on the fence about what they should be doing. Heck, some of these townsfolk are rooting against Kane because of his predisposition to ultimate morality, his decisions previously influencing what they think of him now. And yet the man himself must make his own choices – and he chooses to stay. Is it bravado? Is it the better part of valor? Is it duty and honor?
Some people run when they are challenged, when trouble arises. But Will Kane is the kind of man who sees danger coming, and his absolute honor demands that he stands against it for the good of those who can't defend themselves.