Hawkeye isn?t funny. But?Hawkeye?definitely is.
Helmed by Rhys Thomas and Bert & Bertie,?Hawkeye?is an enthusiastic and energetic series that takes one of Marvel?s least charismatic heroes and lets them shine brighter than the Christmas tree in Rockefeller Square. Admittedly, a series about the ever-grumpy Clint Barton (aka Hawkeye) was not something that I expected to be excited about, especially considering the sheer number of Marvel projects we?ve unwrapped in our Disney+ packages this year. Nevertheless, Hawkeye manages to hit a holiday bullseye. Part?I?ll Be Home for Christmas?and part 80s buddy comedy,?the series?allows itself to honour Hawkeye?s serious soul while leaning into the silliness of the world around him.
Set two years after the events of?Endgame, Clint Barton (Jeremy Renner) is attempting to make peace with his Avenging past. While taking his kids on a family trip to New York City to see the new Broadway smash musical,?Rogers: The Musical, Barton simply wants to enjoy the holidays and take in the sights. However, when a threat from his past comes knocking, he must join forces with young Kate Bishop (Hailee Steinfeld) in order to take a bite out of New York?s criminal underworld.?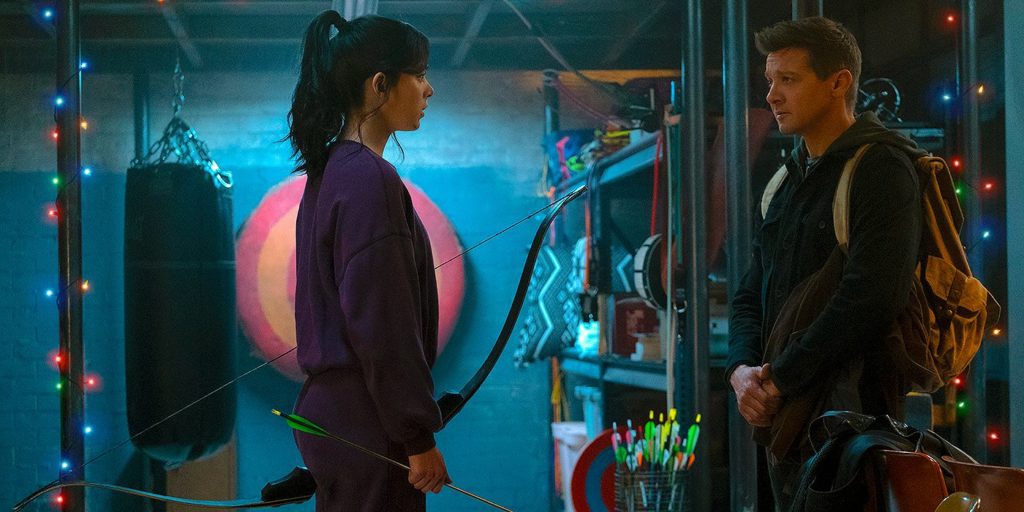 Known for his dramatic acting in his life pre-Hawkeye (remember, he was nominated for two Oscars), Jeremy Renner has never seemed to fully fit into the MCU?s quippy world of Tony Starks, Captain Americas and Thors. Marvel has done their best to find new ways to make him relatable (family man) or gritty and intense (Ronin?s revenge story). Fans of his have defended his commitment to fighting aliens when he has no superpowers while his detractors have mocked him for the same reason.
However, with Hawkeye, Marvel seems to have finally found the best way to make use of its star. By leaning into his grumpy exterior, Hawkeye let?s Renner play the straight man to the energetic youthfulness of Steinfeld?s Kate Bishop. As a result, Renner actually becomes funnier. Moments where he?s strapped to a unicorn or mistaken for Katniss Everdeen play well when Renner isn?t the one trying to make the joke work.
We appreciate Hawkeye?s sincerity and focus. But his series reminds us that he could stand to lighten up.
Amidst the silliness and Christmas spirit, Hawkeye also fits in very neatly into Marvel?s 4th Phase. Now, three movies and five series deep (this year alone!), we can officially see the trends that have begun to take place through the MCU?s storytelling threads. Without giving any particular spoilers, Hawkeye taps into two of Phase 4?s key themes and gives it its own spin.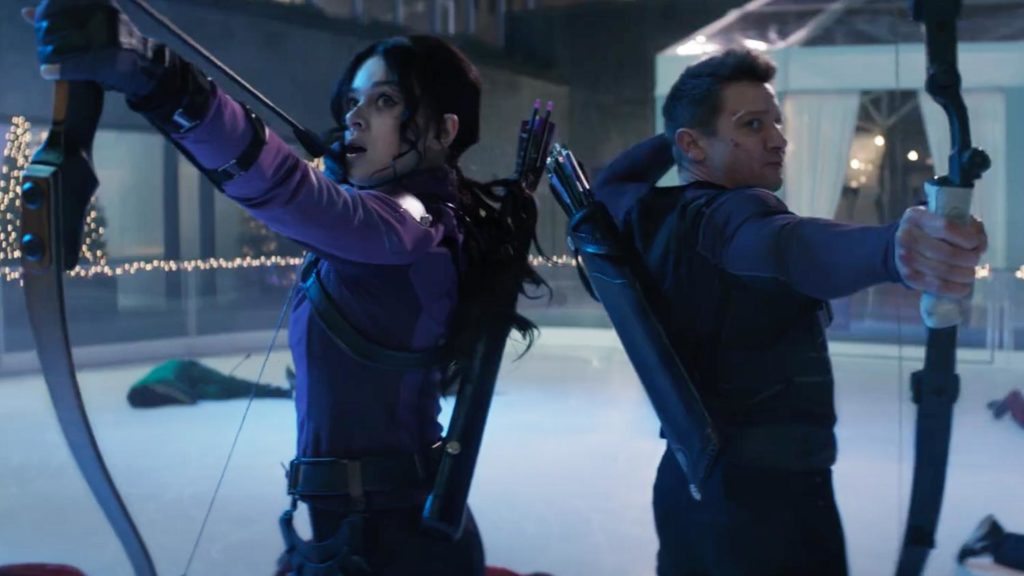 First and foremost, Marvel?s Phase 4 has shown its interest in passing the torch to the next generation of Avengers. By introducing multiple characters such as Yelena Belova, Shang Chi, and the upcoming Miss Marvel, She-Hulk, Ironheart and Echo series, the MCU has begun the process of introducing younger cast members who can take on the mantle of Earth?s Mightiest Heroes when the original cast decide to hang up their capes. In Hawkeye?s Kate Bishop, Marvel continues this trend by creating a character with genuine charisma and energy that?s instantly likeable. As Bishop, Steinfeld shines, portraying the character as a plucky young woman who?s determined to show the world what she?s capable of. What?s more, her adoration of Hawkeye highlights the fact that these heroes are so well known within this cinematic world that they are inspiring the next generation to take up the bow and arrow on their own. (In this way, there?s also a bit of life bleeding through the storytelling as well. While Bishop has always idolized Hawkeye and the Avengers in this world, so too are these young bloods also the ones who grew up watching these stories onscreen as well.)
At the same time, Phase 4 has also leaned heavily into the idea of ?dealing with your trauma?. From grief to racial injustice to family pain, Marvel?s most recent stories have leaned heavily into its heroes? abilities to focus on their personal issues while they battle world-shaking events. With Hawkeye, this trend continues as well as Barton is a man who simply wants his past to go away. Having lived his life as the vicious Ronin during the Blip, Barton wants to lean into his life as a husband and father. However, as these things tend to do, the past can only remain hidden for so long. As a result, in addition to Marvel?s trademark ?battles with bad guys?, Barton?s greatest fight becomes having to deal with pieces of his painful past that stole parts of his soul. While the tone of the series remains fairly light, it is also willing to give Barton the chance to work through his own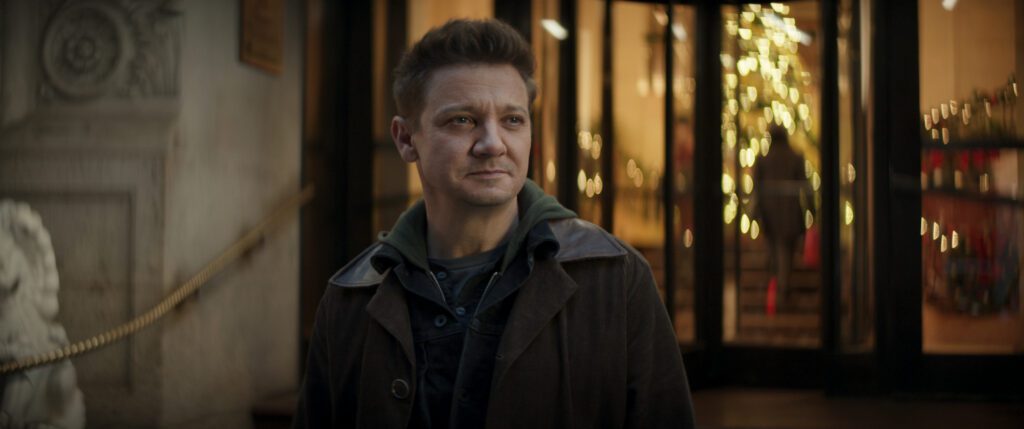 With an (almost) surprising amount of fun and pop, Hawkeye is a welcome gift for the holiday season. Wildly different than the ?time-and -space-threatening? antics that we?re used to, Hawkeye is a light-hearted and joyful shot in the arm that is enjoyable for the whole family.
Now, if they?d only focus their attention on bringing that Steve Rogers musical to Broadway, we could all have a Merry Christmas and Happy Holidays.
Hawkeye is now playing on Disney+.