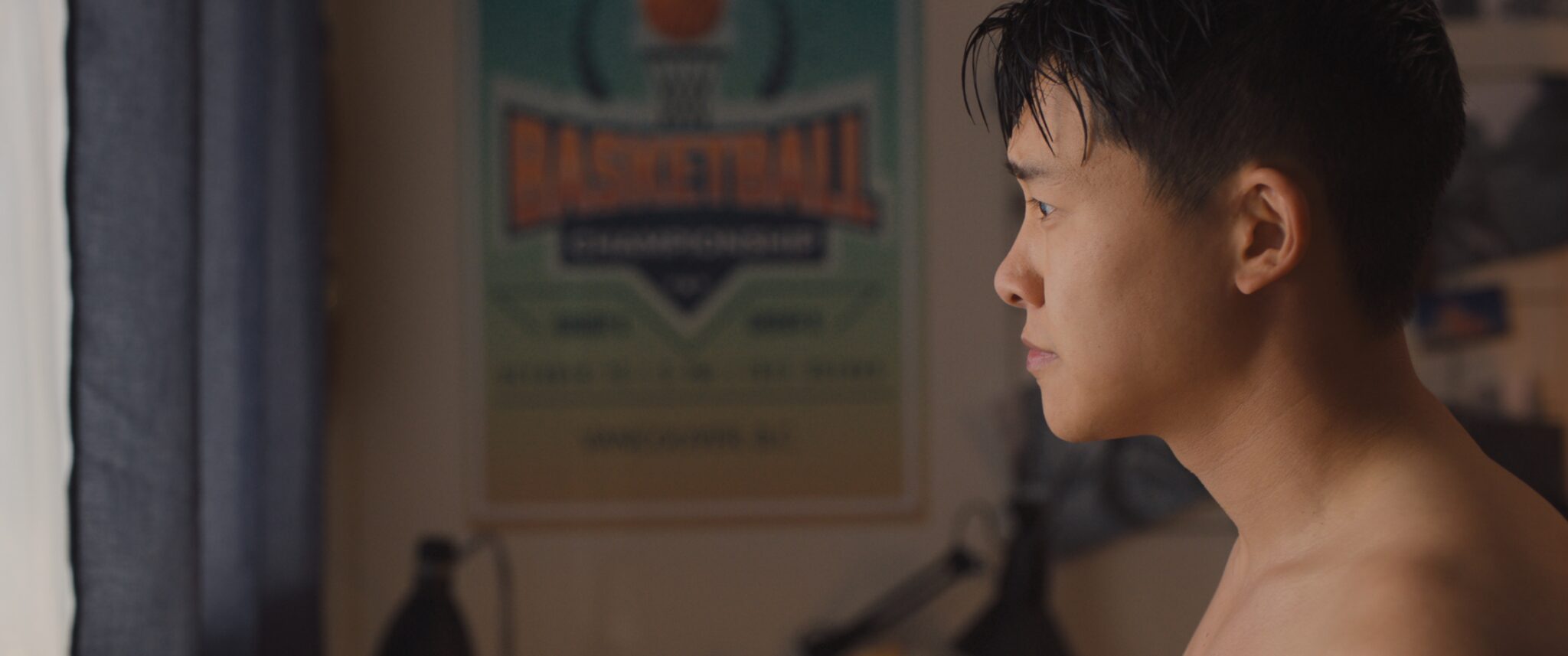 What does it mean to reach for your dreams?
Directed by Jason Karman, Golden Delicious follows Jake (Cardi Wong), an Asian-Canadian teen whose father dreams of him becoming a basketball star. Though he's been dating his girlfriend for some time, Jake is struggling with his sexuality and disinterested in getting intimate physically with her. Things become even more complicated when basketball-obsessed Aleks moves in next door. Soon, Jake tries out for the basketball team with the hopes of getting Aleks' attention, leading to tensions in his own relationships and family.
In many ways, Golden Delicious begins as a typical LGBTQIA coming of age drama. We have a young man, struggling with his sexuality when he falls for another young man. However, Delicious' script carries an emotional core that allows its story to become something far more profound. Written by Gorrman Lee, this is more than a story of teenage love and confusion. Instead, while the heart of Delicious remains its celebration of sexuality and empowerment, the film fully leans into its concept of the dream.
Amazingly, Delicious disseminates the idea of the American Dream (even if this is set in Canada) in ways that differ from other films. Rather than merely focusing on the idea of 'financial success', Delicious also suggests that this outdated vision for cultural achievement includes lenses affected by sexuality and race. Under intense pressure from his father, Jake is slowly becoming crushed under the weight of those expectations. With dreams of his son taking up his mantle on the basketball court, Jake's dad demands perfection of his son. Unable to speak his mind in the presence of his dad, Jake is slowly wasting away.
But it's not only his father either.
In fact, everyone in Jake's life appears to have a plan for him and they want to see results. His girlfriend wants to have a sexual relationship with him, even if he isn't sure. Within the locker room, Jake is expected to take on masculine bravado, forcing him to hide his sexuality. In every area of his life, Jake feels pressured to meet the hopes of others. (In fact, this tainted vision of the 'Dream' also affects Aleks' sister who wants to open her own restaurant, despite the discouragement of her parents.) To him, their ideas are the very definition of 'the Dream' and he spends his time attempting to achieve their goals for him. After all, they seem to know what's best for him, so Jake feels like he must live into those ideas.
What's more, Golden Delicious also fully leans into the teen experience in the modern age. Led by a strong performance by Wong, we watch as Jake attempts to navigate the pressures of an online world. For example, Jake is not only afraid to disappoint others, he is also fears the ramifications of social bullying and online interactions. There's a certain sense of terror that's embedded in conflict as every moment has the potential to destroy their lives. (After all, the Internet never forgets.) This added pressure affects the way that he interacts with his own issues, as he fights to protect the image that he believes is expected of him.
That's a lot of pressure for a teenager who just wants to feel supported as he attempts to figure out who he is.
For these reasons, Golden Delicious stands out from other teen LGBTQ dramas. This isn't merely a coming-of-age story but also a deeper dive into the realities of the modern Dream. Smartly written, Delicious reminds us that social pressures have changed—but our dreams of being accepted for who we are never do.
Golden Delicious is available in theatres on Friday, September 15th, 2023.