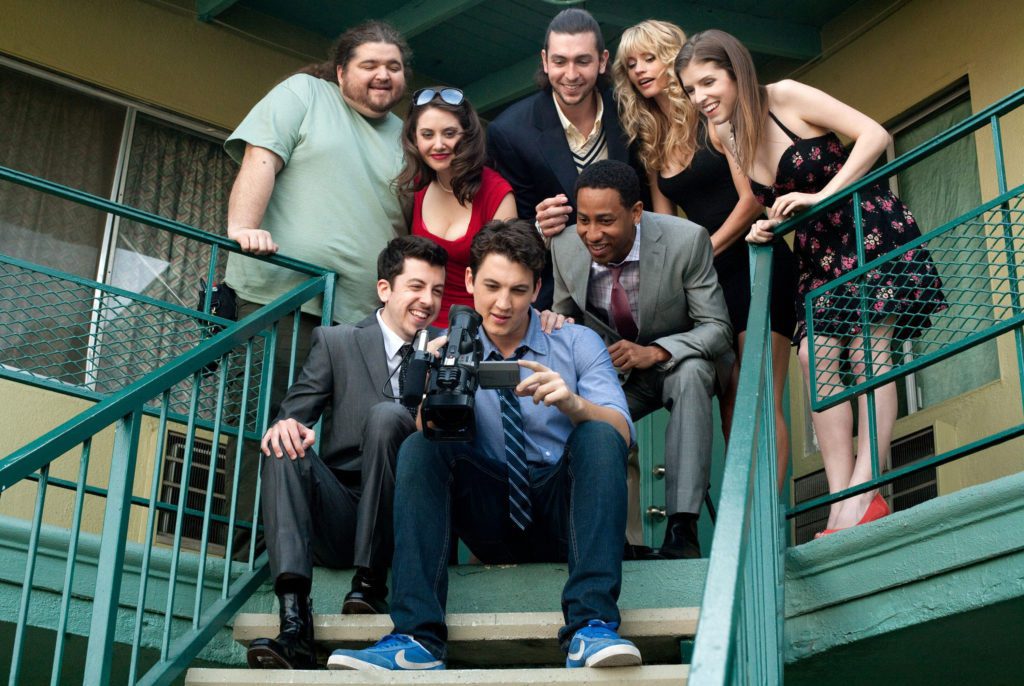 "My childhood room is filled with trophies like these but I haven't won a thing in my life!"–Charlie (Nicholas Braun)
Boasting a lineup that includes Bryan Cranston, Miles Teller, Anna Kendrick, Christopher Mintz-Plasse, John Cho, and John C. McGinley,?Get a Job?must be a rocking good time, right??Director Dylan Kidd's film?can be summed up in Cranston's father figure tirade halfway through the film: "You are spoiled brat!" from one perspective. I think I may have seen another though: the genius in the script is how dead-on it is in describing the current job market – and the generation applying for available jobs with irony and wit.
Will (Teller) and his roommates (including Brandon T. Jackson), his girlfriend (Kendrick), and his father (Cranston) are all searching for jobs. One of the roommates ends up in sales and one of them ends up teaching (and coaching). But Will's path… is ironic and ridiculous, as he fails to fit into the mold that the job market desires and yet, his skills are desired.
Some of the moments are funny – and insightful.?Ethan's (Mintz-Plasse) app that lets the unwanted dating partners find out where their desired partners are … yes, it's a stalk app. As Will tries to get a job, he realizes he needs clean urine to pass a drug test, so he goes to his dad, who can't get service from the same company; Will then can't lay off of his cell phone to focus on the actual interview.?When Will needs some extra juice to get his work done, he's hooked up with some meds by Fernando (Jorge Garcia), not the?other?Fernando, who is a VP?where Will is trying to get a job. Who dreams this stuff up?
In the end, it's an ironic/non-ironic look at the highs and lows of the job market with critical insights into the ridiculous way that generational issues separate people from the jobs they want to get. There's a desperation there that anyone who has searched for the job of the dreams can understand, a quiet desperation born of panic, loss, and desire all blended together. It's brutally uncomfortable to see play out on screen at times, and actually funny, too. But it serves as a grim reminder that unconventional thinking is one thing, and sheer laziness is completely another.
And there might be a thing or two about gaining the whole world… but forgetting your soul.