When you stop to think about it, it really is remarkable how far nature documentary filmmaking has come over the last decade or so. Spearheaded by new technology and funding, series like Planet Earth, The Blue Planet and more have provided stunning natural footage and information that restore a sense of wonder in the eyes of the viewer. In addition, with the development of their Disneynature brand, the House of Mouse has reinvented their own interest in the natural world. While Disney?s earliest series included documentary stories on the Wonderful World of Disney, Disneynature films show a renewed commitment to not only ?wow-ing? the audience with spectacular footage, but also telling stories in the natural world that engage the heart and soul as well.
Premiering April 3rd, 2020 on Disney+,?Dolphin Reef?is yet another example of these engaging natural adventure stories that focuses on Echo,?a young Pacific bottlenose dolphin who is learning how to navigate life in the deep blue sea. Dolphin society is tricky, and the coral reef that Echo and his family call home needs each species to play their part. But the young and impetuous Echo has a tough time cannot help himself from diving into the many adventures the ocean has to offer.
Directed by Keith Scholey and Alistair Feathergill (Bears), Reef unfurls multiple narratives about a variety of species and their quest for surviving and thriving in the ocean. Scholey and Feathergill show their considerable experience and skill as they get up close and personal with a variety of creatures, revealing their unexpected traits and abilities. (Who knew that dolphins could trap fish by creating dust circles?) While the emphasis may be Echo and his pod, there are also incredible ?character arcs? created by way of humpback whales, a coral shrimp and even parrot fish. What?s more, Oscar-winner Natalie Portman?s narration brings a playfulness to the narrative that works well with the content, especially in moments where Echo appears more precocious.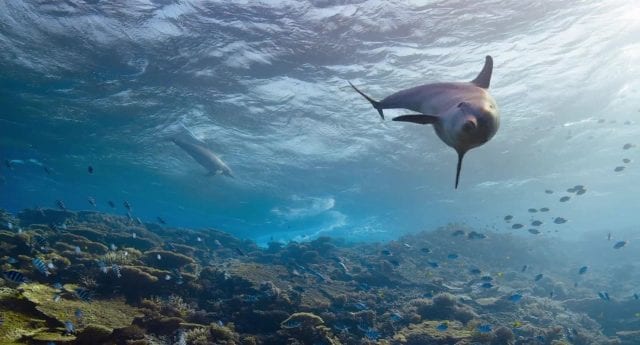 Most surprising about the film, however, is the fact that Dolphin Reef?highlights nature?s inherent desire to create and thrive in community. Whether it?s the eating habits of parrot fish or a whale?s ability to call for help, each species within the film demonstrates the necessity of working in tandem with one another. Though we?ve heard for years that the earth?s vast eco-system works together in order to sustain life,?Reef?reveals how complex and subtle those relationships may be and the value of living together. (In fact, the film even shows the damage that takes place to the coral reef itself when a species does?not?do its part.) In doing so,?Dolphin Reef?reminds the viewer about our innate desire to create healthy community and the importance of remaining active to support one another, be it at the natural level or making a conscious decision. Interestingly, while never explicitly stated, the film also serves as a subtle reminder of our own role in the world?s ecosystem as well. In other words, by focusing its narrative on nature?s reliance upon different moving pieces to bring life,?Reef?shows the importance of interconnectedness within our world and implies that humans play a key role in this as well.
In the end, Dolphin Reef is a charming look into the world of wildlife under the sea that is as informative as it is engaging. Echo?s journey is playful, fun and, at times, harrowing. However, more importantly, the film also implicitly acts as a call for those of us above ground to recognize our own place in the natural world and how we can become healthier members of it.
For audio of our interview with director Keith Scholey and producer Roy Conli, click here.
Dolphin Reef swims onto Disney+ on Friday, April 3rd, 2020.