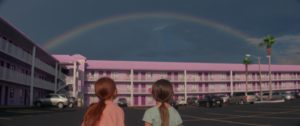 Directed by Sean Baker (Tangerine), The Florida Project tells the story of Halley (Bria Vinette), a young mother and her daughter, Moonee (Brooklynn Prince). Homeless and out of work, Halley struggles to live week to week in the Magic Castle, a motel situated just outside Disney World in Kissimmee, Florida. Managed by the patriarchal Bobby (Willem Dafoe), the Magic Castle is home to numerous homeless families in the area who are simply trying to survive. However, the true star of The Florida Project is 6-year-old Brooklyn Prince. In what can only be described as an Oscar worthy performance, Prince absolutely owns every scene, showing a stunning amount of skill for her young age. Despite the script dealing with such mature subject matter, Prince argues that the preparation for the film wasn?t particularly difficult.
?There wasn?t really anything ?tough?,? she remembers. ?You know, we all got along like a family so there?s nothing so tough.? Something tough was to deal with the last scene. It was kinda heartbreaking to me? Me and my mom would once in a while go over the lines. We would just prepare ourselves for the worst, but there was no worst. We prepared for nothing. [laughs]?
Furthermore, this sense of ease also spread amongst the cast as well. In fact, Prince felt that the cast became extremely close, coming together as a family over the course of the shoot.
According to Prince, ?It was a very big family. Sean was very nice and he was always there for me. He would help me with my lines. He would tell me what the things about. If I was confused, he would help me get my mind straight. Sometimes he would help me, like, before we shot the sad scenes, he asked me if I was okay.? He was very supportive.?
In fact, this family atmosphere was built intentionally by Baker and his crew. Seeking to create a space of fun and family, Baker even brought the entire team to Disney World together.
?The second day, we got to go [to Disney]. He had the whole crew on Small World and every single ride we went on. It was really fun.?
Prince was also excited about how Baker helped her performance during the shoot by encouraging her to improvise her dialogue.
?It was fun because it?s not like we had to go line by line [while shooting],? she beams. ?We could just do it a different way and see how he likes it. Sometimes, he would like it. Sometimes, he would just want to stay with the normal lines. But yeah, he let me improvise a lot.?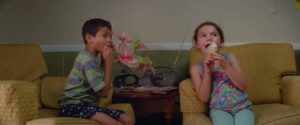 Of course, with much of the film wrestling with the problems of the ?hidden homeless?, one would hope that genuine interaction would take place between the actors and those who were genuinely affected by this form of poverty. Here, Prince found herself genuinely moved by the relationships she began to develop with the kids that she met within the area.
?I got to meet Rebecca, she was my stand-in and she lived there so we helped her out a little bit after the movie. There was also Christopher. I?m so sad that he can?t be here. He was a kid that I was working with that lived in the other hotel that Jancey lived in. Actually, the girl who played Jancey?s grandma was his grandma. The family was involved. So, I kinda feel bad for him for not being here.?
Through her experiences onset and with the families in the motels, Prince has learned a great deal at a very young age.
?I learned to always not be complaining,? she says. ?I [also] learned a lot from Willem [Dafoe] to be a nice actor and humble and kind. [I learned] to be a role model for people. Sometimes, I reminded myself to just shine a light for Jesus also.?
In fact, Prince was so moved by her experience that she also found herself working with Hope192, a local organization that provides support to homeless families that live in the motels along Highway 192 in Kissimmee, FL.
?There?s this organization that helps kids like Moonie and they want other people to help so they?re helping people out. I went to WalMart during Christmas and Hope192 got me the idea to get the Christmas presents for the kids.?
?They?re a Christian based group that helps all those motel-based families: food, clothing, supplies,? adds her father, Justin. ?In the movie, when Hailey is asking for bus passes, that is in Hope 192?s office. Sean has worked very closely with them to get to know the families and their background information. The amount of struggling families along 192 has been staggering, increasing over the years so we are happy that this film brings a situation to light that?s national, not just local.?
By its honesty regarding Florida?s hidden homeless population, The Florida Project demonstrates a maturity and creates space for conversations and action surrounding this problem. However, it?s because of authentic and heartfelt performances like Brooklynn Prince?s that ultimately drive that reality home.
For more information on how you can help Hope 192 in their mandate, please click here.