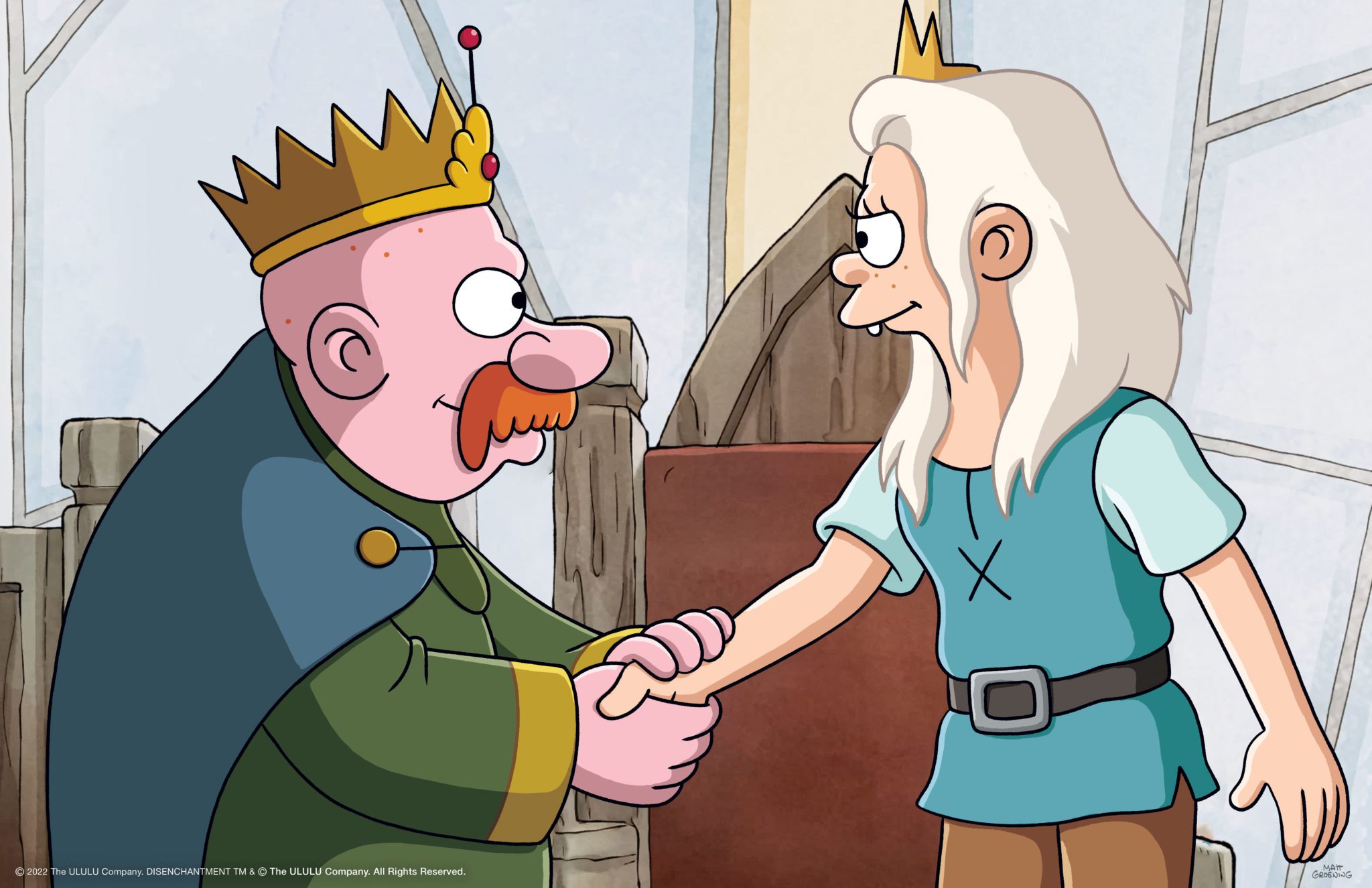 Matt Groening?s animated work sometimes takes time to find its legs.
Although they have continued to connect with audiences, both?Futurama?and?The Simpsons?took a couple of seasons to find their voice. The same is true with Netflix?s?Disenchantment, the most recent addition to Groening?s growing legacy. Despite the fact that the series took a while to figure out what it was the release of?Part 4 proves that Disenchantment?has finally found its stride.
Picking up immediately after the events of?Part 3,?Disenchantment?begins with Bean and her friends separated outside the walls of Dreamland. Whereas Bean remains trapped in Hell at the hands of her mother,Luci finds himself with the opposite problem as he lands in Heaven. At the same time, Zog continues to struggle to regain his sanity and Elfo is struggling to free himself from his ogre captors. As the four members of this unlikely family attempt to reunite, they discover multiple secrets that threaten the way that they have always understood their lives.
Although the show looks and feels like his other work, Disenchantment has managed to carve out its own place in the Matt Groening-verse. Whereas its animated cousins earn their laughs by satirizing everyday cultural issues, Disenchantment?s humour usually stems primarily from mocking its more magical elements. As such, the series has more often felt like a loving tribute to the fantasy genre than any particular social commentary.
Most importantly though, Disenchantment has always set itself apart with an emphasis on longform storytelling over an episodic structure. As such, Disenchantment feels much more like a grand story unfurling before the viewer, giving it more epic sensibilities. (This also would explain why seasons are referred to as ?parts?, allowing it to lean into the more literary sensibilities.) Of course, with this type of narrative structure, the great challenge is to maintain quality in the writing, especially if there?s no particular ?end date? in sight. As such, there are definitely moments this season where the series feels like its story is beginning to meander. Even so, by minimizing the pieces that felt like filler in Part 3, Part 4 feels much more focused and improves the drama as a result. (In fact, there are some surprises within Part 4 that even serve as pay-offs to the previous season?s side quests.) And it?s worth noting that, once again, Part 4 ends on a pretty solid cliff-hanger, reminding us that the story is far from over.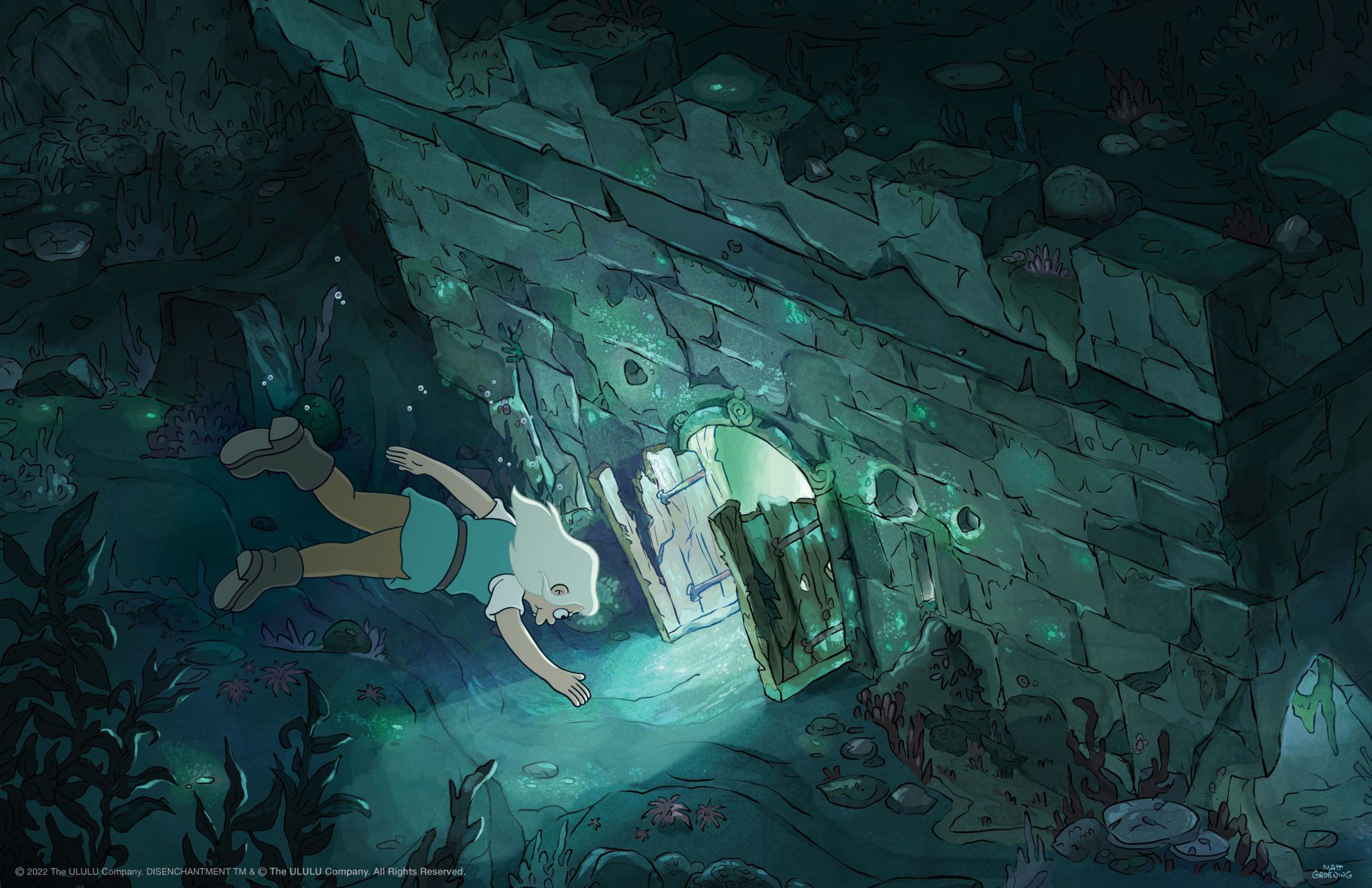 After several seasons, it?s also impressive that Disenchantment continues to expand its world with new areas and creatures, ranging from ogres and gnomes of the forest to the terrifying depths of the sea. (Seriously, has anyone mapped out this kingdom yet online?) What?s more, Part 4 even begins to mine the depths of its theology with explorations of heaven and hell. Interestingly, these sorts of conversations are nothing new for Groening?s work. Having delved into the paranormal in both Simpsons and Futurama multiple times, Groening has never shied away from the relationship between life and the afterlife. However, with Disenchantment?s medieval setting, there seems to be something almost even more appropriate with its inclusion here.
Moving into Part 4, Disenchantment has become increasingly obsessed with the lies of the past. As secrets about Dreamland begin to be uncovered by Bean and her friends, it becomes increasingly clear that the history of the nation may not as noble as what they were led to believe. Without giving any spoilers, Part 4 recognizes that the stories of the past are frequently told by the ?winners? in an effort to keep their power. While the show usually steers away from social commentary, this particular theme resonates in a culture that continues to relearn our own history and dynamics of power. In this way, Disenchantment acknowledges the pain caused by those who have come before and the fact that this generation needs to step up in order to enact change.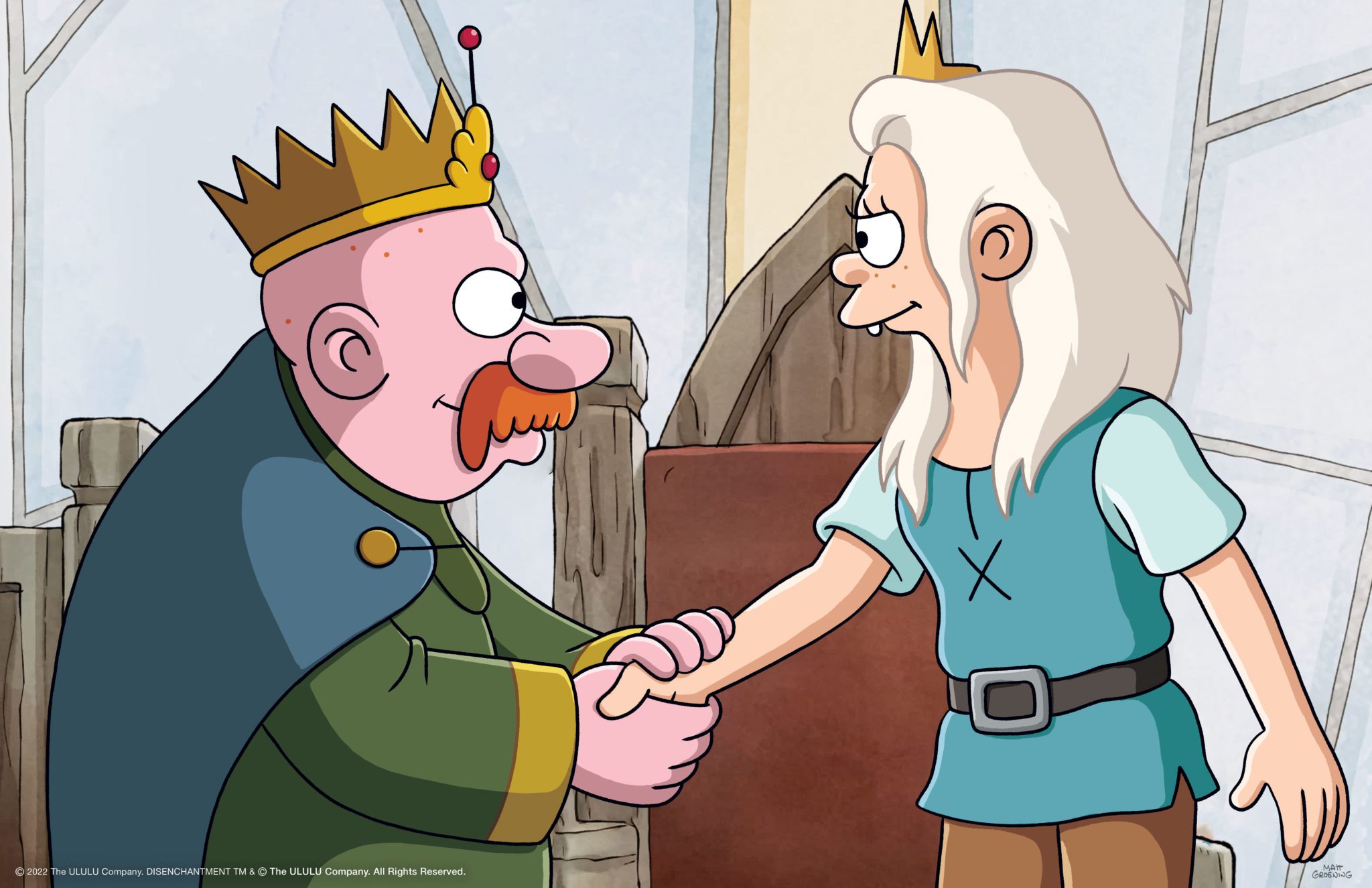 However, while this theme may prevalent in Part 4, Disenchantment?s primary joy lies in the fact that it feels like venturing out on an epic quest with friends. Anchored by the ever-deepening relationship between Bean, Elfo, and Luci, Disenchantment continues to find its place in Groening?s animated legacy.
So, bring on Part 5. Let?s see where this story wants to go.
Disenchantment is available on Netflix on Wednesday, February 9th, 2022.