The films I?ve chosen for today are very much focused on issues that touch the lives of many people. These are films that in many ways are ?ripped from headlines?. It?s worth noting that two of the films include coverage of issues dealing with the COVID-19 pandemic, even though that is not the main point of the films.
Pray Away, the feature debut from documentarian Kristine Stolakis, looks at the history for the ?pray the gay away? movement in the church (mostly the evangelical church) over the last several decades. The film focuses on some of the founders and leaders in the movement who have now denounced that approach because of the injury they saw they had inflicted on so many people. These are people who were very visible on TV and active politically. Those that we hear tell their stories have now all discovered fulfillment by embracing their sexuality, but they also deal with guilt over the pain they created through their actions over the years. The film also includes a look at a current ex-gay leader, but those sections are a bit less engaging, in part because it is hard to give credence to his story.
More than 700,000 people have undergone conversion therapy seeking to change their sexual orientation. That process has been nearly universally rejected by the medical and psychiatric fields. This film allows us to see how that became so popular within many churches. It also shows how that has harmed not only the happiness, but the spiritual life of many LGBTQ people. Pray Away is a Netflix Original Documentary and will be available to stream later this summer.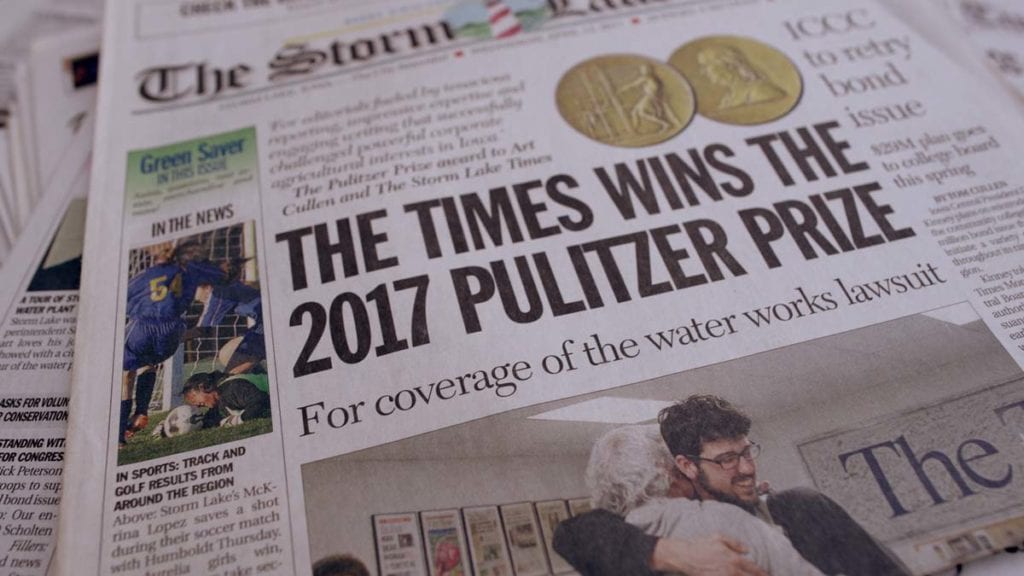 Journalism is recognized as a key element of a democratic society. Yet in many places around the country there are huge ?news deserts?, places with no local news source. Beth Levison?s and Jerry Risius?s Storm Lake shows a little over a year in the life of the Storm Lake Times, a twice-a-week newspaper in rural Iowa with a circulation of about 3000. The editor of the family run paper, Tom Cullen, won a Pulitzer Prize for Editorial Writing in 2017. The paper covers local life in this rural, but increasingly diverse community. It covers high school sports, city council meetings, and hosts Presidential Forums ahead of the Iowa Caucuses. The film continues into the paper?s coverage of COVID-19 and the financial difficulty that brought.
While the film is a very personal portrait of the Cullen family as they strive with deadlines and looking for advertising, it is really about the ways journalism touches the lives of the community and what is lost when there is no local journalism. In the last fifteen years one out of four newspapers has closed. There are over 300 news deserts with communities of 20,000 or more with no newspaper. While there are regional news outlets, they pay little if any attention to life in smaller communities. In the Q&A following, Tom Cullen noted that they were having to find a new paradigm that was reader support rather than advertising support. That is true of many newspapers. Storm Lake will be in the upcoming season of ?Independent Lens? on PBS.
White Coat Rebels, from Greg Barker, seeks to make the case (and does so very well) that the for-profit health care system, especially as manifested in Big Pharma, has not provided good care for many people. The film begins with a group of medical students in a White Coat ceremony as they take the Hippocratic Oath, promising to put their patients? needs first always. Much of the film looks at the work of medical students who are part of Universities Allied for Essential Medicine, which seeks to have schools make ethical commitments about the drugs they help develop. There are also practicing doctors who make the point that the medical care that many people need is not available to them because of the way the US health care system is structured.
The conflict that comes up frequently in the film is if the system should be about patients or profits. The film began in the fall of 2019 and continued into the early days of the COVID-19 pandemic, which only served to exacerbate and illustrate the rich/poor and racial dichotomies involved in health care. The film seems to circle around on itself from time to time, but it is an important and highly timely examination of key issue.
For today?s shorts, I have put together something of a double feature. Under the Lemon Tree, from Noor Fawzi Alasswad, shows us an older Palestinian woman living in exile as she makes a simple breakfast under a lemon tree and lovingly remembers her lost home and land after she has been away for many decades. A companion piece is Mission: Hebron, from Rona Segal. This film has interviews with six former Israeli soldiers as they talk about their tours in Hebron, a town of about 30,000 Palestinians and 1000 Israeli settlers. The soldier?s job is to protect the Jewish citizens. All speak with a bit of guilt for the things they did (and didn?t do).
Photos curtesy of AFI