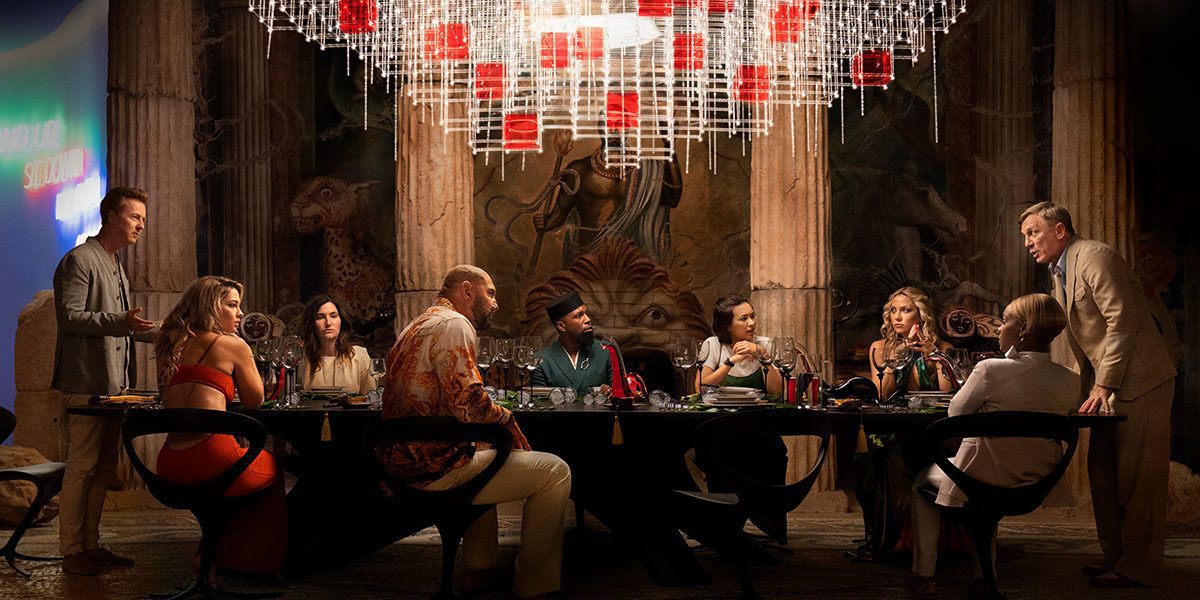 Just like the real thing, this Glass Onion has layers.
Glass Onion: A Knives Out Mystery begins as a group of friends receive an elaborate puzzle box. A gift from their wealthy friend, the box is an invitation to a weekend of fun in his private Greek island and they all accept with glee. Excited to enjoy their sun-soaked, luxurious getaway, the group is surprised to find out that Detective Benoit Blanc has also been invited to the party, with a note suggesting that there is a murderous edge to the holiday.
Bigger and flashier than the original, Glass Onion: A Knives Out Mystery is yet another twisty tale brought to life by writer/director Rian Johnson that is sure to delight audiences. Throughout his career, Johnson has proven himself to a filmmaker who likes to play with the toys that he has been given. Whether it?s the mind-and-time-bending Looper, the divisive Star Wars: The Last Jedi or this film?s predecessor, Knives Out, Johnson thoroughly enjoys taking conventional storytelling and flipping it it?s on its ear. With Glass Onion, Johnson once again takes the tropes of mystery storytelling and gives himself the freedom to move around the pieces that he?s placed on the board in unexpected ways.
Featuring an entirely new cast of characters, Glass Onion stars Edward Norton, Leslie Odom Jr., Dave Bautista, Janelle Monae, Kate Hudson, Kathryn Hahn, Cadelyn Cline and Jessica Henwick. (And that?s not even to mention the numerous cameos throughout the film.) Even so, the through line to this franchise remains Daniel Craig?s performance as Benoit Blanc. After the success of his daring detective in the previous film, one cannot help but fall in love with his Southern drawl and brilliant mind. In Onion, Craig once again positively owns the role and plays it with such glee that one hopes that he continues in the role for years to come. (Unlike his time as Bond, Craig has indicated his interest in continuing as the sleuth ?until the day [he] dies?.) In Blanc, Johnson has truly created a unique opportunity here. Because each mystery is an original creation that is entirely separate from the next, Blanc can feature in innumerable sequels with new challenges every time. As long as Johnson?s writing continues to stay strong, there?s no doubt that Blanc has the potential to become as iconic a sleuth as Poirot or Holmes.
And Johnson still has some tricks up his sleeve.
Without question, this film feels larger in scope than its predecessor. Interestingly, Onion feels like it has more at stake than Knives Out?s basic premise of ?the last will and testament of an ageing recluse?. To suggest any major plot points in the film would be a disservice to the fun so you?ll find no spoilers here. However, whereas the first film built primarily with themes of legacy and ?old money?, Onion focusses more on new money in the New World. Social Influencers are as highly regarded as politicians and everyone has their hand out. Admittedly, there is less social commentary in Onion than the original but one cannot deny its shot at the power of the social media industry.
And, as with all murder mysteries, the battle for power is very much in play.
What?s more, this is a film about knowing what matters. Whereas some desire fame and fortune, others see the potential fallout that taking steps in this direction may cause. In this world, the consequences of one?s actions extend beyond the financial bottom line and lean the question of the nature of justice. (But, again, I promised no spoilers.)
All you ultimately need to know is that, Glass Onion is a delight from start to finish. Fast-paced and very, very funny with its murderous mayhem, Johnson once again peels away the layers of that this Onion conceals until the truth is eventually revealed.
And, as long as Benoit Blanc is leading the investigation, long may these Knives remain Out.
Glass Onion plays for one week exclusively at TIFF Bell Lightbox beginning November 23rd and arrives on Netflix on December 24th, 2022.