What a strange year for films. Most of the blockbuster films planned for the summer and awards season are hiding out from COVID-19. Maybe they?ll find their ways to open theaters sometime this year. Many films wound up going straight to streaming services. In some ways that?s good?it means that people who don?t have an arthouse nearby have had a chance to see non-megaplex films at home through virtual cinema, Netflix, Prime Video, HBO, Disney+, Apple+, etc. etc. All those streaming services represent the downside. Who can afford to subscribe to all of them? And since films go to one exclusively, it means that there are films we would love to see that aren?t really available for us. No telling what the situation with theaters will be in the post-pandemic world. Perhaps there will be some sort of synthesis of theaters and streaming that will be available for us all.
Also this year, film festivals had to go virtual, which meant that you could take part even if you lived far off. People from all over the US could watch films at AFIFest without traveling to Hollywood. (Also, I didn?t have to commute for that week or stand in lines.)
I have to admit that because so many streaming platforms were hungry for content, there are a lot of smaller films that found their way to the general public. Again. That?s both good and bad. It means some good films found audiences that they wouldn?t have reached. It also means that there was a lot of crap that made the cut. It doesn?t seem fair to give this year a grade, so I?ll just give it an incomplete.
Now to my top films for the year. You?ll notice there are a lot of docs. I?d have thought it would be a year to embrace fiction, but these looks at the real world rose to the top.
& 2. A double feature of docs of youth and political involvement. Boys State takes us to one of the annual week-long camps run by the American Legion that focus on the American political process. Divided into two teams, the campers elect a state government. Political gamesmanship reflects real world politics. Crip Camptakes us back to the 1970s and a camp designed for kids with disabilities. The freedom they found there led many of them to become involved in rights for disabled people.
Lovers Rock, the second ?episode? of Steve McQueen?s Small Axeanthology. The film takes place at a all-night party of West Indian immigrants in London in the 70s or 80s. This film doesn?t have the social justice focus of the other films in the anthology. It is a celebration of the living. Note the ten minute (!) long scene built around the song ?Silly Games.?
The Social Dilemma, another documentary, this one about the ways social media platforms manipulate us as individuals and as a society. We meet some of the key people who have helped this to happen, like the inventor of the ?like? button. The film issues a warning for us all to pay attention to what we are doing when we are looking at those screens.
Da 5 Bloods, Spike Lee?s look at the bond of a group of African-American vets who return to Vietnam to recover a treasure they stashed. Times change, people change. Perhaps the real treasure is the memories of their friendship. But that too may be buried in the jungle.
Rebuilding Paradise, a Ron Howard documentary about the town of Paradise, California, that was destroyed in a wildfire. We see the cell phone videos that the people of the town made as they evacuated, then we see the trials they face in trying to reestablish their lives in the aftermath. It is a story of community, resilience, and ultimately hope.
Wolfwalkers,Cartoon Saloon?s third in a Irish folklore trilogy. A young wannabe huntress encounters a girl her own age who can transform into a wolf. Meanwhile Cromwell?s army is determined to eliminate all the wolves. Beautiful hand animation that captures the Irish culture and a sense of their struggle against the English.
Mangrove, another of the films in the Small Axe anthology. It tells the story of the trial of the Mangrove Nine, the court case that made the UK judicially recognize racial prejudice in the police and legal system against West Indian immigrants.
News of the World, the story of a country divided in many ways. A travelling news reader strives to take a young girl, captured and raised by the Kiowa, back to her relatives. It becomes a story of what has been lost and what can be found.
I?m Thinking of Ending Things, a Charlie Kaufman film, which means it twists around on itself more than a snake swallowing its own tail. A young woman on a trip to meet her boyfriend?s parents. But she isn?t sure she wants to stay in the relationship. Sort of.
Never Rarely Sometimes Always, a story of a teen seeking an abortion. She and her cousin journey from small town Pennsylvania to NYC. Although care is available, it is not easy to navigate the system, making this a wearying journey.
Another doc double feature, this time focusing on journalists facing down government power. Collective takes place in Romania as the press calls the government to task for corruption in the health care system. A Thousand Cuts shows the struggle in the Philippines to bring out the truth about a brutal and lying President. (Since that puts me over the titular limit, I may as well add in Bellingcat about a whole new model for searching for the truth.)
And sense you deserve even more good movies in this difficult year, I have a bonus double feature for you to consider. Both these films revolve around drinking?and the meaning of life. Last Call recalls Dylan Thomas?s purported day in a bar downing 18 double whiskeys before he returned to his hotel room and went into a coma. But each drink had a name?an aspect of life he wanted to consider. Another Round involves four friends who test a hypothesis that life is better with a constant alcohol level in the blood. Will they find happiness or trouble?
There are some films that might well have made the list, but they have only played festivals to this point. I hope you get a chance to see a couple films that played as part of the AFIFest. Nine Days, a story of not-yet-born souls trying to be selected for ?the amazing opportunity of life?, is tentatively scheduled for a summer release. There Is No Evil isan Iranian film about making moral choices (built around capital punishment) in an authoritarian society. It has no release date yet. Both of these films would have made my list this year.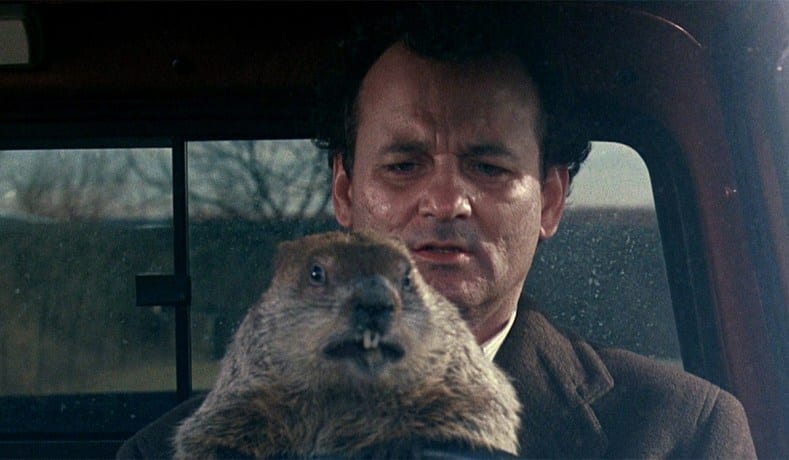 The best older film that I viewed for the first time or revisited is one I reviewed as part of our Self Isolation Film Festival, Groundhog Day. It just seems to capture the day-after-day sameness of this year (especially the early months of the pandemic). For those who want an edgier version of that concept, you should check out Palm Springs on Hulu.
And since we all spent so much time binging everything on Netflix, Prime, HBO, and anything else we might have had access to, I think it?s appropriate to name my favorite binge viewing of the year, Money Heist on Netflix. The multi-season story of a band of criminals who execute an elaborate invasion/theft at the Spanish National Mint. Great cat and mouse cops and robbers adventure.