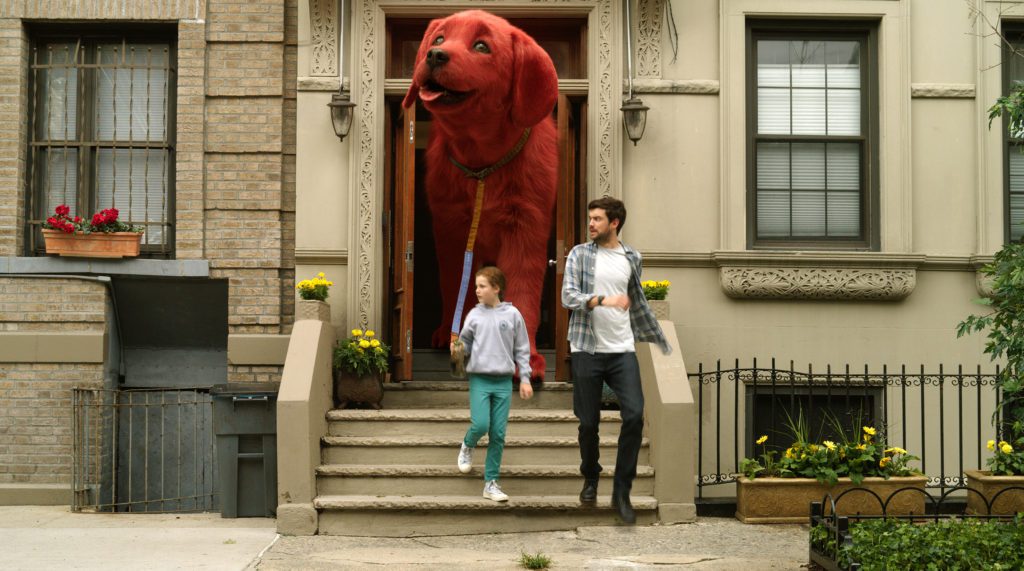 Clifford the Big Red Dog?understands how important it is to #LoveBig.
Set in the urban jungle of New York City,?Clifford, the Big Red Dog?tells the story of Emily Elizabeth (Darby Camp), a young girl who is finding it hard to fit into her new school. Cared for by her Uncle Casey (Jack Whitehall) while her mom is away on business, Emily Elizabeth meets a magical animal rescuer (John Cleese) who changes her world when he gives her a little red puppy. Emily Elizabeth quickly falls in love with her new pet and names him Clifford. However, when the tiny pup grows into a giant, 10-foot hound overnight, her tiny New York City apartment?and the neighbourhood?suddenly becomes too small to contain her beloved pet and they must figure out what they're going to do with him.
Directed by Walt Becker, Clifford, the Big Red Dog is adorable children?s fare that feels reminiscent of John Hughes? later family classics, such as Beethoven and Flubber. Produced by Jordan Kerner (George of the Jungle, Inspector Gadget), Clifford is certainly an unenviable challenge to bring to life on the big screen. With countless books over the decades, Clifford the Big Red Dog holds a certain place in kid?s pop culture. Telling stories of love and helpfulness, this literary franchise is one which has helped build up children for generations and that also brings expectations. Thankfully, filled with a big heart and a certain silliness, Clifford will appeal to younger viewers but also has a charming warmth that should appeal to their parents as well.
While Clifford features a solid cast, it?s also fair to say that very few of them are given much to do within the film, other than the always affable Tony Hale. With experience in numerous other kid-focused franchises like Alvin and the Chipmunks and Toy Story, Hale understands the assignment in playing the mustache-twirling villain and he fully indulges in the role with glee. (The other notable exception is John Cleese who somehow manages to improve every film he?s involved with simply by being onscreen.) However, in all honesty, any perceived issues with character depth aren?t really the issue in a film like this.
What matters most in Clifford is the big red pup, himself.
As one would hope, Clifford is an absolute delight. Bounding onscreen with playful energy, his innocence and charm bring the character to life. In recent years, there has been an interesting challenge with creating CGI animals. Beginning with Disney?s recent live action remake of The Lion King, we have seen how hard it can be for the audience to suspend their disbelief when beloved characters are translated on screen with a more realistic look. There?s a certain expectation that beloved animated characters like Clifford carry with them about the way that they look and this can cause issues with the audience. (The Lion King especially is a great example of how more taking realistic approaches can throw off the relationship between the viewer and the material.) Having said that, the CGI on the big mutt works relatively well. While he may not appear like the beloved character from the books, the details on him are surprisingly good when you look at them. What?s more, Clifford?s character is so heart-warming that he manages to break through any supposed expectations or presuppositions about his appearance.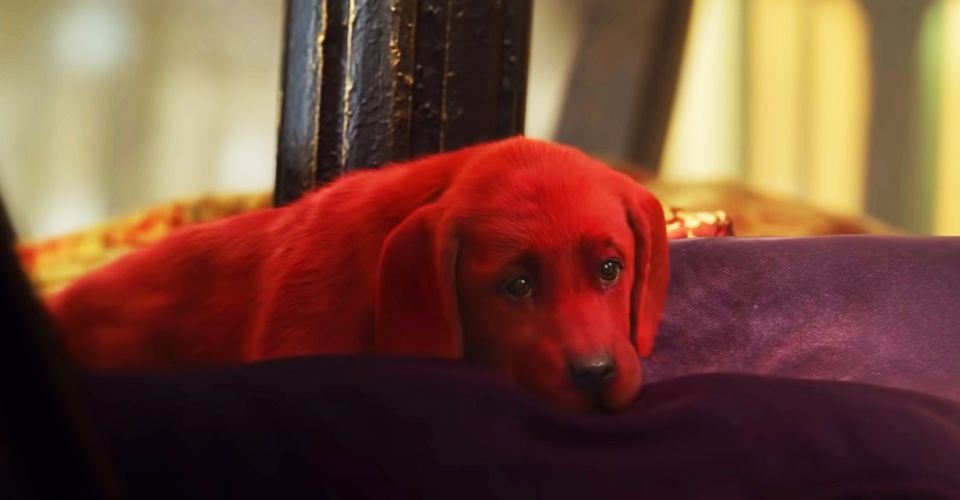 It is interesting in some ways that Clifford?s giant size is directly related to love. Whereas the books gave no reason for his gargantuan form, the film focusses on the fact that Emily Elizabeth?s immense love for the puppy is what makes him grow. While the explanation feels unnecessary in some ways, there?s also something truly magical about its truth. In a congested city like New York, people need things to be small in order to fit their over-packed lives. However, love makes things bigger… and that breaks down boundaries and walls. Clifford may not fit into the traditional mold (or even in their living room) but the love that he and Emily Elizabeth share is so massive that it changes the neighbourhood and everyone in it.
Further, this theme anchors the film?s belief that ?the unique things are the ones that change the world?. Because of her relationship with her new pup, Emily Elizabeth finds the courage to stand up for herself and assert herself. Bullied and pressured to confirm at the beginning of the film, she is speaking to large crowds about Clifford?s importance by its conclusion. What?s more, whereas Uncle Casey begins as somewhat of a broken man suffering from loss, his time with Clifford helps him rediscover a sense of purpose and a second chance at life. Built up by love, these characters realize how much they truly matter and find the courage the change their world around them.
While it is not necessarily the most memorable children?s film of the year, Clifford the Big Red Dog is certainly both entertaining and charming enough to make it worthy family fare for the holiday season. By leaning into the impact of love, Becker has managed to tell a story that should comfort and inspire children to step out with courage when others make them self-conscious about fitting in. After all, like Clifford himself, the unique things are the ones that change the world.
To hear our interview with director Walt Becker and producer Jordan Kerner, click here (YouTube) or here (audio).
To hear our interview with Clifford the Big Red Dog himself, click here.
Clifford the Big Red Dog debuts in theatres and on Paramount+ on Wednesday, November 10th, 2021.