Bobbi Jo: Under the Influence?focuses its lens on the life and impact of Kansas City social worker Bobbi Jo Reed. Having turned to drinking and drugs at a young age, Bobbi Jo?s life spiraled further out of control. Left broken and destitute by a life of abuse and prostitution, Bobbi Jo rediscovered her spiritual faith. Now in her mid-30s, Bobbi Jo felt called to use her newfound strength to help others in need. With the development of the ministry at Healing House, Bobbi Jo and her team have seen amazing results by helping more than 8,000 men and women transformed by discovering the power of faith, love and family.
Written and directed by Brent L. Jones, Bobbi Jo: Under the Influence is a powerful documentary of how God can use one person?s shattered story to bring hope and healing to many others. With an emphasis on one particular person and their impact, Jones keeps the film simple and straightforward with its focus. This is not a film about the nature of addiction or the larger problems that plague Kansas City but rather, as the title suggests, the testimony of one person and the impact that they have had with others. By exploring Bobbi Jo?s past and how it led to the development of Healing House, Jones seems to step back and simply allows the story to tell itself. In the process, the film feels very personal as Bobbi Jo is given the freedom to be open about her past battles with addiction without hinderance.
What struck me most about Bobbi Jo?s story is that she?s so? ordinary. For Bobbi Jo, her success lies not in her grand public speaking or any amazing skills. Instead, Jones presents her as a woman who has seen the worst parts of herself and found redemption in her faith. In fact, for the first third of the film, Jones allows Bobbi Jo to share her life?s narrative in grand detail. Having suffered with addiction and prostitution since her youth, she rediscovered her faith and found the strength to ?get clean? in her mid-30s. However, even after all her struggles that she has overcome, there?s a humility within Bobbi Jo that Jones allows to come to the surface.
She understands what it means to feel lost? and she?s determined to help others who feel the same today.
While it may seem like a clich? to suggest that Bobbi Jo is fearless in her pursuit of helping others, it does seem to apply here. (If you?re unsure about that particular word choice, a story about her confronting a man with an AK-47 on Thanksgiving may justify it to you?) Coming out of addiction herself, she understands the needs of those on the street and she has thrown open her doors to reach as many as possible. From the moment that they arrive at Healing House, new residents are welcomed ?home? and treated with love and respect. (For many of the residents, this is the first time that they can say such a thing.) Essential to the foundation of the ministry is that this will be a place of safety where they can heal. They?re given clean clothes, a new room and help acquiring their personal identification.
Most importantly though, they?re given a fresh start.
You see, the beauty of Bobbi Jo?s story is her stunning commitment to the broken. By recognizing that all people have value, she is able to accept them with their flaws and see hope for them moving forward. With a passion to stand alongside addicts, ex-convicts, prostitutes and more, Influence shows the incredible power and influence that Healing House has in allowing its residents to have all that they need to begin again. Through each testimony with the film, Influence highlights the fact that Bobbi Jo is willing to help anyone who truly wants to get well. While not everyone succeeds in breaking free of their past issues, there are countless others whose lives have been turned around by Bobbi Jo and her amazing work at Healing House. To them, she has become far more than another community service worker.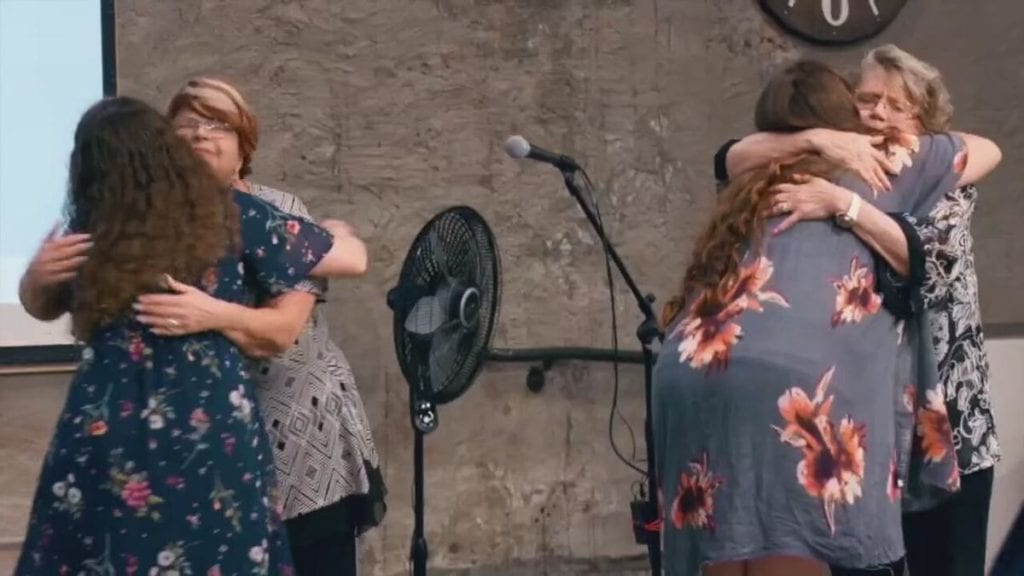 She is their mother, friend and pastor.
While Bobbi Jo: Under the Influence may not be a flashy documentary, it does provide some well-deserved press for an organization that doesn?t seem to be well known outside of its sphere of influence. Anchored by her faith, Bobbi Jo and her team continue to build something amazing in Kansas City that changes lives on a daily basis.
Maybe this film will help change some more.
Bobbi Jo: Under the Influence is now available on VOD.