?Grandpa, are you a good guy?? ?I want to be.?
Written and directed by Mark Williams, Blacklight is another fun and furious entry into the Liam Neeson canon of films that feature ?one man against the world?. Though, this may be one of the first ones that starts to ask what that looks like in an ever-changing culture. (Let?s be serious, that style of genre is a dying breed, especially coming at a time where racial and gender equity is the hottest topic on the table.) What does it mean to be the rogue, white male when the world around you has changed? Somewhat surprisingly though, Blacklight breaks many of the trends of the genre by providing an example of how this style of actioner is going to survive.
In Blacklight, Travis Block (Liam Neeson) is an FBI off-the-books fixer tasked with bringing in troubled agents who find themselves in over their heads. To him, the job is about restoring good men and women who need a hand. But when he?s asked to find an agent who claims to have information that threatens the entire organization, Block finds himself in the middle of a deadly conspiracy. Partnering with journalist Mira Jones (Emmy Raver-Lampman), Block works to uncover the truth, even if it means reshaping the world he knows.
A man of precision and accuracy, Block has been following orders from the US government for many years. His entire home–just like his life–is kept in line. After all, that?s his job: To maintain order. However, Block?s job has taken a toll on his soul. Suffering from mental health issues and the pain of his past actions, he struggles to keep his personal demons in check so that he his mind clear and focussed. Even so, while he may be a broken man, we believe that he wants to be a better one. We know that his heart is pure because of his love for his daughter and granddaughter. We know he is a man of honour because he refuses to kill. In fact, there?s even a certain sense of hope within his job as he?s tasked to bring in rogue agents and give them a fresh start. However, what happens when the way that you have believed the world should work simply doesn?t exist anymore? Being a fixer for any organization means little if the organization itself is damaged.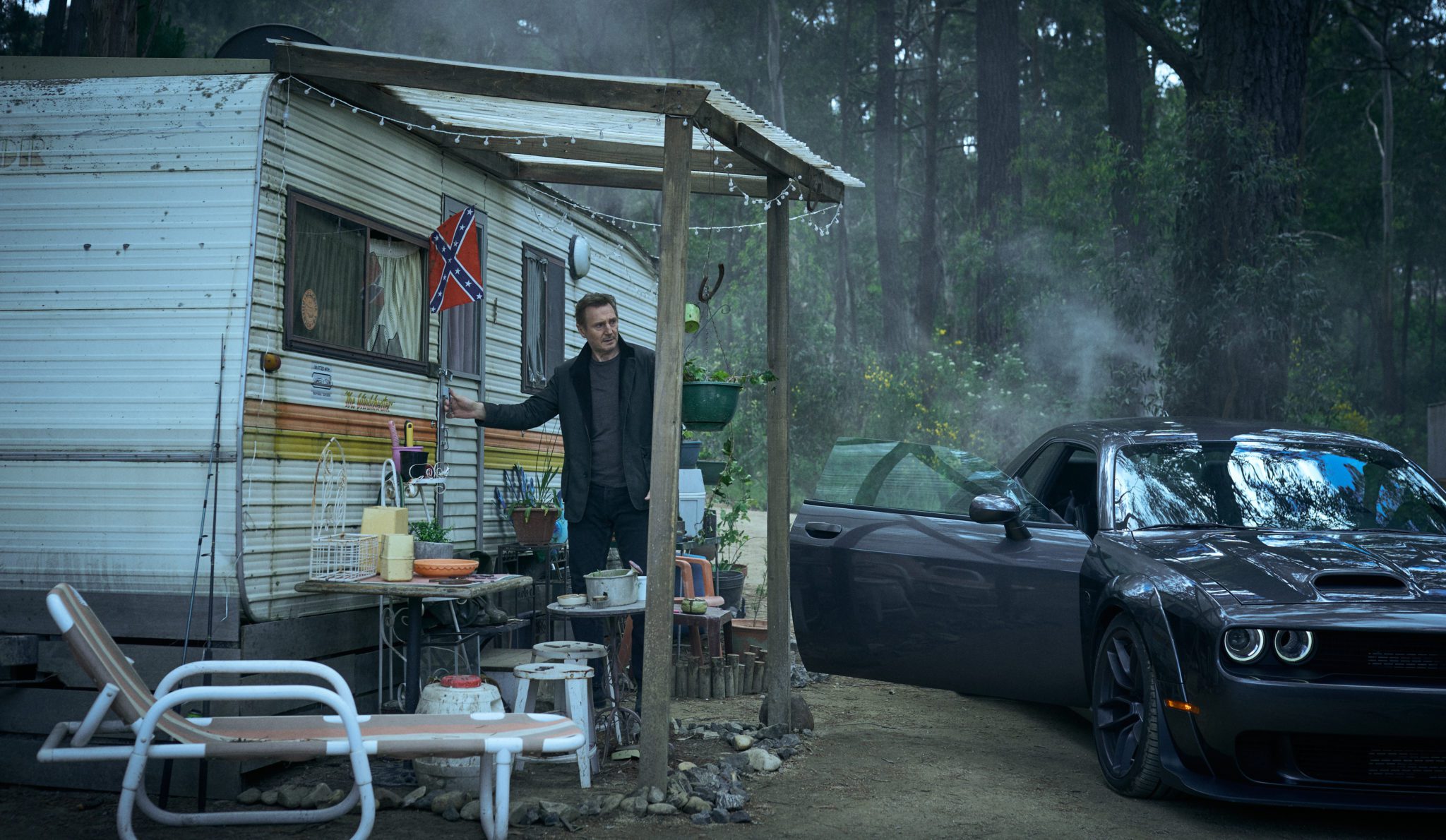 And we see in Blacklight that things are definitely damaged.
Opening with the murder of Sofia Flores, a young and charismatic political candidate who preaches diversity and equity, the film immediately suggests that the balance of power is not going to change easily. The old guard of white men in power are shown here as willing to do anything in order to maintain the status quo.
But things around them are already different.
With its emphasis on the damage of a male-dominated culture, it?s interesting to note that Neeson?s age is used to the film?s advantage. As he prepares to turn 70 this year, the actor is clearly showing signs of slowing down in his age. As a result, action sequences compensate for his physical limitations with car chases and gunfire as opposed to jumping over fences. (?You?ve lost a step,? the film notes.) However, having said that, there is a very real recognition that the way things that the ways in which Block used to take care of business no longer work. Block wants to be a good man but it remains clear that his vigilante efforts simply aren?t what the world needs anymore. Although murder is 'not on the menu' for Block, he is very much a representative of the type of toxic masculinity that we have embedded in our cinematic heroes. With the film's emphasis on truth and change, Block's reliance on violence as the key form of justice is shown as out of date.
And even Block recognizes that the time his time has passed.
In many ways, Blacklight is very much about transition. While this sort of film usually consists of Neeson?s vigilante fighting on behalf of those who can?t, he?s not alone in the battle this time. While it may be Neeson's name on the poster, Raver-Lampman is equally as important in this quest for justice and may be the film's MVP. As journalist Mira Jones, Raver-Lampman goes toe-to-toe with Neeson?s Block, taking on the role of the film?s conscience and strength. (In fact, it would be interesting to compare the film?s statistics as Raver-Lampman may have an equal amount of screen time to Neeson.) Though she doesn't pick up a gun, she is equally as determined to see justice served as her onscreen partner. As she and her team of women battle to bring the truth to light, Blacklight reminds the viewer that the voice of the people must be heard. They are leading the charge into the future with an empowered strength and courage as they stand agains the toxicity of the old guard.
While Blacklight may not be the best example of this stage of Neeson?s career, it is more than enough fun for a couple of hours in a theater. Anchored by a fascinating paring in Neeson and Raver-Lampman, Blacklight is a film which is more than ready to deliver the action yet also understand the assignment in reminding us that the world is changing for the better as well.
Blacklight is available in theatres on Friday, February 11th, 2022.