This week, cyberspace has been abuzz with the thirtieth anniversary of Marty McFly's "flight' to the past, and the future, and the past past. [As an English teacher, I will just say… go with it.] While the Chicago Cubs went down in flames, and not every invention of the imagined future has come to fruition, a trip down memory lane proves that the Michael J.Fox/Christopher Lloyd still holds its own. (Or should I say,?this is heavy!)
Robert Zemeckis, who has gone on to make profound inroads in the realm of digital animation and performance capture footage in?The Polar Express?and?The Christmas Carol?[Jim Carrey version], wrote and directed the first film in the trilogy?after nailing the romance/adventure genre with Michael Douglas and Kathleen Turner in 1984 with Romancing the Stone. [This is another profoundly funny film that those born post-1990 should revisit, but, I digress.] Zemeckis teamed again with Alan Silvestri, who composed all of the scores for Zemeckis films after the aforementioned?Romancing,?including?Forrest Gump,?Cast Away, and?Flight.?Not a bad team, eh?
Marty McFly: Hey, Doc, we better back up. We don't have enough road to get up to 88.
Dr. Emmett Brown: Roads? Where we're going, we don't need roads.
As to the story: unless you were born in the 2000s, you've probably seen some of the footage on reruns or commercials for DirecTV, Nike Mag, or Pizza Hut. And if anyone has stared in awe at a DeLorean in front of you, then you know why. But, if you don't, here's the rundown: In 1985, McFly (Fox) meets his friend, Doc Brown (Lloyd), after Brown has nearly mastered time travel using a modified DeLorean and stolen nuclear material from 'the Libyans.' The Libyans kill Brown, and McFly finds himself returned to 1955,?when his parents were just teenagers. McFly intervenes in their lives, and alters the history of his father, George (Crispin Glover), and mother, Lorraine (Lea Thompson), while mixing it up with the timeline bully, Biff (Thomas F. Wilson, whose career clearly peaked in 1985…) Hijinks ensue, two sequels are spawned, and McFly ends up in both 2015 and 1885.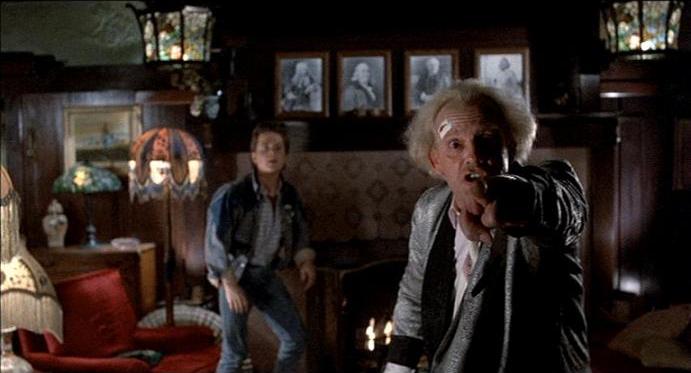 Marty McFly: One other thing. If you guys ever have kids, and one of them, when he's eight years old, accidentally sets fire to the living room rug… go easy on him.
Ultimately, the film is timeless because it's, well, timeless. Watching the films, you could recognize aspects of yourself, your parents, and your community. You could see the moments in retrospect that determined who you would be when you grew up, why your parents were the way they were, and ultimately, what outside factors impact our lives at any given moment. It's clever, funny, and, as Steve writes here, hopeful. We want to be the heroes of our own lives and we want to make a difference in the world we live in. We want to believe that our actions could make it better.
Marty McFly: If you put your mind to it, you can accomplish anything.
I would hope that you've stopped reading by now to go check out the first film (at least). If you haven't, it's not too late to buy this special edition available on Blu-ray and Digital HD. It's definitely rewatchable like?The Goonies?or anything involving James Bond, and it holds up better than some one-time awesome films, like?Star Wars. [Gasp, yes, I said it.]
Dr. Emmett Brown: No! Marty! We've already agreed that having information about the future can be extremely dangerous. Even if your intentions are good, it can backfire drastically!
Consider?this: what if seeing the future – or even visiting the past – changed how we behaved? What if seeing what could bechanged how we saw our world? We could slice?and dice it any way you want, but knowing those things would change you. And yet,?we know the future?because we have the promises of Jesus to be fulfilled in our future, and still we're sometimes stuck in where we are or where others expect us to be. Whether it's the plan explained in Jeremiah 29:11-14, or something from the New Testament like Romans 8:37-39, we have God's grace for our future laid out in front of us. But what we do in the present is the thing that we have control over, and the things we should apply ourselves to, like saving the world, stopping the Libyans, and putting an end to Biff's reign of cruelty.
George McFly: Last night, Darth Vader came down from Planet Vulcan and told me that if I didn't take Lorraine out, that he'd melt my brain.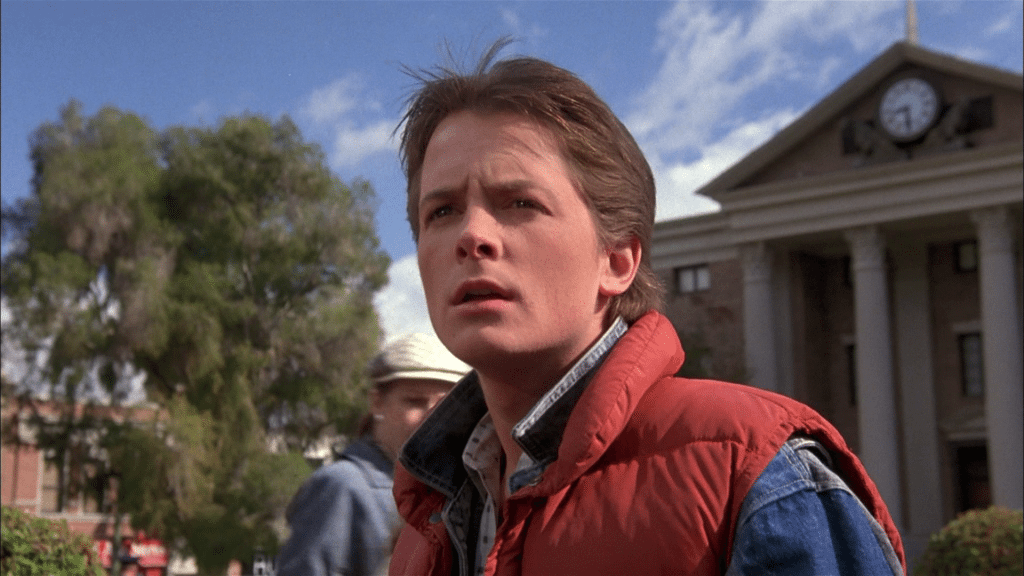 This set is fantastic, whether you check out some previously-conceived special feature or something brand new. There are literally enough features here to take up days (and take this reviewer longer than normal to unpack it). Special opportunities that look at:
-Two scenes from the 1991 animated series featuring Lloyd as Doc Brown ("Brothers", "Mac the Black").
-A nine-part documentary from 2009 explaining how the series impacted our world (have you seen the inventions that were supposed to be real by now!)
-The 2012 restoration of Doc Brown's DeLorean.
-A Q&A with the ageless Michael J. Fox.
-The physics of Doc Brown's proposals about time and space.
–Another?six-part documentary on the film's Future.
-And the all-new featurette, a short film really, that allows Lloyd to play as?Doc Brown Saves the World!?and works out the problems with various technologies from?II?that we don't have access to.
Marty McFly: Right. Give me a Pepsi Free.
Lou: You want a Pepsi, pal, you're gonna pay for it.
This excellent set comes in a book form, with four discs and hours (days?) of special features. For those who love Fox, Lloyd, or the '80s, this is the way to go. For the uninitiated, let me repeat:?this is heavy!