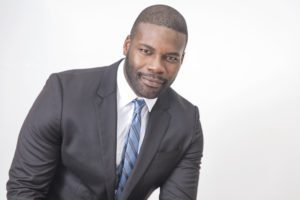 Amin Joseph likes a challenge.
Whether it?s going toe-to-toe with a former WWE Champion in Baywatch or delving into a character drama like Snowfall, Joseph seems to thoroughly enjoy being pushed in ways that further him as an actor.
Says Joseph, ?[They?re both] completely different.? I still bring my sensibilities to things so it always feels like a continuation of my craft and whatever I bring to each project.?
When offered the role of the villainous Frankie in the reboot of the Baywatch franchise, Joseph jumped at the prospect. When asked what attracted him to the project, Joseph quickly asserts that, ultimately, it all came down to the quality of the script.
?What initially drew me to the script was that this was a different take on the original installment,? he begins. ??It skews towards comedy and action, [and] has the sexy [element, too]. It doesn?t take itself as seriously as the original. So, that was the first thing. We?re taking the franchise in a different way and everyone was kinda enthusiastic about that?? It?s not just going to be about abs and the perfect swimming form on the beach. Then, when I found out about The Rock and just how much physicality was going to be involved, I really took a liking to it.?
Playing henchman to the villainous Victoria Leeds (Priyanka Chopra), Joseph also appreciated the fact that the script broke several stereotypes in the genre as well.
?It was kinda cool working with Priyanka Chopra and [she] wasn?t the stereotypical villain.? She?s the kinda upscale villain [and I?m] not your quintessential henchmen but it is more like the Bond thing, where they?re kind of well-dressed. It?s only because of the circumstances that makes them villains at all.? To see a woman play the main villain is quite interesting too.?
Of course, one of the more unique opportunities in a film like Baywatch was the chance to square off in a fight scene with co-star Dwayne ?The Rock? Johnson.
?We worked on the choreography? for quite a while,? he remembers.? ?It just makes sense some time to do your own stunts because you don?t have to cut away.? So, I did a lot of those stunts.? I also had a stunt performer.? I think it?s great to rely on your stunt performer to do certain things and also be a physical actor…? You don?t have to take every fall.?
Furthermore, Joseph argues that the process of developing such a scene is incredibly complex, involving everyone from screenwriters, to stunt performers and the film?s stars.? However, he also believes that the best action sequences feel natural to the script and enhance the overall story itself.
?I believe that every fight has their own choreography and tells their own story within the larger story of the film.? That?s what the writer is trying to convey,? he argues. ?Then, the stunt unit comes in and tries to bring whatever that writer put on paper into the real world.? In there, there?s a lot of interpretations of how that should be seen. ?Then you have the star of the film that?s probably done a hundred or more? Let?s just think about how many fight sequences Dwayne has done in his career? and I?ve done several? It?s all of these different variables.? How big is the space?? Is this a scene where we?re kicking?… All of those things together? it?s sort of like watching something organically happen even though it might seem like it would be paint by numbers.?
Of course, despite the rigorous physical challenges of his role at times, Joseph maintains that the atmosphere on set was a lighthearted and fun experience.
?It was easy.? I mean, it can?t get too hard when you?re working with beautiful people on a beach.? Who am I to complain?? (laughs) Everyone had a warm disposition and you?re working with some of the most charismatic people in the business.?
?I think they did a great job of the casting because there?s a lot of newcomers?,? he continues. ?The zingers that Rock and Zac share is just a lot of funny stuff.? Even my character had some moments of levity, some comical moments.? The fact that you have that already written there and that you give us an opportunity to play in between things, it makes it all the more fun and laid-back type of experience.?
Moving on from the beaches of Baywatch, however, Joseph opted to choose a wildly different experience for his next role by joining John Singleton?s upcoming FX series, Snowfall.? Taking place in 1983, Snowfall tells the story of the rise of the crack epidemic in Los Angeles. A fictitious story in a historical setting, Joseph believes that having the option to create new narratives allows them the opportunity to explore some deeper themes.
?This story of Franklin Saint is an original story in a historical period where a lot of things ring true.? But I think it gives the story a little bit more life being able to show things that didn?t happen in one particular person?s story but to be able to expand and show how this drug [was] coming in and this drug trade sponsoring wars. To be able to embellish a bit.?
Nevertheless, Joseph also notes that the real heart of Snowfall lies within the journeys of the young families within the story, as opposed to the larger scope of the drug trade itself.
?It?s one thing to say all drug dealers are bad? but how does that look when you?re dealing with a family?… It?s just interesting to see those stories in a very small way as part of a larger story.? I think Snowfall does a remarkable job of that and I?m pretty proud of that obviously.? When I first read the pilot, I wasn?t able to see that.? It seemed like everything was compartmentalized and you see all these different sects: Israeli mobsters, CIA, etc? and to see that all come together and paint a story that feels like nobody is being demonized.? Even with the CIA, you realize the humanity of people just working their jobs and just trying to better their lives.? It?s just really interesting.?
Of course, one of the great challenges in a role like this can be inhabiting a character that you cannot always relate to their backstory or history.
?With this particular piece, the difficulty [lay] in that I was not from Los Angeles,? he reflects.? ?And, being a period piece, because the audience has seen films like Boyz N The Hood, we?ve kind of seen what that stereotypical guy from South Central Los Angeles looks like and acts like?whether or not he actually acts like that or not. To start from the ground up with a character, we got to think of the history of this character.? Where did they migrate from?… What can you kind of infect into these people that gives them an authenticity, bring some things that we haven?t seen before.? Bring some specificity.?
Of course, it is also in these moments where series producer Singleton could most demonstrate his value to his crew.? Having grown up in South Central Los Angeles, Singleton?s years of experience helped him mentor his young team in ways that would help bring some authenticity to the world they were creating.
?John is a stickler. As an EP, he was always in our ear, giving us advice,? Joseph muses gratefully. ?He grew up in South Central.? This is his place. I remember on my first day of shooting, John walked up to me and said, ?Hey man, I know you?re from New York but some of my guys around here are gonna be mad if you don?t get this right.? I was like, ?Thank you, John.? (laughs)? He was always around giving little details? To me, it?s almost like a treasure chest of information. You know, to have someone that really rolls around in those times.?
For Amin, despite the fact that two experiences may have been wildly diverse, both have helped him continue in his development as an actor.? In any case, both Baywatch and Snowfall have allowed Joseph to enjoy his moment in the sun.
To hear the full audio of our interview with Amin, click the link below.
Baywatch is in theaters now.
Snowfall will air on FX starting June 5th, 2017.