A Mouthful of Air is a very difficult watch.
That's not to say that it isn?t well done or sensitively written. Led by a strong performance by Amanda Seyfried, the film is a powerful portrayal of the struggles of mental health, especially in regards to postpartum depression. However, because of that authenticity, the viewer may also be struggling to grasp a mouthful of air themselves.?
Written and directed by Amy Koppelman,?A Mouthful of Air?tells the story of Julie Davis (Seyfried), a bestselling children?s author who seems to have it all. She has just had a beautiful baby boy with her loving husband, Ethan (Finn Wittrock) and her books are beloved by millions. However, when the birth of her son triggers her own repressed trauma, Julie unravels emotionally. Struggling to get through each day, Julie fights for her own survival as she begins to unlock the complicated pain of her past through the love and support of her family and therapist.
Stemming from her own personal experiences, Koppelman has woven a tale that feels honest and real. Throughout the film, she emphasizes the weight of depression and the complexities of the mind by giving every moment a certain level of fragility. Simple dinners with friends become triggers for panic attacks. Family time carries poetic highs but can just as easily become deep lows.?Though these seem like moments where joy should spark, Julie is left gasping for air at the end.
Interestingly, Koppelman chooses to tell her story in three different timelines, which range from the present to Julie?s childhood. In doing so, she is able to explore the way that our past experiences can interact with the present. As is certainly the case with Julie, the traumas of our youth often reveal the way that our views about ourselves and the world have been shaped. Koppelman connects these threads well, allowing Julie to share with the audience that which she struggles to say out loud. In doing so, she also reveals the intricacies that memories and hurt can be translated into our current experience and the necessity of working through them with the proper help.?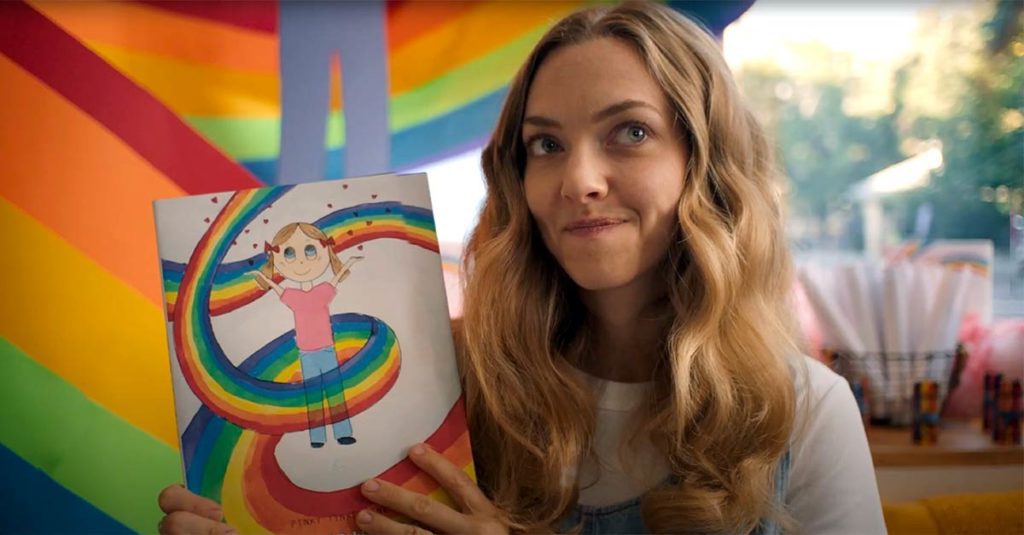 As stated earlier though, the anchor to the film is Seyfried?s performance. Never succumbing to frantic moments of over-expression, Seyfried doesn?t feel like an actress who is attempting to play a character. Instead, she plays the role with such sensitivity and humility that she seems to understand the nuances of this sort of daily struggle. As a result, her portrayal of Julie feels grounded and truthful to the malaise and inner frustration that can take over the soul in an instant.
This is a story which (rightly) offers a great deal of grace towards the internal suffering of those who have difficulty facing the day. Although no one around her understands the turmoil within her, Julie does her best to move forward. However, at the same time, every step requires an inner strength that few could understand. (This is especially true when she and her husband go out to dinner with another couple and she must face the wrath of her friend?s wife for her behaviour.) Because we see the story through her eyes, Koppelman draws us in to her story with empathy and love for her struggles.
What?s more,?Air?also wants to highlight the pain experience by those around her as well. While Ethan is incredibly supportive of his wife, so too does he have great difficulty feeling like his needs are being met. Because Julie requires such intense emotional support, he is required to give of himself all the time. Speaking of his own stresses and frustrations have become impossible out of fear of triggering his wife, yet he soldiers on out of love and a desire to keep her healthy.?
Now, having said this, the authenticity of the film also is what makes it such a difficult watch. Unlike other portrayals of mental health onscreen, Air does not give the viewer much opportunity to breathe. While genuine and effective, Koppelman?s story also wants to exemplify the unrelenting sorrow that can be caused by our traumas and depression, even in moments of joy. As such, there is a reason that there is a trigger warning at the beginning of the film as this film could become too difficult for some viewers.
With beauty and truthfulness,?A Mouthful of Air?is one of the more realistic representations of mental health on screen in recent years. However, because of this, it also makes the film challenging to watch. The brilliance of Koppelman?s script is that it highlights Julie?s experience within her own voice, offering her a way to tell her story in her own way. Ironically though, it?s that same solid writing that may leave those watching?Air?feeling claustrophobic.
A Mouthful of Air is available in theatres on Friday, October 29th, 2021.