Set in the foothills of Ireland, Wild Mountain Thyme tells the story of Rosemary Muldoon (Emily Blunt), a strong-willed farmer who yearns to win the heart of her emotionally-stunted neighbour, Anthony Reilly (Jamie Dornan). Struggling to commit to his role in the family farm, Anthony also struggles to take a risk with his feelings for his beautiful neighbour. When his father (Christopher Walken) loses confidence in his son?s ability to take care of their land, he invites his American nephew Adam (Jon Hamm) to purchase their family farm. However, upon meeting Rosemary, Adam realizes that pursuing a romance with her may be an even better reason to take up residence in the Irish countryside. Torn between the love she has in front of her and the one that she wants but can?t have, Rosemary must ask herself what is most important to her and where she sees her future.
Written and directed by John Patrick Shanley (Moonstruck), Wild Mountain Thyme is a sweeping romantic comedy that works well for the most part, even if it falls short near the end. Based on his play Outside Mullingar, Shanley portrays Ireland as a land embedded in rich mythology and charming characters. Bathing the screen with lush, green landscapes, Thyme is a visual treat that leans into the allure of the Irish countryside and its quirky residents. (Fans of other Irish gems such as Waking Ned Devine may appreciate the characters in particular.) Stars Dornan, Blunt and Hamm have wonderful chemistry together, carrying the film on their shoulders much of the time. (In fact, this is especially true of Dornan and Blunt, who simmer together onscreen in several key scenes.)
Admittedly, the film is certainly far from perfect. While Blunt?s Irish accent works, some of the cast sound almost non-sensical (Sorry, Mr. Walken.) and even distract from the film itself. What?s more, many of the relationship questions feel answered so early in the film that there?s very little left to discover by the film?s finale. Even so, these issues are decidedly minor quibbles that do not take away from the film?s sweeping narrative. (Well, maybe Walken?s accent.)
What will likely be discussed at length is the film?s ?twist ending? (which won?t be spoiled here.) Bound to be controversial, Anthony?s confession at the end of the film seems so wild that, if true, there?s little question that this particular reveal may be the most bizarre of the year. (In 2020, that?s saying something?) However, what many will forget is the film?s overall emphasis on whimsy and mythological storytelling. While Anthony?s revelations would make no sense in a more grounded reality, Thyme is never meant to be so. In a world where the dead can return and Rosemary considers herself to be a swan, the finale still manages to work within the context of the film and its culture.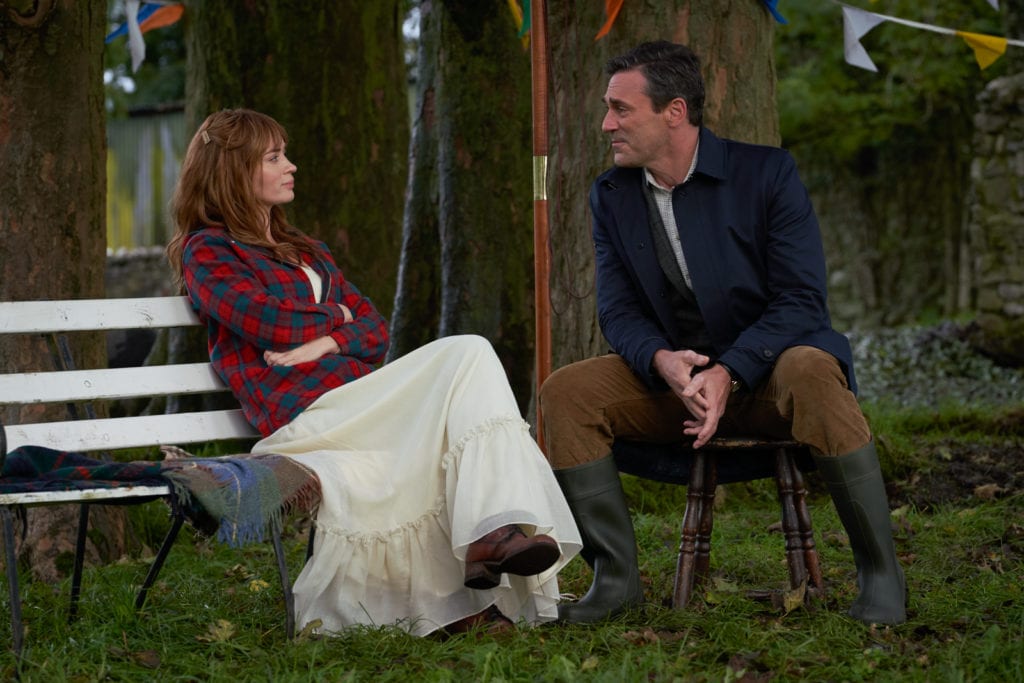 In many ways, Thyme is a film about discovering who you are. Although they live in a world that feels settled and comfortable in its ways, these characters are all in periods of transition. Anthony seems unconvinced of his role at the farm once his father passes. Adam is told that he?s not a farmer, even if he wants to own a farm. Even Rosemary, who seems the most self-aware of them all, seems uncertain as to whether or not she should remain on her land or leave for the grand adventure of New York City. Interestingly though, rather than leaning into the more traditional theme of ?finding one?s self?, Shanley?s script highlights the fact that such self-inquest is often unreliable. (?Everyone thinks they?re something they?re not,? Rosemary cautions.) In this way, Thyme is unique in its perspective by pointing to our peers and family as the ones who truly know us for who we are. For Shanley, identity is not merely something we ?know?, it?s something that we earn based on our interactions and relationships with the people in our lives.
Flawed but sweet, Wild Mountain Thyme has enough charm and wit to validate a trip to the cinematic countryside. Carried by strong performances from its key stars, Shanley writes a love letter to his home country that can charm in its quirkiness. (Just note that you might need some subtitles along the way.
To hear our conversation with director John Patrick Shanley, click here.
Wild Mountain Thyme is available in select theatres and PVOD on Tuesday, December 22nd, 2020.