At the Variety PURPOSE Family Entertainment and Faith-Based Summit, one of the panels of industry people discussed ?Creative Trendsetters?. That panel, moderated by Malina Saval of Variety, included Reza Aslan, Producer of Believer, Of Kings and Prophets, and The Leftovers; DeVon Franklin, Producer of Miracle from Heaven and The Star; Arturo Navarro of Echo Park Films who is involved with an upcoming film From Heaven: Fatima?s Secret; Joan Scheckel, Producer of Transparent; and Jennie Snyder Urman, Creator and Executive Producer of Jane the Virgin. After each discussed bits of the creative process involved in their projects the discussion drifted into the role that the current political situation affected the products.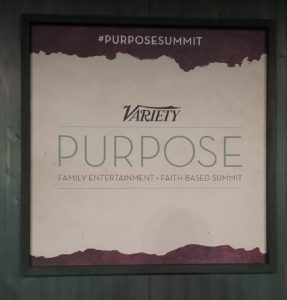 Malina Saval: There?s so much going on in politics today, as you know. The last two weeks [during the political conventions] have been tumultuous and interesting, riveting at times and upsetting at other times. Does the current political climate influence at all what you cover in terms of faith-based content?
Arturo Navarro: That?s a great question. When I think about Fatima, these are timely spiritual prescriptions. Particularly what we?ve been through the last couple weeks.
DeVon Franklin: That is a really good question. For me, it?s that what I see is that there?s a narrative of division, no matter what. Diverse groups pitted against one another, when in reality, the day to day existence that we live, we don?t necessarily live that way. But when we turn on the news or we turn on the TV or go on the internet, it?s like ?Oh, wait! There is chaos.? So I think there is opportunity to make content that authentically portrays our day to day experience which is?this room is as diverse as it gets?of all walks, of all faiths, of all races, of all genders, of all persuasions?and we?re here and we?re communing and we?re having a great time, and we?re not even thinking about it. I think that?s the real America out there. And I think the more we can make content that speaks to the light that is in the world, the peace that?s in the world. I think the political climate actually gives us a great opportunity for content like that, to cut right through. Because the wide majority of us want peace, want unity, want family, we want faith, we want to believe that there?s more than we can see. The chaos that?s being portrayed has really given us new opportunity.
Joan Scheckel: To speak further to that, the issue is feeling. How can we connect the country unless we talk about it in a real way, unless we address the hate in a real way, unless we address envy, unless we address the core feelings that are dividing us? Story does that. Story is a safe context for feelings. It?s a way to bring it up between different characters and have them get in the mix, get in the ring with one another, where there is a little bit of remove and you can feel it. You can empathize with it. You can see how there?s no better or worse, there?s just the multiplicity of feelings. That?s not getting addressed in politics. But it can receive a better treatment in story.
Malina Saval: So just to take an example, how can a show like Jane the Virgin, a really relevant piece of pop culture today, how can that help bridge some of the divides that are in our society?
Jennie Snyder Urman: We try really hard to personalize the political. Our show advocates for immigration reform and our characters believe in that. Sometimes we never give characters a point of view because you?re afraid of offending anyone. Abuela is somebody some people want to get out of the country. Who is going to watch our show and want to deport Abuela? You?re rooting for them and if you make the political personal and have faces, you show this family has fear and has success and struggle. She?s a faithful woman. She really believes in God. She?s also undocumented and wants to do something about it. A point of view doesn?t have to divide us. As you?re saying, it gives you the space to have that conversation. You feel the pain. You feel compassion. What you do after is up to you. I think there?s always a point of view of the creator?always, always, always. So why not make it just a little more explicit.
Malina Saval: You talked about how pop culture right now is probably the best way that we can get through to people. When you?re saying ?most people want peace, most people want unity?, right now I?m not feeling that that?s true 100 percent. But I hope that people do feel that way. But from your experience and your expertise how can pop culture create an atmosphere where people really get a sense of the contectivity and peace.
Reza Aslan: I think we?re sometimes under the mistaken impression that bigotry is the result of ignorance?particularly in sort of liberal, progressive, intelligent crowds. People think, ?Well, if you?re a racist or a bigot, it?s just because you don?t know. If we just give you knowledge then you?ll stop being such a a racist and a bigot.? That?s not how it works. Bigotry is not the result of ignorance. It?s the result of fear. And fear is impervious to data. It doesn?t matter how many times you try to debunk a particular stereotype, if you can?t address the fear then that bigotry will always be there. So the only way to actually address fear, the only way to take away fear, is through relationship. It would be great if you could just meet each other and knock on each other?s door and say, ?Hi, I?m Christian.? ?I?m Muslim.? ?Hi. I?m gay.? ?I?m straight.? But that?s not how it works. So all we have is pop culture. All we have is television. In this country it?s not our politicians that have changed our society, it?s Hollywood that?s changed our society. Remember when the Vice President expressed his support for same sex marriage and was asked why it was there was such a giant pendulum swing in views about the LGBT community? What did he say? Remember? [From audience: Will and Grace.] Will and Grace, that?s what he said. He said because of Will and Grace. Everyone laughed and said, ?Oh my gosh, there?s Joe Biden again.? He?s right. He?s 100 percent correct. It was television that changed the minds of Americans about gays and lesbians. It?s television that has changed the minds of people about the trans community. Not our politicians. They?re just catching up.
Malina Saval: I just think a lot of times Hollywood is not necessarily a microcosm for the rest of the world. A lot of time the people making entertainment and writing have a different mindset that let?s say, I?m not picking on someone in any particular state, but say Peoria, Illinois, or some small place in Kansas. Sometimes it is different. And I think if you see something on TV before you know about it or believe in it, I think it can effect positive change.
Reza Aslan: That person in that small town, the only gay person that he knows, the only Muslim he knows, the only Jew he knows is the one that he sees on television. That?s it. That?s an enormous responsibility for us. Because we?re not just making entertainment. We?re not just telling a story. We?re trying to reframe the perception that people have in this country towards the other.