Four Christmas favorites arrived last week in stunning 4K HD. Now old fans and fans-in-the-making can tackle the stories of Ralphie, Buddy, Clark, and Billy, in the highest clarity possible. Read on for special features and brief synopses – just in case you've been stuck in the woods without internet or television for the last forty years!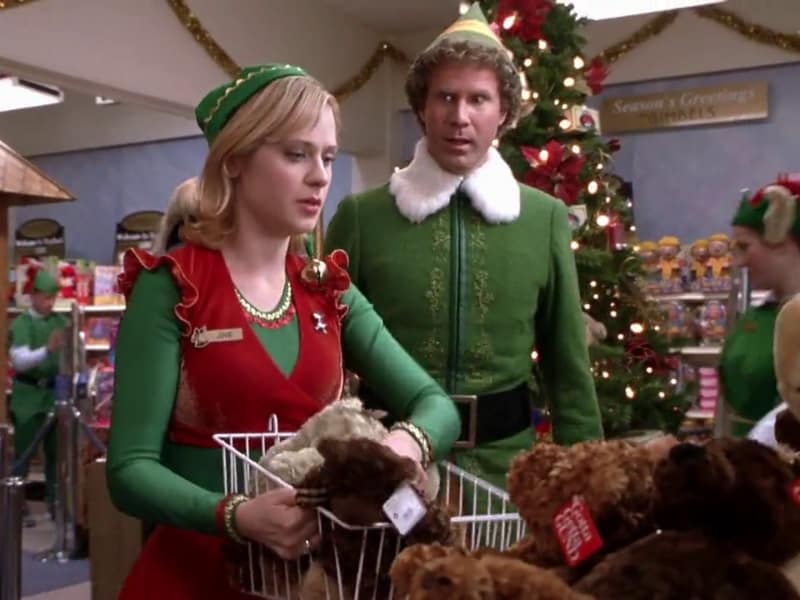 I'll begin with one of my favorite Christmas movies of all time: Elf. It's the story of how a human baby named Buddy ends up living at the North Pole, discovering he's not an elf, traveling to New York City to meet his birth father, and finally, saving Christmas by encouraging people's faith in Christmas. Will Ferrell, James Caan, Zooey Deschanel, and Mary Steenbergen star in this 2003 classic.
Special features include commentary by Ferrell and director Jon Favreau, while the Blu-ray combo pack includes deleted scenes, behind the scenes, and karaoke opportunities. This might be the best special feature possible: given how music-infused the story is thanks to Deschanel and Ferrell, singing along sounds the perfect cure for the holiday blues!
While Elf is fun for the whole family, there's more discretion required for Chevy Chase and National Lampoon's Christmas Vacation. It's "little full, lotta sap" with laughs, and a few lessons about family, commitment, expectation, greed, and finding Christmas spirit even when its hard to find the positive in this film from 1989. Chase is joined by Beverly D'Angelo, Diane Ladd, Doris Roberts, Julia Louis-Dreyfus, Randy Quaid, and a very young Johnny Galecki.
Special features include commentary by Quaid, D'Angelo, Galecki, Miriam Flynn, director Jeremiah S. Chechik, and producer Matty Simmons.
In 2004, Tom Hanks and director Robert Zemeckis broke into a pretty closed-up ring of animated Christmas classics. While most people would point toward the Grinch or Frosty as the animated stalwarts of the season, the cinematically adapted The Polar Express has quickly developed a strong following – potentially launched by people's love of the 1985 book. While it's an animated film, it's big heart focuses on what it takes to believe and what happens when we don't, as a young boy takes a mysterious ride on a magical train.
Special features include "You Look Familiar: the Many Polar Faces of Tom Hanks," "True Inspirations: An Author's Adventure: Profiling Chris Van Allsburg," "Meet the Snow Angels: the Moviemaker's Christmas Memories," motion-capture sessions, documentary featurettes in "A Genuine Ticket to Ride," and a focus on music with Josh Groban's "Believe."
The final entry in the foursome of films WB delivered last week, A Christmas Story flashes to 1940s Indiana, where nine-year-old Ralphie (Peter Billingsley) longs for "a Red Ryder Carbine Action 200-shot Range Model air rifle" that his mother opposes because "you'll shoot your eye out." Yes, there's a leg lamp and an unfortunate tongue-to-the frozen flagpole episode, along with all the hijinks a nine-year-old can get into as Christmas approaches.
Additionally, WB has announced that A Christmas Story Christmas will debut on HBO Max on November 17, with a grown-up Ralphie dealing with Christmas from a dad's perspective now!
Special features include commentary by director Bob Clark and Billingsley, and featurettes on Another Christmas Story, Daisy Red Ryder:A History and Get a Leg Up.