Wendell and Wild is one of the most ambitious and bizarre films of the 2020s. It is also the second Netflix movie to premiere at TIFF this year that uses hot sauce as blood. Bet you can't figure out what the second one is.
The film follows young teenage Katherine Knoiqua Elliot (Lyric Ross) though she would hate if you called her that. She much prefers the name Kat. Kat arrives as a transfer from juvenile detention to a private catholic school in her hometown of Rust Bank. Her arrival to juvie began as she was in and out of problematic group homes for most of her childhood in the wake of her parents' death. Deaths which she feels responsible for. While driving home one night some worms appeared in Kat's candy apple and her screaming distracting her dad from the road leading to a deadly crash. Now Kat is surrounded by her new classmates Siobhan, Sweetie and Sloane who feel inclined to help her break the cycle of poverty and prisons. This is quite ironic considering Siobhan's parents are the Klaxon's a rich couple who've been scheming to build a private prison in Rust Bank where her parents owned a Brewery which suspiciously burned down after her parents' passing.
Director Henry Selick's return to stop motion and to the big screen sees Kat's desire to reunite with her parents clash with the dreams of her two demons Wendell (Keegan-Michael Key) and Wild (Jordan Peele). The brother demons have been enslaved by their father to keep his full head of hair using a magical cream. Wild discovers this cream can resurrect the dead. When Wendell and Wild encounter Kat they offer her a deal to resurrect her parents in exchange for her using her power as a hell maiden will bring them to the land of the living. What follows is a wild adventure of friendship, betrayal, and a fight to save Rust Bank from the treachery of a scheme to create a profitable school to prison system. The supernatural meets the all too realistic as Wendell and Wild's pursuit of building a theme park finds them working with Father Bests (James Hong) who wants to protect his school with the financial support of the Klaxons. With the help of fellow Hell Maiden and her teacher Sister Helley (Angela Bassett) and her new friend Raul (Sam Zelaya) fight to expose the corrupt nature of the Klaxons and restore hope to a town where only one falafel truck feeds its starving economy.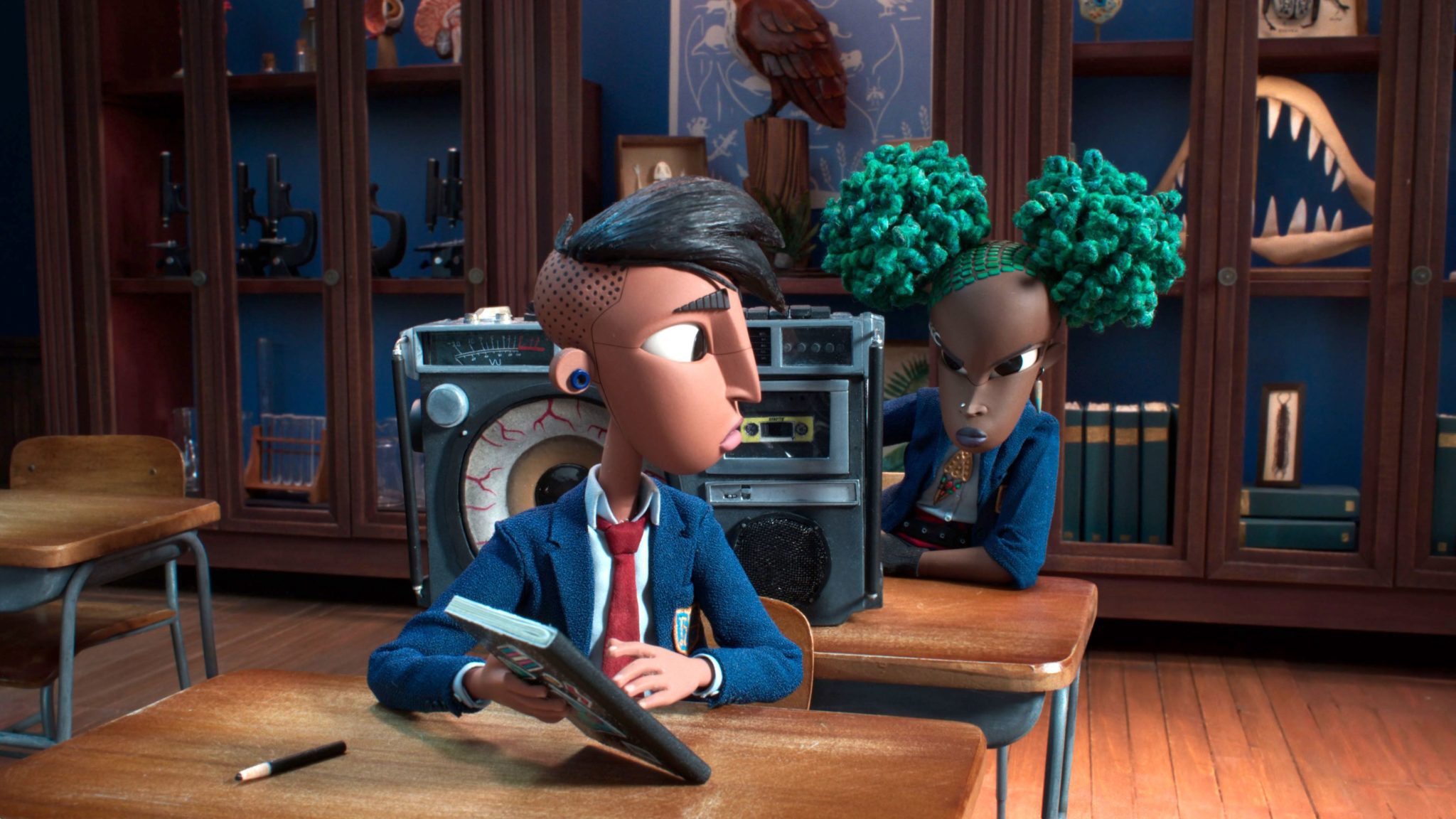 Henry Sellick is arguably the master of stop motion animation and the designs of the character and world make it hard to argue. His scope for miniature worlds seems only matched by Wes Anderson. Selick wrote the screenplay with Jordan Peele based on an unpublished book Selick wrote with Clay McLeod Chapman. Jordan Peele has gained a lot of credit to his ability to weave rich stories with searing thematic commentary. In Wendell and Wild the story falls a bit flat. The film's aim to take down the capitalist approach many states take to prisons which incentivize governments to lead impoverished teenagers and adults towards committing crime. However, this commentary gets caught up in a very convoluted plot where Kat must confront the grief of her parents' death. Wendell and Wild are supposed to be physical embodiment of the demons she must deal with. However, despite how tied the demon brothers seem to be to Kat other than an order from Wendell for Kat to get them falafel Wendell and Wild don't have a lot to do with Kat. Rather once the stories see the brothers accepting to help the Klaxons set up their prison with Father Bests, Kat runs off with Raul and Sister Helley to focus on confronting her grief. Exploring the relationship these demons had to the issues Kat was dealing with in her life could have been much more effective. However, it feels like Selick who had multiple cancelled projects during his 13 year hiatus used funding Jordan Peele attracted to shoot for the stars with him. He got somewhere but like his story the meaning is a bit cloudy.
The film is certainly worth experiencing and the sheer amount of story they throw at you in this hour and fifty minutes is an entertaining and bewildering watch. As a result, you get a film that honestly should have been closer to 3 hours. By all indications that's what Selick was aiming for but in this era of filmmaking funding a 2 hour stop motion movie even by the man who has made his career with the medium won't happen. As a result, Selick is forced to scramble to combine Peele's idea to commentate on the prison system in America while trying to put his original story into the film. 13th by Ava Duvernay which is also Netflix is an amazing documentary takedown of the prison system that explains all the realistic complexity Wendell and Wild can't get into. I'd recommend you check it out to see why Peele felt compelled to have it covered in this film.
The story of Wendell and Wild follows a logical narrative but there are so many plot points attempting to be tied together its hard to feel the intended emotions. The film's finale is a simple action climax that any kids' movie would use despite most of the movie trying to convince me it was something different. Animated movies are almost always for kids, but Selick has always used a darker edge to explore more biting themes. In Wendell and Wild its use of demons, light cuss words and zombies convey its haunting tone. But as a result, you get a movie that doesn't really know its audience. Who this film is for may be answered as its released but Wendell and Wild may simply fade away in Netflix's vast catalogue which is shame. Wendell and Wild is certainly a worth a watch for its ambitious story and animation. Hopefully Selick will write an airtight emotional screenplay during the next few years that will convince a studio willing fund his artistry. His first two stop motion films alone justify funding his films but perhaps he needs to find a collaborator less ambitious than Jordan Peele because the scope they aimed for looses sight of the emotional connection a story like this should achieve.
Wendell and Wild is available now on Netflix. Same will go for Glass Onion: A Knives Out Mystery starting on December 23. It was the other Netflix film that premiered at TIFF this year that used hot sauce as blood.