?Artist is not a profession. You don?t work from 9 to 5. To the artist, you are all the time artist. There is no moment you are not artist.?
The artist Christo is known worldwide for his very large scale temporary art projects. But after the death of his wife and collaborator Jeanne-Claude, he made nothing for over a decade. But beginning in 2014, he set about making a new piece, one that he and Jeanne-Claude had proposed beginning in 1970?a series of floating bridges connecting land and islands. Walking on Water is Andrew Paounov?s documentation of the 18 month process of the preparation, creation, and realization of his ?Floating Piers?.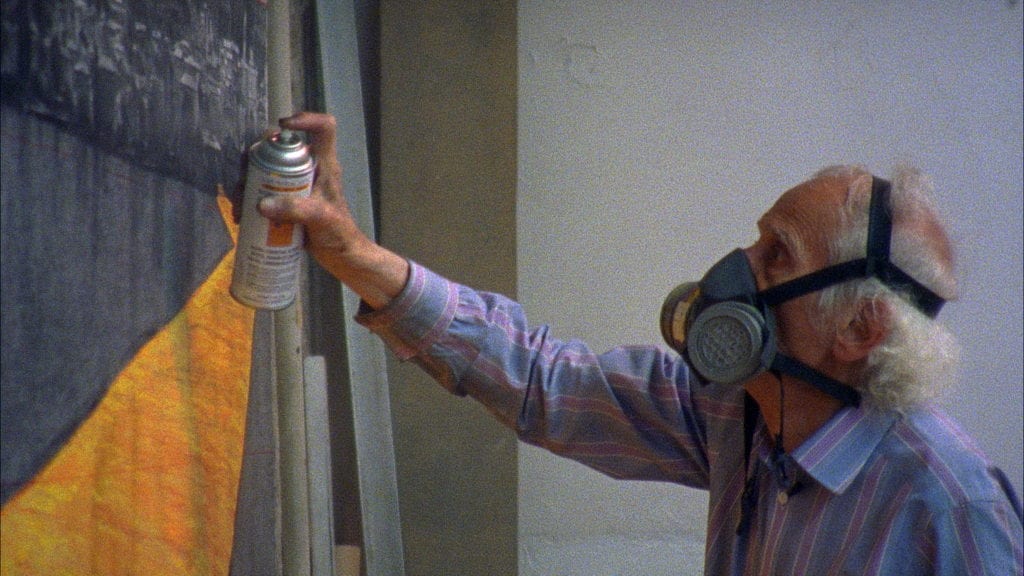 Those unfamiliar with Christo?s work would do well to search it out online to understand the grand scope of his installations. The vision comes from Christo (and Jeanne-Claude), but it takes a fairly large team to bring the work to fruition. And each work is unique. As he says in the film, they never do the same thing twice. The film shows some of the process of creating this work at various points in the process.
This particular work of art was made on Lake Iseo in northern Italy. Originally Christo and Jeanne-Claude wanted to do it in Argentina in 1970. In 1997, they proposed to do it in Tokyo. In both cases they could not get permission. So in a sense this is a piece of art that took nearly 50 years to create.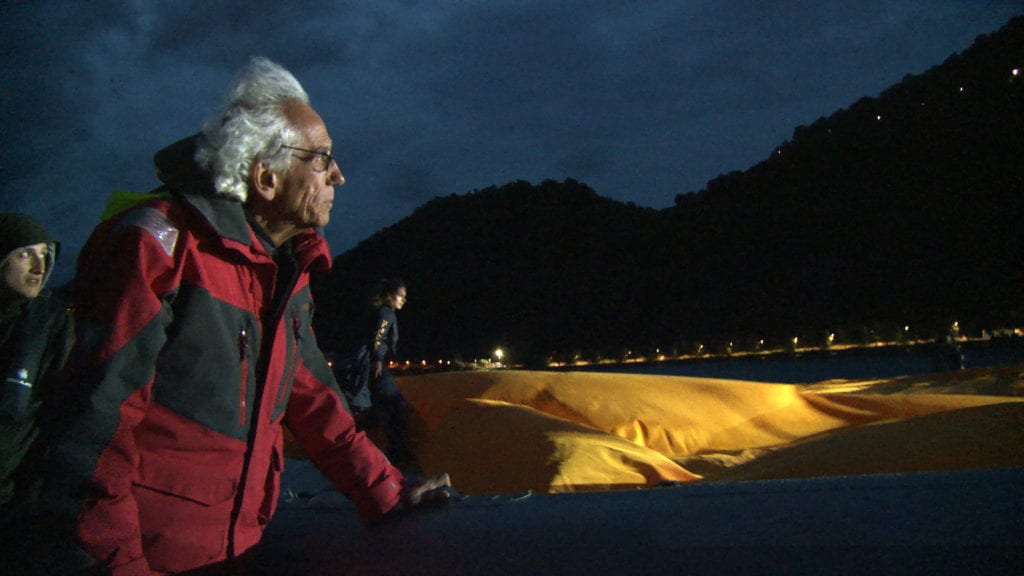 The film doesn?t create a compelling narrative that explains what is happening. Rather it gives small insights from time to time. We do see that there are problems that come up both before it is completed and after it opens to the public. Not everything goes as planned. What I found to be missing (other than a clear narrative) was an explanation of how the various pieces that were needed to make this project were created. In a sense this is a very complicated Lego-like creation, but how does one buy tons of thousands of the pieces needed? I know you can?t find them at Home Depot.
But the film does capture a bit of the experience that Christo is trying to create. Early in the film, he is speaking to some middle school art students in New York. He tells them, ?I love real things. Real Things. Real things. Not virtual reality?. I want to have real one mile, two miles, real wind, real dry, real wet, real fear, real joy.? The experience of the reality of the world in the midst of his artificial creation is central to understanding Christo?s art in general and ?Floating Piers? specifically. Real wind, real wet, real fear, and real joy all come into play as ?Floating Piers? is constructed and when it is experienced by the public.
Part of what makes Christo?s art interesting is that he often uses artifice to point to the beauty of nature or some other work of art. So even though he loves real things, it is through the unreal that he helps us see the real things more clearly.
Photos courtesy of Kino Lorber