What happens on vacation doesn?t always stay on vacation.
Vacation Friends tells the story of Marcus and Emily (Lil Rel Howery and Yvonne Orji), a straight-laced couple from Chicago going on a romantic vacation to Mexico. When a mishap leaves them without a room, the two must spend the week sharing a room with wild, thrill-seekers Ron and Kyla (John Cena and Meredith Hagner). Even though they?re fairly level-headed, Marcus and Emily let loose. (After all, they are on vacation?) But, as they leave Mexico, they also have every intent of leaving the craziness (and their friends) behind to resume their lives. However, when Ron and Kyla show up uninvited to their wedding, Marcus and Emily must navigate whether or not their ?vacation friends? are actually their real friends.
Going straight to streaming, Vacation Friends is a silly and raunchy comedy that works, despite its flaws. The first feature directed by Clay Tarver, Vacation feels like it could have been a much wilder ride, yet somehow seems familiar (and even predictable in places). In some ways, Tarver seems to be holding back, despite the film?s R-rating and its move to streaming where box office revenue becomes less of an issue.
Even so, despite its perceived flaws, there?s a lot more to like about this Vacation than you might expect. While the film itself is a fairly standard comedy, the material works primarily due to the strength of all four of its leads, especially Cena. This summer, Cena is having something of a moment with roles in two other major films (Fast 9, The Suicide Squad) in addition to this project. Whereas those films primarily focus on his viability as an action (super)hero, Vacation Friends highlights his often-underappreciated gift for comedy. Even in moments when the material is lacking, Cena?s smarmy charisma somehow continues to sell it. With Howery giving his all as Cena?s straight-man, the two have some genuinely fun moments together as the tw forced friends begin to genuinely care for one another.
Whereas Marcus and Emily may live organized ?grown up? lives at home, their world is shaken by the arrival of Ron and Kyla. Although they may be successful, Marcus and Emily have few meaningful relationships with others. Living their lives by their schedules, the two have built their lives around well-organized plans and clear boundaries. When they meet Ron and Kyla at the resort, there is something appealing about their free spirits, even though they wreak havoc upon their lives.
As a result, Marcus and Emily reluctantly allow their lives to change temporarily.
But when they get home, their expectations are different.
For Marcus and Emily, vacation may be a time to play but their ?real lives? are based upon professionalism and appearance. As a result, when they run into Ron and Kyla again threatens everything about their ordered lives, especially when it comes their impending wedding. But it?s in these moments that Vacation really surprises. Whereas one might expect that the film is going to hammer down its message about ?lightening up?, instead the story is really all about the hearts of its characters.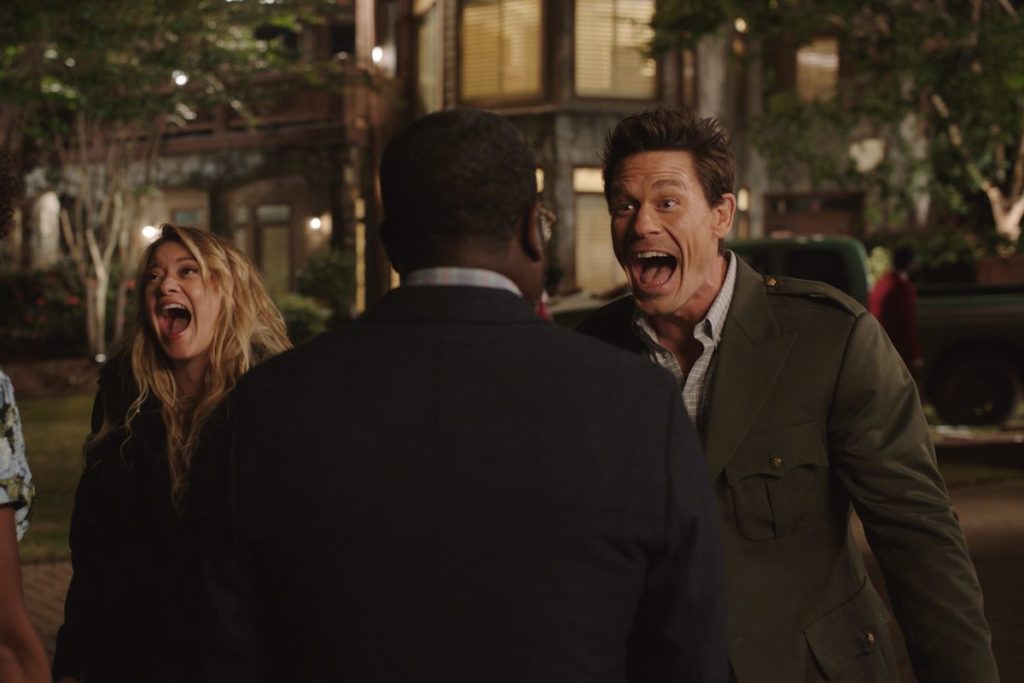 Despite their brash exterior and wild antics, the true joy of Ron and Kyla lies in their commitment to friendships. To them, friendship is more than a statement but something that truly matters. Their hearts are truly open to serve and care for their friends. Held up against the more reserved Marcus and Emily, Ron and Kyla demonstrate what it means to see past people?s exteriors and love them for who they are at their core. Though they have no personal boundaries, there?s an earnestness about Ron and Kyla that makes them endearing and shows their new friends what it truly means to care for others.
Wacky, wild (and sometimes wonky), Vacation Friends wins you over by the strength of its performances. Anchored by the energetic Cena and friends, the film manages to charm you enough to make this worthwhile. In other words, even though it may not be a perfect Vacation, it?s still one worth taking.
Vacation Friends is available on Hulu and Star+ on Friday, August 27th, 2021.