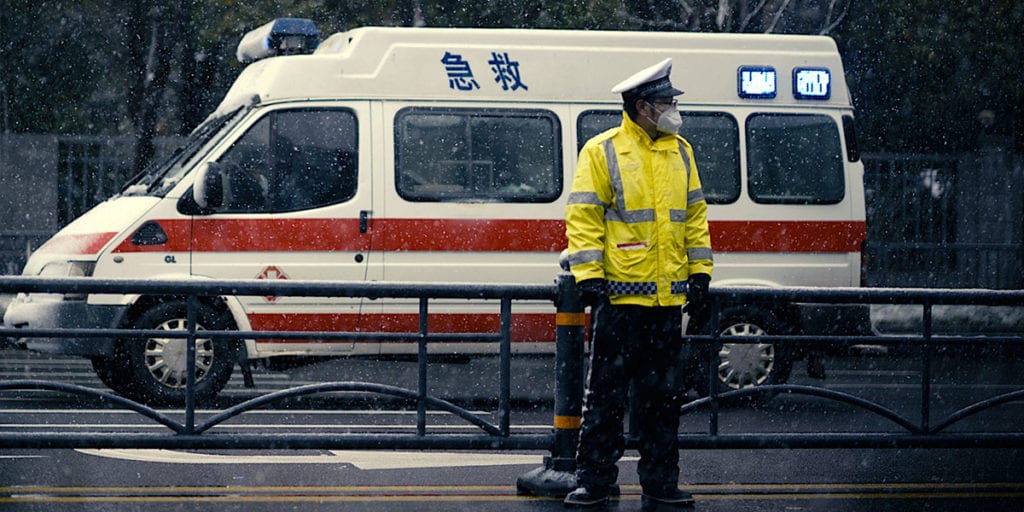 At a time when everyone is looking for answers, it can be frustrating when you don?t get the ones you?re looking for.
Thankfully, 76 Days is a reminder that we may be asking the wrong questions.
Directed by the team of Hao Wu, Weixi Chen and Anonymous, 76 Days captures the madness surrounding the onset of this year?s global pandemic in Wuhan, China. As ground zero of the COVID-19 outbreak, Wuhan was thrown into chaos, forcing the government to put the city of 11 million people into a lockdown that lasted 76 days. As hospitals began to fill and panic gripped the infected, health care professionals worked long hours in dangerous conditions in an uphill battle against the mysterious and deadly epidemic.
Some may be surprised?or even disappointed?to know that 76 Days neither offers any new insight into the creation of the virus nor does it discuss any of the global effects of the pandemic. But what it does offer is far more compelling. Instead of investigating facts and data, 76 Days shows the utter terror on the ground of Wuhan at the time of lockdown. Patients demanding care at the hospital entrance are reminiscent of the chaos of a zombie apocalypse film. Hospital workers seal themselves into PPE gear with duct tape to prevent their exposure. With each new infection, tensions continue to rise as doctors and nurses scramble wildly to care for a mysterious virus that they know very little about.
In taking this approach, 76 Days may not address the harsh truths that so many are asking for. Instead, it presents the pandemic in a way that feels more personal and intimate. By not emphasizing issues of blame or painting wild conspiracy theories, 76 Days is freed up to honour the people of Wuhan that fought so hard for the sake of their people. Like so many health care professionals around the world, these staff worked tirelessly in extreme conditions to give proper treatment to their sick.
Admittedly, for many people in the West, Wuhan may have seemed like little more than name on a map prior to these events. In this way, 76 Days reminds the viewer that whether or not the virus originated in Wuhan is irrelevant. The people of Wuhan have had their lives upended by COVID like all of the rest of us.
As we all know, COVID does not differentiate.
Following stories of a couple separated from their newborn daughter, an elderly man who simply wants to go home and a grandmother who takes a turn for the worse, the film highlights the stories that connect us all. Like us all, these are not merely statistics but people with families who love them.
People who matter.
76 Days lasers in on local wards and lets the stories of both the professionals and the infected take centre stage. As everyone struggles to suppress an outbreak that has begun to grip the world, we are reminded of the value of all human life and how fragile it truly can be. Powerful and poignant, 76 Days takes an event that has shaken the world and highlights the damages that have been caused to a very small percentage of families. In doing so, though the narrative may zero in on a few small stories, we understand that these same stories could be (or have been) our own.
76 Days is currently streaming on the TIFF Bell Digital Theatre during the Toronto International Film Festival.