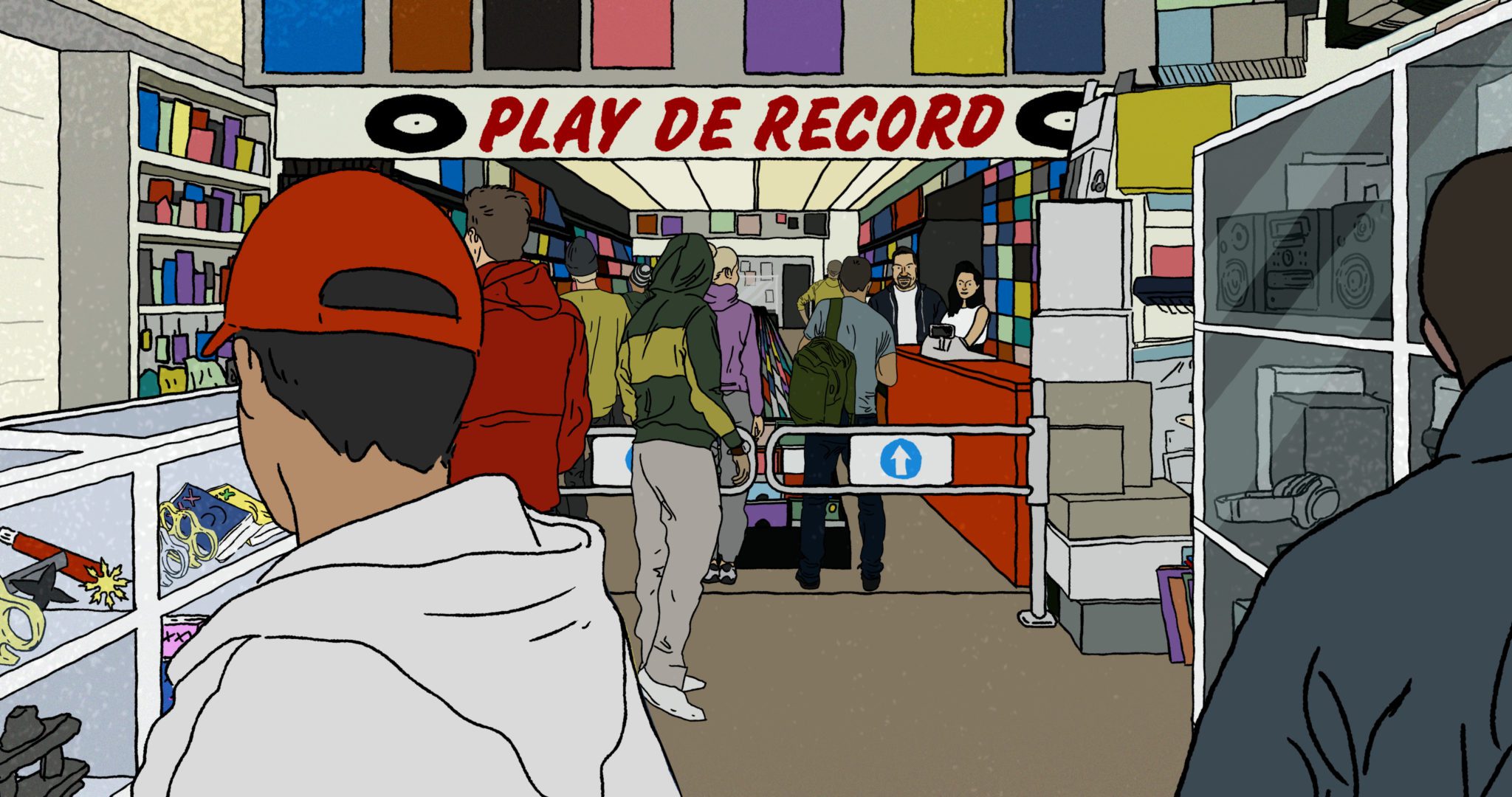 Sometimes, a business becomes more than a business.
Directed by Rob Freeman, Drop the Needle is a fascinating doc that focuses its lens on the influence that one small business can have on the city and its artistic community. For a generation, Play De Record has become somewhat of an iconic symbol in Toronto. Speaking with a seemingly endless parade of Toronto-based artists, Needle highlights the importance of the location in their careers. This was a place where they could find music that was unavailable anywhere else and it helped shape the voice of the local urban music scene.
While the store itself remained an important place for music, it?s the welcoming presence established by its owner that makes unique. Although the store began as a pop-up in the back of the pharmacy, Eugene Tam very quickly made it into a home.
With an open heart and willingness to provide a place for his costumers to gather, Tam managed to turn his store into a gathering place for those who were looking for community. In Needle, each interview and conversation highlights the importance of a man who began as a simple store owner but became a community icon. Each week, professionals and friends alike with join together to check out the latest releases and to talk about music. This was not just a store that you visited but a place that you stayed.
In fact, Needle even highlights the fact that, as his business continued to grow, so too did it evolve. Recognizing that those in his store couldn?t afford hefty recording prices, he opted to offer a space for them to create their music as well. In this way, Play De Record became a location that not only distributed music, but helped struggling artists find their voice. It?s this sort of empowerment that makes Play De Record such a special place and Needle does a good job of highlighting its power.
Play De Record matters because he knew his people mattered.
At the same time, Needle is also a film about maintaining a legacy in a changing world. As the vinyl industry gradually gives way to the digital age, Play De Record (like all physical media) began to feel the pinch. Yet Freeman never deviates from his argument that, while the needs of this location may change, the importance of it does not. This was a space that began as a small storefront yet developed into a pillar of the community. Inspiring countless artists that influenced the hip hop scene, Tam?s legacy is more about the people he helped than the product he sold.
Despite the fact that the emergence of the digital age forced difficult change, Tam?s constant presence continues to resonate. Yes, time has changed the distribution game and Tam and, by extension, Play De Record, may not be the iconic gathering place it once was.
But Drop the Needle proves that it?s legacy still makes noise today.
Drop the Needle is available in theatres beginning Saturday, October 22nd, 2022.