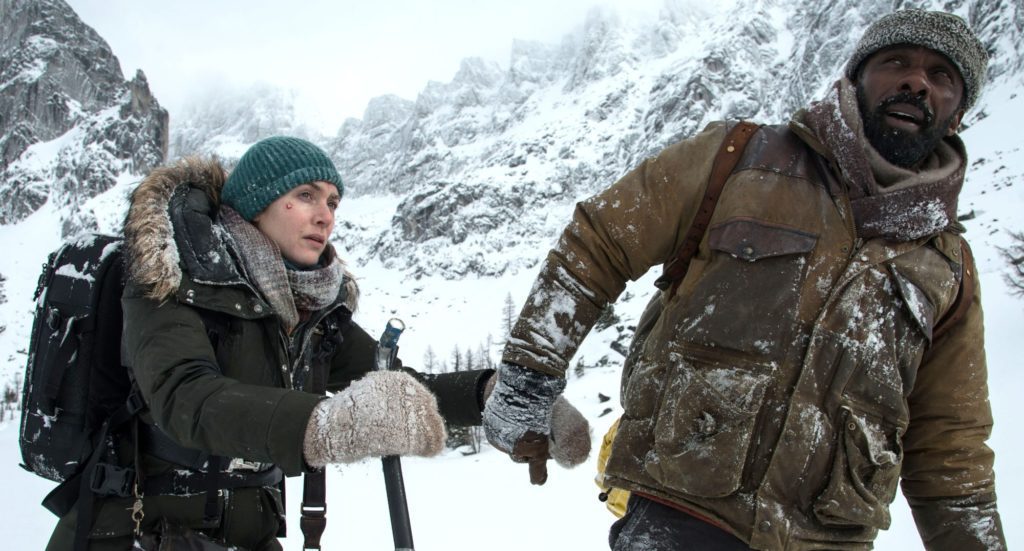 The Mountain Between Us tells the story of Alex (Kate Winslet) and Ben (Idris Elba), two strangers who both find themselves stuck in an airport when their respective flights are suddenly cancelled.? Anxious to get to their destination, the two strangers decide to charter a flight together to beat the system.? However, when their pilot (Beau Bridges!) takes ill mid-flight, the plane crashes in the mountains, leaving the two to fend for themselves against all odds in the harshest of conditions.
Shot in Vancouver, British Columbia, Mountain features stunning visual photography and, according to the cast, no CGI wizardry.? The film?s emphasis on practical visuals lend credibility to the perils of the wilderness.? While ?survivalist? films are nothing new (remember, it was only two years ago that we witnessed DiCaprio make a similar trek in The Revenant), Mountain somehow feels almost fresh due to the strength of its leads.? While no one would doubt their talent, Elba and Winslet work surprisingly well together, creating genuine sexual tension between the two strangers.
At its heart, Mountain is less about surviving the elements and more about what draws us together.? As such, the ?mountain between them? becomes more metaphoric than literal as the strangers must navigate the challenges of trusting another person with whom you have no prior relationship.? While other films show sacrifice as the greatest act of love, Mountain recognizes that mutual sacrifice is also a key part of the community.? Winslet?s nosy journalist is a solid foil for Elba?s emotionally stunted Ben as they are forced to decide whether or not they are better off together or alone in their fight to survive. ?This strain is further emphasized by the cinematography between the two subjects, as director Abu-Assad consistently places Winslet and Elba in either extreme closeness or distant separation onscreen.? The result is a visual push/pull that emotionally unites the actors in the midst of dire circumstances.
In the end, The Mountain Between Us is a surprisingly engaging piece about what connected us.? By focusing the story on the tension between the two leads, the script allows them to drive the narrative emotionally, which is their strength.? Through solid performances and writing, the film reminds us that the greatest mountains between us are often what we create ourselves.
Special features include "Love and Survival: Creating Chemistry," "Mountain Between Them: Shooting in Isolation," "The Wilds: Surviving Stunts," a director's commentary by Hany Abu-Assad, and deleted scenes.?