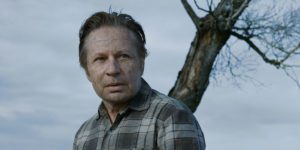 Taking place in 1970s Sweden, Ravens follow the life of Agne (Reine Brynolfsonn), an aging farmer determined to see his son, Klas, take over care of the family land.? Aging and broken, Agne?s struggles range from battling creditors to harsh weather conditions.? However, when he discovers that his son?s future plans differ from what his wishes, Agne begins to spiral emotionally and begins to think of ways to change Klas? mind.
Directed by Jens Assur, Ravens is beautifully shot with broad angles over the rocky landscapes, giving the film a cinematic scale.? The film?s bleak palette and rough texture depicts a world of emptiness.? In doing so, Assurs works hard to use the backdrop as an unofficial fourth character, mimicking Agne?s despair and frustration.? Compounding this dreary picture with the mysterious death of the family?s cattle, Assurs uses his visuals to interact with his actors and emphasize the creeping sense of loss within Agne.
One of the most striking features of the film, however, is its use of sound.? Using minimal music and dialogue, Ravens focuses its attention upon the facial performances of its actors, especially Brynolfsson.? (In fact, Assurs actually cut out significant portions of dialogue in an effort to create even more space within the scene.? Nevertheless, despite strong performances by the other leads, it?s Brynolfsson who is the standout of the cast, revealing Agne?s inner angst with every glance.? In each scene, Brynolfsson quietly displays Agne as a many in conflict, torn between the desire to be a good man and his compulsive fear of losing everything he has.
Through its broad landscapes and visuals, Ravens is a reminder of how hard we can cling to the things we desire, even at the expense of the ones we love.? Forced to take control of the farm by his father (who had it hand to him by his father), Agne is a man who deeply wants to avoid failure in his accomplishments.? As a result, Agne is unable to release his son freely to pursue his passions, driving himself closer to the edge mentally.? Although he doesn?t seek to acquire more, his deep fear of losing the status quo borders on obsession, leaving an indelible mark on his soul.? He has tied his legacy as a man to his ability to maintain the land, causing him to sight of the belief that ?tomorrow [will] worry about itself?.
In the end, Ravens remains a beautiful film cinematically that offers quiet but powerful performances from its cast.? Though it?s also a reminder of the spiritual damage we cause ourselves when we allow our fear of losing our legacy to dominate our soul.
Ravens had its North American premiere on Saturday, September 9th, 2017.
To hear our exclusive interview with director Jens Assur and star Reine Brynolfsson, click below.