Lucy in the Sky tells the story of Lucy Cola, an astronaut who returns home to Earth after a length mission. Although her life consists of a loving relationship with her husband, Drew (Dan Stevens) and a job that she loves, Lucy feels restless and struggles to reintegrate herself into her daily routine. Looking for the thrill that she has left behind, she becomes involved with roguish astronaut Mark Goodwin (Jon Hamm) and begins to lose touch with reality in a world that is quickly becoming too small for her.
Written and directed by Noah Hawley (FX?s?Fargo),?Lucy in the Sky?is an ambitious look at the tensions that can take place when our lives simply don?t measure up to our dreams. Based loosely on a true story of a female astronaut who suffered an emotional breakdown after returning to Earth,?Lucy?depicts its titular star as one who yearns for the rush of the heavens yet remains trapped by her everyday life. Unfortunately, while performances by Portman and Hamm are fine, a muddled script that loses its way prevents?Lucy?from ever really taking off. Though grand in its vision, Hawley?s film simply doesn?t stay on trajectory, proving unable to properly balance Lucy?s struggles with some over-the-top visuals.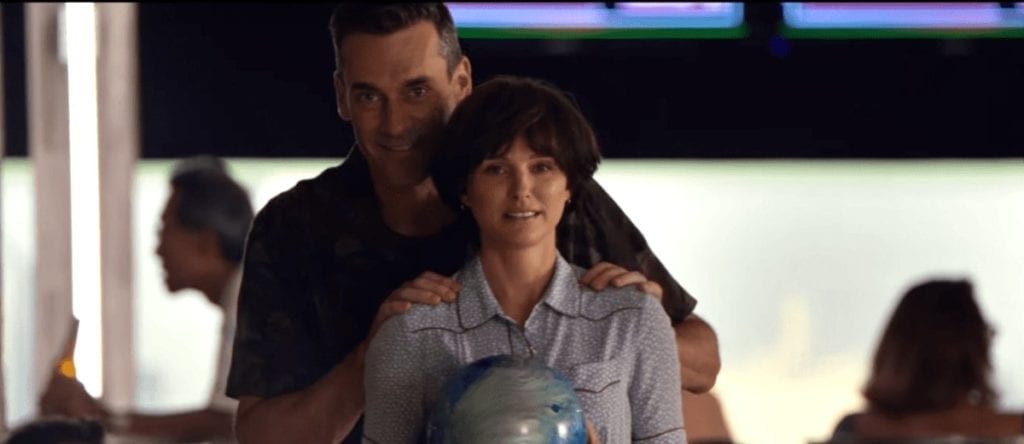 Though ambitious in its scope, a confusing script hampers?Lucy in the Sky?from launching to the heights it could have reached. However, despite its glaring flaws,?Lucy?does features solid performances from an underused supporting cast that includes Ellen Burstyn, Nick Offerman, Zazie Beetz and Stevens. Even so, despite expectations that soar to the heavens, the finest of talent can?t help a script that is unable to get off the ground.
Lucy in the Sky had its North American premiere at the Toronto International Film Festival and launches into theatres on Friday, October 4th, 2019.