S.E. Hinton's seminal work, made into a motion picture by Francis Ford Coppola, wasn't considered complete by purists. Now, the story of two 1960s Oklahoma gangs, the East side's poor Greasers and the West-side rich kid Socs, gets a more elaborate release with thirty-three extra minutes of material.
Launching a series of "Brat Pack" films in 1983, The Outsiders made stars out of then-unknown actors like Tom Cruise, Patrick Swayze, Rob Lowe, Emilio Estevez, Matt Dillon, C. Thomas Howell, Rob Macchio, and Diane Lane – actors who have starred for decades in other hits. For this film, they were put through their paces by Coppola, who said of the 2005 update: "?The Outsiders The Complete Novel? came about after meeting students over the years who repeatedly asked me why certain scenes from S.E. Hinton?s wonderful book were missing from the theatrical version. These questions reminded about my inspiration for the film?in 1980, a contingent of 12- to 14-year-old students wrote and asked me to make it. I listened to those young fans back then, and I continue to listen to young people now and believe in their opinions, so this complete film version of the novel is for them."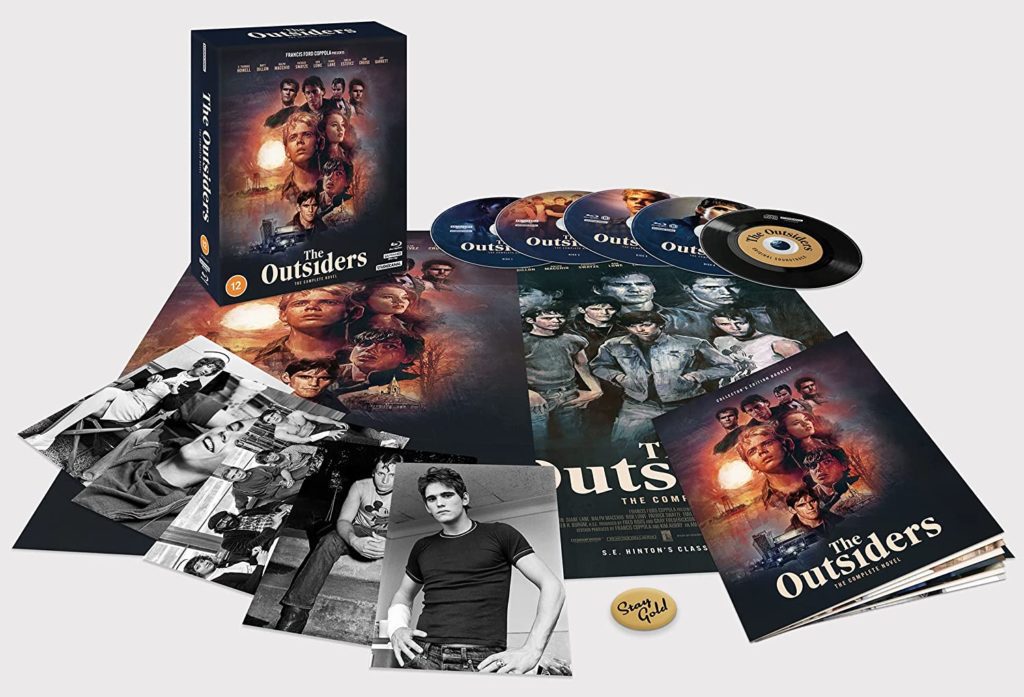 This is possible – adding thirty minutes of footage – because Coppola kept all of the materials he shot, not just the pieces that made it into the original. The four-disc 4K Collector's Edition includes both the original and the extended version, with digital codes for both. Extras on the discs include the interview that discusses the restoration, with Cinematographer Stephen Burum, Zoetrope Head of Archives and Restorations James Mockoski and Colourist Gregg Garvin, an introduction by Coppola as well as his "anatomy of a scene," audio commentary by Coppola, Dillon, Howell, Lane, Swayze, Lowe, and Macchio. Other tidbits include a look back at the film itself, a featurette on S. E. Hinton, the way that the film was cast, a NBC News Today program about Coppola's inspiration, and several deleted scenes.
As a story that explores "coming of age" experiences for teens, and the consequences of living violent lives, it's remarkably insightful, timeless even. It allows audiences to watch and consider the story from afar, from a different time and place, while recognizing that the actions that happen can be seen as everyday occurrences, drawing people in and forcing them into situations that they never thought possible. Somehow, The Outsiders shows us that violence, fighting, aggression – these lead to dangerous places, and that when we fail to see the ramifications, we can end up tragically in places we never meant to be.
The Outsiders is beautiful – and tragic – a must-watch film for teens and their parents, and for anyone looking for a parable about the importance of real community and peace.