Crafting a sequel is a daunting process, especially for a beloved property.
For example, after Spider-Man: Into the Spider-Verse found success with critics and fans alike, the conversations around a follow-up were inevitable. However, given the original's unique flair and style, it seemed impossible for Sony to create a film that matched its predecessor. Amazingly though, with its sequel, Spider-Man: Across the Spider-Verse, Sony has not only met the high standard of the original, it has surpassed it.
Beginning a year after the original film, Spider-Man: Across the Spider-Verse reintroduces the world to Miles Morales (Shameik Moore), New York's friendly neighbourhood Spider-Man. As he looks towards his future, Miles is soon reunited with his friend, Gwen Stacey (Hailee Steinfeld), when she arrives from another dimension. Together, they travel across the Multiverse and encounter the Spider Society, an inter-dimensional group of Spider-People charged with protecting the innumerable universes from anomalys. However, when Miles discovers the Spot (Jason Schwartzman), a villain powerful enough to tear apart the fabric of space, the Spider Society must decide how to deal with this new threat, causing tension among them.
Directed by the team of Kemp Powers, Juaquim Dos Santos and Justin K. Thompson, Across the Spider-Verse is an adrenaline-fused ride into animated madness. With a team of over 1000 animators, the second trip of Spider-Verse features unbelievably mind-blowing effects that may feature some of the most unique and visually animated films of all time.
Visually, there's simply no parallel to this. Not even the original comes close.
Without overstating it, one cannot helped be overwhelmed by the immersive nature of Spider-Verse's world-building. (Although, it is worth noting that, for people who are sensitive to flashing lights, caution should be taken in this world of frenetic colour.) Every universe to which Miles travels has a different style and tone, allowing for each space to inhabit its own flavour. For example, whereas Spider-Gwen's home world feels like a water colour painting, Mile's universe leans more heavily into its comic book roots. To give spoilers would be a disservice to the film but, suffice to say, Across the Spider-Verse lives up to its name and marketing. This is a film that features every conceivable representation of Spidey with countless references and surprises.
Of course, given its visual overload, it should come as no surprise that the sequel contains a story that feels much grander in scale than its predecessor. Whereas the first film kept its narrative tightly focussed on Mile's origin story, Across the Spider-Verse unlocks the secrets of the multiverse with a story that grapples with far grander consequences.
However, shockingly, Miles' personal journey doesn't get lost in the chaos. Given the film's emphasis on dimensional travel and multiple worlds, it would come as no surprised if the emotional arc got lost in the shuffle yet Across the Spider-Verse takes its time with its characters. Now, to be fair, this is also possible only because the film is almost 2 ½ hours long and still only part one of two. With this sort of investment, Spider-Verse allows the writers to tell the story they want to tell. Unshackled by the more typical 100-110 minutes of other animated films, Spider-Verse somehow manages to stay true to its lead, challenging him with massive threats but still allowing him to be a teenager with genuine feelings. (If there's a criticism to the film, it could be that Miles' emotional arc feels incomplete but, to be fair, this is also only the first half of the story as well.)
And he's definitely struggling with his feelings.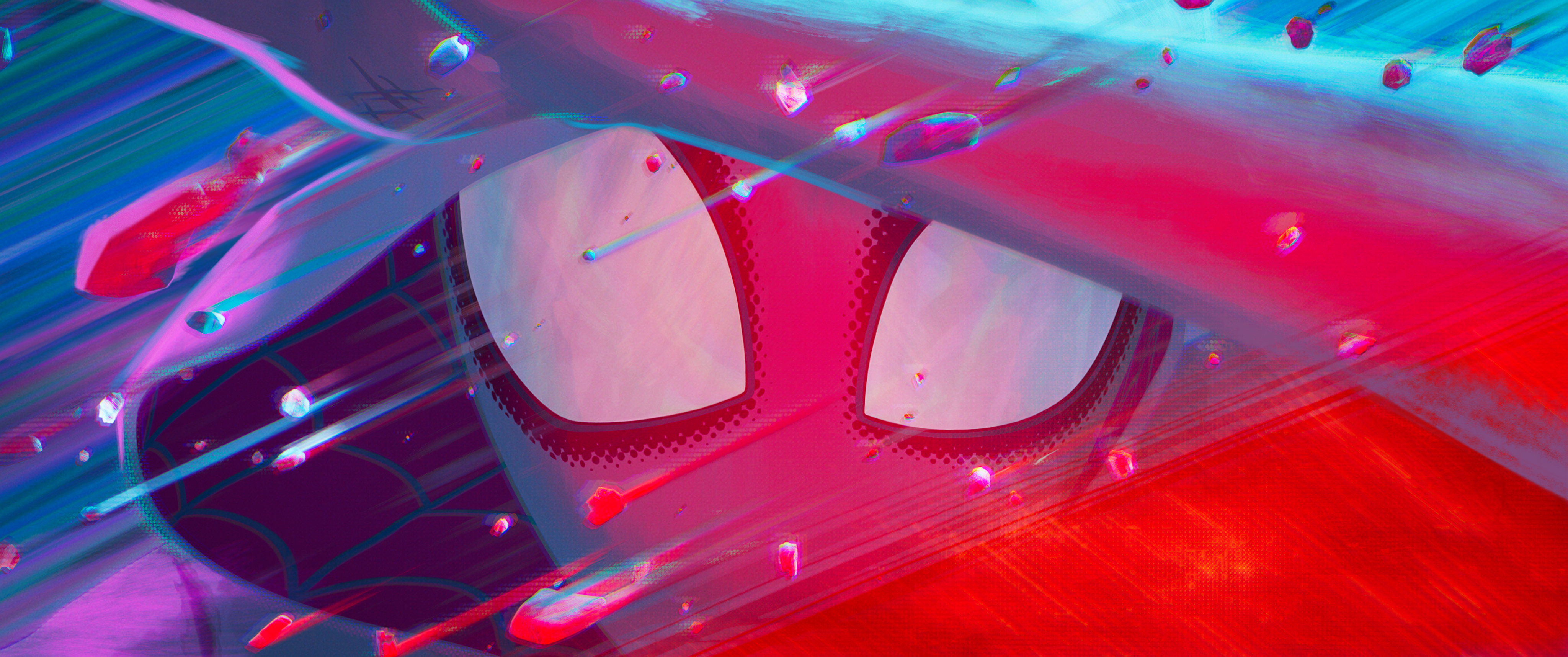 After all, Spider-Verse's hero drama leans fully into whether or not suffering is inevitable for everyone. Having come into his own as a hero, Miles believes he can save everyone… but should he? As he uncovers secrets about his life (and those of other Spidey friends), the new revelations about his life weigh heavily upon him.
Frenetic and fast-paced, there's something genuinely special about Across the Spider-Verse. This is a film created by fans for fans of the Web-Crawler and that love shows up onscreen. Despite its onscreen chaos, this is a film that feels highly detailed, crafted to make every individual character and universe seem unique visually. Fueled by fun, Spider-Verse understands the story it wants to tell and is willing to do it in its own way.
And remember, Miles' journey is only half complete.
Spider-Man: Across the Spider-Verse is available in theatres on Friday, June 2nd, 2023.